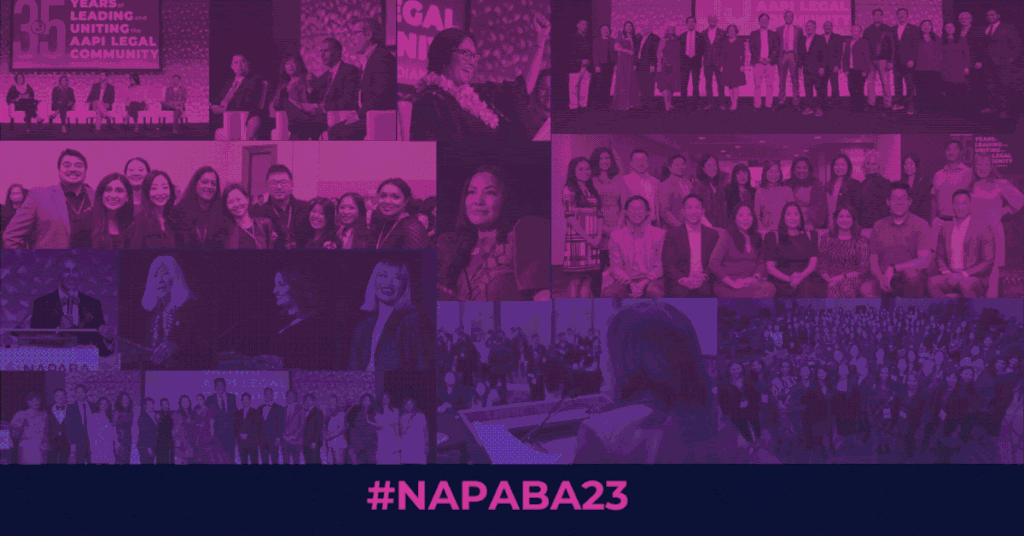 As we bid farewell to the 2023 NAPABA Convention, we want to express our deepest gratitude to each one of you who contributed to making this event a resounding success. We welcomed nearly 2,100 attendees to Indianapolis, with nearly 700 first time Convention attendees! Your presence, engagement, and enthusiasm truly made a lasting impact.
Throughout the Convention, we witnessed the power of unity, collaboration, and the collective spirit of NAPABA. The networking, mentorship, knowledge exchange, and most importantly, the power of showing up, were all on display in real-time as we build a stronger, more connected community.
The plenary luncheons were nothing short of inspiring, featuring compelling discussions and insights from distinguished thought leaders who are not just experts from our AANHPI community, but national figures on these important issues. The session on the rights of transgender athletes provided a platform for not only understanding some of the legal complexities, but also emphasizing the humanity behind the legality. The session on law school campus discourse revealed the challenges, opportunities, and constant efforts to create inclusive and diverse environments within legal education, and could not have come at a more critical time.
At the President's and Trailblazer Awards Reception, we honored the late David Kim and recognized six prominent and incredible trailblazers who have paved the way for others and advanced opportunities for AANHPIs at the national level.
Lastly, the Convention ended on a high note with an unforgettable celebration of our diverse community and shared achievements. At the 35th Anniversary Gala, emceed by actor, author, and activist Maulik Pancholy—who grew up in Indiana—the program kicked off with a musical procession to celebrate Diwali, where attendees were treated to an energetic Dhol performance. We came together to recognize accomplishments, forge new connections, and revel in the strength of our community. We welcomed the new Board of Governors and were privileged to hear from the extraordinary Mia Yamamoto on the importance of focused engagement. And while the Convention has wrapped up, our engagement with the communities of Indiana that have been so welcoming to NAPABA continues.
Thank you for being an integral part of the 2023 NAPABA Convention. We hope that you left the Convention with a renewed sense of purpose and inspiration. Your energy, passion, and commitment are what make our community so vibrant. And thank you to all the CLE program chairs, speakers, and Committee and Network chairs for leading informative and educational programming that ensures NAPABA members are on the cutting edge of legal developments across the country. We look forward to connecting with you in the coming year through our various programs and hope to see you in Seattle in 2024.