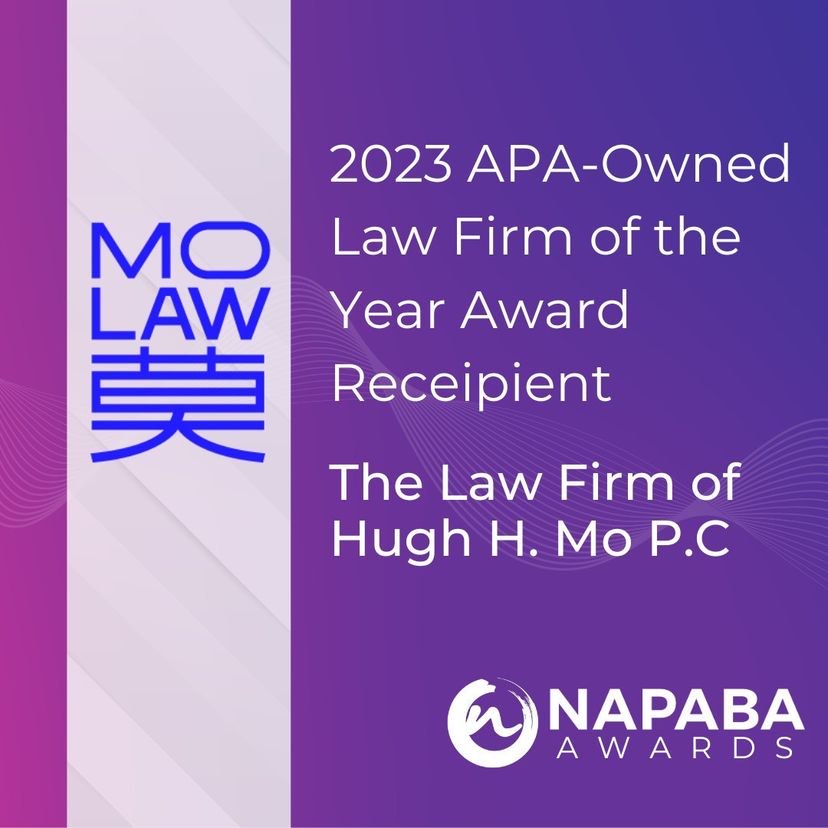 The Law Firm of Hugh H. Mo, P.C (Mo Law Firm). is being recognized as APA-Owned Law Firm of the Year by the National Asian Pacific American Bar Association (NAPABA). This award is presented annually to an acclaimed law firm that has demonstrated a strong commitment to advocating for the Asian American and Pacific Islander (AAPI) community, while simultaneously upholding the highest ethical and legal standards within the field. This well-deserved recognition not only acknowledges the Firm's outstanding legal work, but also its staunch commitment to Pro Bono representation of AAPI crime survivors and those facing race-based discrimination. The Mo Law Firm was presented with the award during the Saturday evening Gala at the NAPABA Convention in Indianapolis, on November 11.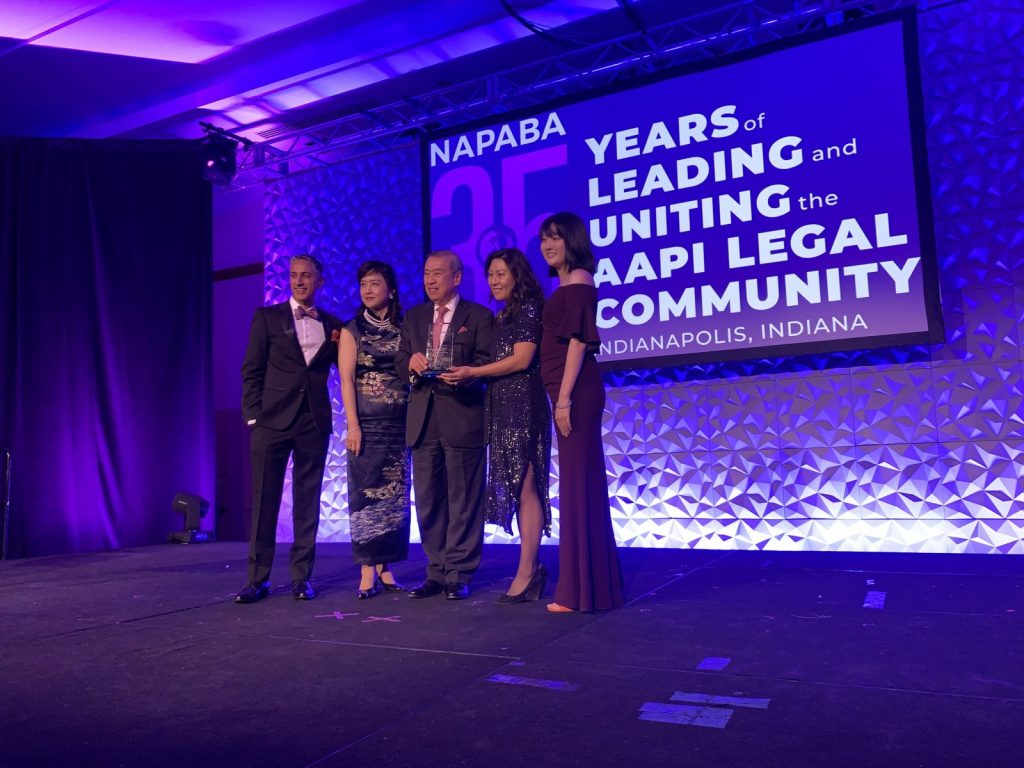 The Mo Law Firm, headquartered in New York City, is set apart by its distinguished father-daughter team among its legal staff. As founder and partner, long-time AABANY member Hugh H. Mo, and counsel, Elizabeth L. Mo, were both former prosecutors at the Manhattan District Attorney's Office. Their careers embody the American dream and the immigrant ethos of upholding tradition while pursuing professional success. 
The son of one of China's first female journalists and a law professor killed by the communists for his democratic beliefs, Hugh H. Mo immigrated to America at the age of nine. Growing up in NYC's Chinatown, Mo witnessed firsthand the discrimination and oppression that the Chinese American community faced. After receiving his J.D. from Boston University School of Law, Hugh was ready to make his mark on the legal landscape of New York. He was the first Asian American appointed as an Assistant District Attorney at the Manhattan DA's Office, and was also the first Asian American appointed as Deputy Commissioner for the New York City Police Department.
Continuing the legacy of her family's dedication to the law, Elizabeth L. Mo embarked on her own remarkable journey. After graduating from Boston University School of Law, she became an Assistant District Attorney at the Manhattan District Attorney's Office and served in both the Trial and Investigations Divisions. Her unwavering commitment to justice and her passion for advocating on behalf of the marginalized mirrors her father's dedication. Today, this dynamic father-daughter duo collaborate and combine their wealth of experience and shared values in their pursuit of legal excellence and justice.
When asked about their initial reaction to receiving this prestigious award, both Hugh and Elizabeth expressed their deep gratitude towards AABANY and NABAPA. "Essentially, this recognition stands as a lifetime achievement award, not just for our Firm, but for both Liz and me, acknowledging our unwavering commitment as Asian American lawyers," remarked Hugh, contemplating his distinguished career. Elizabeth echoed her father's sentiments, adding: "We are so thankful to AABANY and NAPABA for supporting our careers and our Firm. Only in America could a firm like ours exist and prosper, and this recognition also serves as tribute to all of those that have come before us and people who we hope to inspire."
With a combined 60 plus years of trial and investigation experiences, the Mo Law Firm has achieved remarkable success for its primarily Chinese clients. However, for this unique firm, legal representation goes beyond the courtroom. The Firm's mission is tri-fold: vigorously advocating for their clients, mentoring AAPIs and championing the AAPI community's causes. The firm represents a variety of corporate entities, foreign entrepreneurs, emerging start-ups, and governmental organizations, and individuals, domestic and overseas, delivering innovative legal advice and strategic counsel and problem solving in a variety of practice areas, including federal and state litigation, white collar criminal defense, commercial litigation, compliance and regulatory, business and tax matters.
Beyond that, the firm engages in extensive Pro Bono work, giving back to the community. "A lot of people think of Pro Bono as volunteer work, or being part of an overall effort to do good. I think that as an attorney, Pro Bono should be very much part of an attorney's practice, career, as well as dedication," firmly stated Hugh, who has dedicated his life to public service. Adding onto her father's beliefs, Elizabeth portrayed Pro Bono as an endeavor that should not be marked by ability, but by obligation. "It is not about the 'we can's' or 'we should's,' but rather, by the fact that we must give back to the community," she stated fervently.
Elizabeth expanded on the interplay between her Asian American identity and her legal work. "As Asian Americans, we have a very unique cultural and language competency that not everyone has. It's like being a unicorn— our firm is truly a unicorn in this industry. We would like to dedicate our skills and competencies to Pro Bono resources." The Mo Law Firm has provided legal representation to victims of Asian hate crimes, individuals targeted by scams, students and healthcare professionals facing discrimination. Additionally, they have advocated for AAPI interests in unprecedented legal challenges, exemplifying their commitment to justice and community advancement over 30 years of legal practice. 
Speaking about memorable Pro Bono cases, Hugh shared an instance where he helped an Asian American high school student suffering from school bullying because of his racial identity navigate unjust felony and misdemeanor charges for making alleged terrorist threats on social media against his tormentors. After a back and forth battle with the District Attorney's office, Hugh was able to secure a non-criminal disposition for the young man, allowing him to continue his education unfettered by a criminal record. Years later, Hugh learned that the young man not only graduated from college and law school, but was working as an Assistant District Attorney. The young man's life journey would not have been possible without Hugh's zealous advocacy on his behalf. "We as lawyers, if we have the capacity to do so, we should step up and do right every day. Lawyers should use our resources— our trade, our experience, our connections— to do good," Hugh declared. Recalling the case proudly, Hugh believes that this case truly epitomizes the Mo Law Firm's dedication to its ethos, the pursuit of justice and unwavering commitment advocating for clients beyond the call of duty. 
The Mo Law Firm's approach to Pro Bono work goes far beyond legal representation, encompassing a holistic perspective. "To us, Pro Bono is not just about representing victims of hate crimes, but also supporting and mentoring the clients and other attorneys. It's really so embedded in our firm's culture that we don't even think of it as Pro Bono," Elizabeth explained. During his legal career spanning over four decades, Hugh has co-founded numerous APA civil and community organizations including: the Chinatown Health Clinic (predecessor to the Charles B. Wang Community Health Center), NYPD Asian Jade Society, Asian American Bar Association of New York (AABANY) and most recently, the NYPD Asian American Police Executives Council (AAPEX). Most notably, Hugh and Elizabeth have been actively involved and supported AABANY and NAPABA throughout their legal careers, with Hugh serving as a founding member of AABANY and Elizabeth as a former Co-Chair of the Young Lawyers Committee and currently as Co-Chair of NAPABA's Government Enforcement and Compliance Committee. 
AABANY congratulates Hugh H. Mo and Elizabeth L. Mo for their well-deserved recognition as NAPABA's APA-Owned Law Firm of the Year. Not only have they demonstrated exceptional legal prowess, their tireless dedication to the principles of justice and equity, especially on behalf of the AAPI community, is a profound testament to their values.
Please join AABANY in congratulating The Law Firm of Hugh H. Mo, PC on this award, along with all the honorees being recognized at the 2023 NAPABA Convention.