July's Monthly Pro Bono Clinic, held on Wednesday, July 10 at 33 Bowery Street in Confucius Plaza, brought out 41 volunteers who volunteered their time to help 43 clients.
We are asking every member to actively support AABANY's Monthly Pro Bono Clinic by making donations that are vital to its continuing operation. In a few short years, with the tireless and generous assistance of our volunteers, we have helped hundreds of low-income clients with free legal advice and referrals to high-quality, culturally sensitive, and linguistically competent legal services. Together we have helped expand access to justice for underserved Asian American New Yorkers.
If you know family members, friends, or businesses, such as your firm, who would like to support the Clinic, please help us connect with them by contacting Karen Yau at karen.yau@aabany.org.
Or please urge them to make a donation directly. They can visit the website of Asian American Law Fund of New York (AALFNY), AABANY's 501(c)(3) affiliate: https://www.asianamericanlawfund.org/donate/
AALFNY is accepting charitable donations on the Clinic's behalf and can issue any donor a tax receipt. Any contribution, large or small, would help. Please be sure to indicate in the memo field that the donation is intended for the Pro Bono Clinic.
Thank you to all of the July Pro Bono Clinic Volunteers!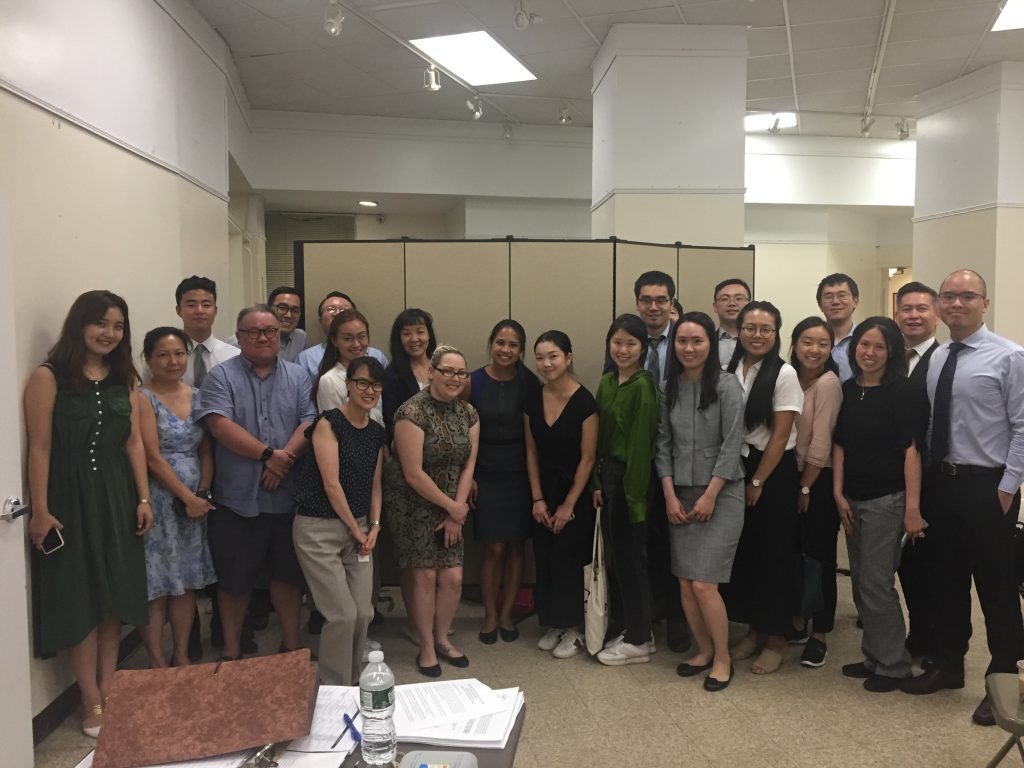 Lawyers:
Yvetta Scott
Breanna Andree-Couturier
Gaye L. Chun
Samantha Sumilang
Sae-Eun Ahn
May Kay Wong
Eun Hye (Grace) Lee
Beatrice Leong
Yan Sin
Bart Wu
Jean Soo Park
Satoshi Kurita
Gloria Tsui-Yip
Thomas Hou
Annie Tsao
Mirin E. Park
Shengyang (John) Wu
Christopher Chin
Kelly Diep
Chris M. Kwok
Francis Chin
Yifei He
Interpreters:
Justina Chen
Henry Man
Ruth Poon
Shimeng (Fiona) Zhang
Weixi He
Yuchen (Fiona) Zheng
Min Chen
Vivian Chen
Sarah Lu
Special thanks to Coordinator Johnny Thach, Coordinator Jenny Lam, Technology Coordinator Roger Chen, Vice Chair Kwok Kei Ng, and Vice Chair Zhixian Liu for coordinating the clinic, and the Pro Bono and Community Service Committee Co-Chairs Pauline Yeung-Ha, Karen Kithan Yau, Asako Aiba, and Judy Lee for their leadership. AABANY's Monthly Pro Bono Clinic occurs every second Wednesday from 6:30 to 8:30 PM. The next clinic will take place on August 14, 2019. If you are interested in volunteering at future Pro Bono Clinics, please contact Asako Aiba at asako.aiba@aabany.org.