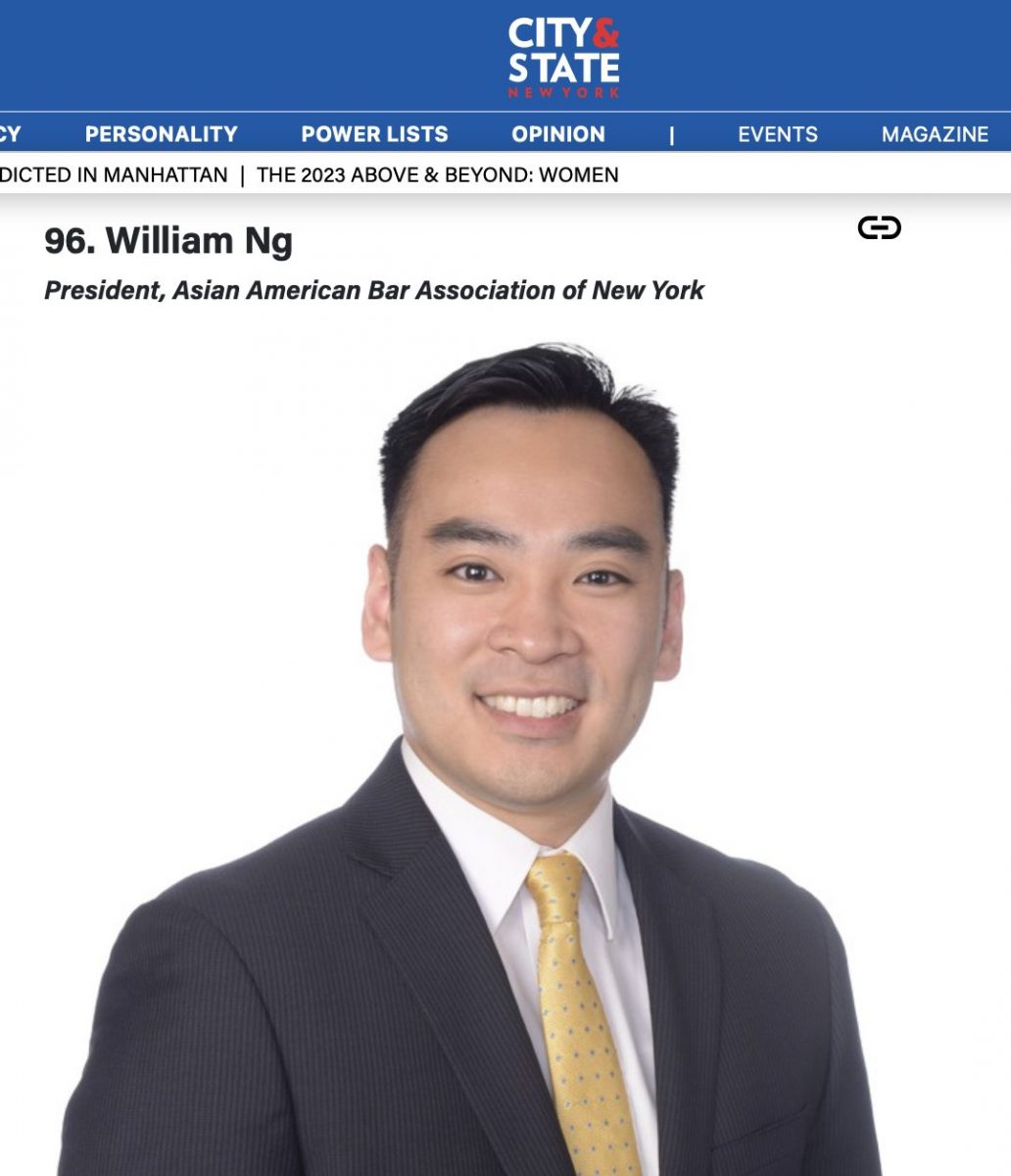 On March 20, City & State published their 2023 list of the Law Power 100 in New York. As stated in the article:
City & State's Law Power 100 recognizes the most influential legal professionals in the world of New York politics and government. The list features high-profile elected officials, powerful prosecutors, high-ranking appointees, partners at prominent firms, defense attorneys, public defenders, legal scholars and others in the profession who advise or oversee governmental bodies, advocate for policy changes or argue cases before our highest courts.
AABANY is pleased to announce that President William Ng has been named one of City & State's Law Power 100 at 96 on the list. (At the time of publication, William Ng was AABANY President. His term ended on March 31, and he currently sits on the Board as Immediate Past President.)
Please join AABANY in congratulating William Ng along with attorneys from the following affinity bar associations that were featured in the 2023 Law Power 100 List (numbers in parentheses indicate ranking):
· Carl Forbes Jr., President, Metropolitan Black Bar Association (93)
· Deborah Rosenthal, President, Women's Bar Association of the State of New York (95)
· Anthony Perrotto, Board President, LGBT Bar Association of Greater New York (97)
· Megha Jain, President, South Asian Bar Association of New York (99)
· Lejla Hadzic, President, Muslim Bar Association of New York (100)
We also congratulate the attorneys from the following AABANY sponsors (2022-23) for being featured on the 2023 Law Power 100 List (numbers in parentheses indicate ranking):
· Barry Berke, Jeffrey Braun & Gary Naftalis, Partner; Counsel; Partner, Kramer Levin– Platinum Sponsor (13)
· Jonathan Lippman, Of Counsel, Latham & Watkins– Silver Sponsor (17)
· Brad Karp & Jeh Johnson, Chair; Partner, Paul Weiss– Platinum Sponsor (29)
· Neil Barr, Chair and Managing Partner, Davis Polk– Platinum Sponsor (34)
· Jon Mechanic, Melanie Meyers & David Karnovsky, Partners, Fried Frank– Silver Sponsor (35)
· Boyd Johnson & Preet Bharara, Partner-in-Charge, New York Office; Partner, WilmerHale– Silver Sponsor (37)
· Neil Rock, Partner, Skadden– Silver Sponsor (39)
· Faiza Saeed, Presiding Partner, Cravath, Swaine & Moore– Gold Sponsor (42)
· Michael Cardozo & Paul Salvatore, Retired Partner; Partner, Proskauer Rose– Silver Sponsor (44)
· David Boies, Chair and Managing Partner, Boies Schiller Flexner– Bronze Sponsor (49)
· Kevin M. Hogan, Managing Partner, Phillips Lytle LLP– Silver Sponsor (67)
· Glen G. McGorty, New York Managing Partner, Crowell & Moring LLP– Silver Sponsor (81)
Congratulations to our sister affinity bar associations and our 2022-23 sponsors and to everyone who made the 2023 Law Power List 100. For the full list, click here.