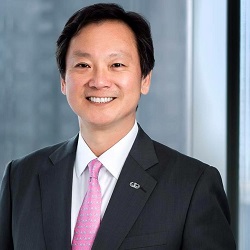 The Daniel K. Inouye Trailblazer Award, NAPABA's premier lifetime honor, recognizes Asian American/Pacific Islander (AAPI) attorneys who have spent their careers advocating for AAPIs within the legal profession, becoming pioneers in their field of practice. This year, Andrew ("Andy") T. Hahn Sr., one of the 2021 Trailblazer Award recipients, will join the ranks of those distinguished for their contributions.
For Andy Hahn, leadership and service have always been integral components of his career path. Andy has accumulated a plethora of impressive accolades and achievements over his career spanning more than three decades, such as: US Army JAG officer, successful commercial litigator, and President of NAPABA, AABANY, and KALAGNY.
Andy has continually had to prove, both to himself and to others, that, as a son of Korean American immigrants, he could succeed in his career and find a place within American society as an Asian American.
"Growing up as a kid…I stuck out like a sore thumb," Andy recalls. "I was subject to a lot of bullying and bigotry."
It was this resentment of ostracization (as well as a fascination with guns and explosives in his youth) that motivated Andy to enlist in the military. He quickly found his niche in the armed forces, graduating as a Distinguished Military Graduate from Cornell University, with ambitions to pursue a full-time military career in the Special Forces. Andy's mother, disagreeing with his choice, instead encouraged him to aim for a career in law. Fortunately, becoming a lawyer was Andy's additional career interest. After being granted a deferment from active duty, Andy completed his legal studies at Cornell Law School.
With a desire to meet more Asian lawyers with similar backgrounds as himself, Andy discovered AABANY early in his career. As an AABANY member, he met Chris Chang, one of the founding members of AABANY and a former chair of the Judiciary Committee. Chris became a valuable mentor to Andy as he explored the workings of the New York court system.
In the past, many Asian Americans practiced law within the transactional fields, such as corporate law and real estate law, and as Andy noted, "none of [the fields] which involved the adversarial process." In Andy's view, language barriers and improved career prospects in transactional law contributed to the lack of Asian Americans within litigation. As he gained litigation experience, Andy continued to stand out in becoming one of the first waves of AAPI attorneys to attain partnership at a big law firm in New York City.
Andy remains a firm believer in the power of mentorship and guidance for those just starting out in their careers. Recalling his experience meeting and mentoring law school students and graduates, Andy observed that many Asian Americans remain as "first generation Asian lawyers" within their families; these students or graduates could point to no one in their family who had been involved in the legal profession. At a time when Asian American interest in law is increasing, creating more opportunities for mentorship becomes even more critical.
Andy believes that anti-Asian hate remains the single greatest threat to the AAPI community and AAPI legal professionals today. Until the onset of the pandemic Andy has never seen a high prevalence of anti-Asian hate during his decades of involvement with AABANY and NAPABA, but he notes that there always has been an "undercurrent" of perceiving Asian Americans as foreign. Despite the widespread social movements that have catapulted issues of race and diversity into the national spotlight, Andy feels that big law firm and corporate commitments to diversity and inclusion remain "a lot of lip service."
"If you look at … the statistics, [attorneys of color] within law firms have not improved in the last two decades…. By the time you get to the leadership positions, it's pretty much all white people." For Andy, who serves as Chief Diversity Officer at Hawkins, Delafield, and Wood LLP, his formula for maintaining diversity at his own law firm is simple: recruitment, retention, and promotion. It's a formula that organizations, such as AABANY, continue to advocate for.
In light of the challenges Asian Americans face, Andy observes positive changes within the Asian American community: "If there is any silver lining with some of this anti-Asian hate, it brings our community together…. We've learned … how to stand up for ourselves." Certainly, through his career as a litigator, leader, and advocate, Andy has never ceased to stand up for himself, the legal profession, and the Asian American community. His achievements and accomplishments demonstrate his endless "vision, courage, and tenacity" needed to become a pioneer, as well as his willingness to break barriers and stereotypes in his career path.
NAPABA will hold a reception on Friday evening, December 10, for all the Daniel K. Inouye Trailblazer Award honorees at the Convention in Washington, D.C., and the awards will be presented at the Gala Dinner on Saturday evening. Please join AABANY in congratulating Andy Hahn on this well-deserved honor and recognition!