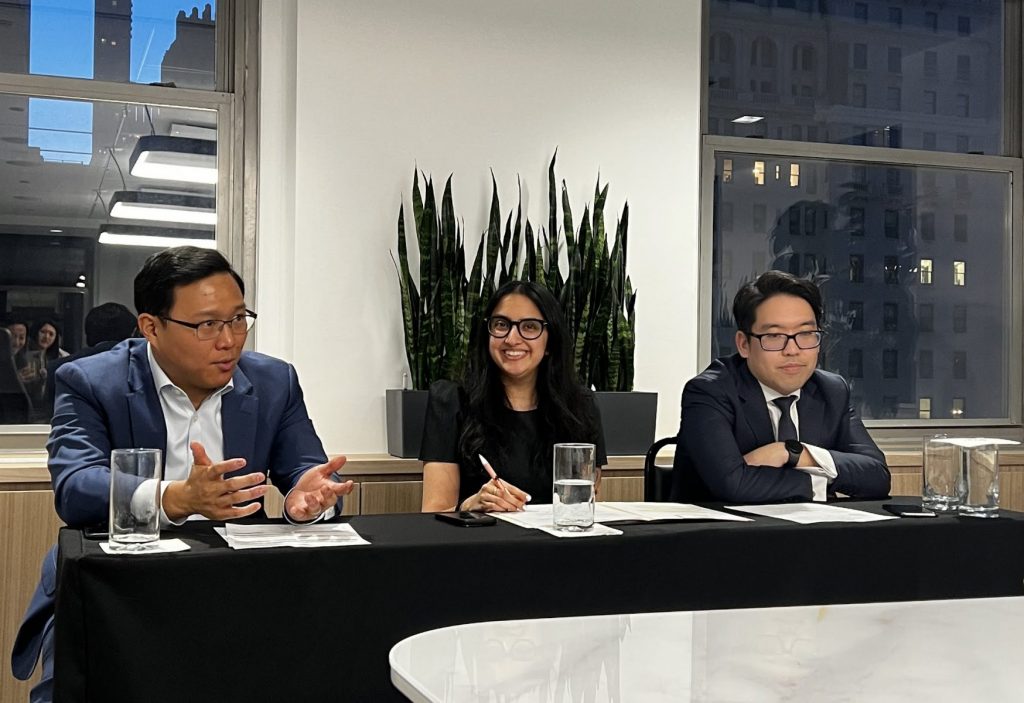 On Tuesday, April 20th, AABANY's Litigation Committee and KALAGNY hosted a Deposition Skills Panel at Haug Partners LLP's New York Office. The panel consisted of Aakruti Vakharia, Antitrust Associate at Haug Partners LLP and Co-Chair of AABANY's Litigation Committee (as moderator and speaker), Gene Kang, Partner at Rivkin Radler LLP and President of KALAGNY, and David Sohn, Vice President and Assistant General Counsel at JPMorgan Chase & Co. and Co-Chair of AABANY's In-House Counsel Committee. The CLE took place in the boardroom of Haug Partners LLP's New York office.
The panelists shared their wisdom on the purpose of a deposition, how to prepare to take or defend a deposition, how to deal with difficult witnesses and opposing counsel, and how to prepare your own witness to be deposed. Following the discussion, Haug Partners provided dinner and dessert, and attendees had the opportunity to network with the panelists and each other.
If you wish you could have been there, you can view a recording* of the panel here.
The Litigation Committee plans on hosting several more CLEs this coming year and values the ideas of our Committee membership. If you would like to see a CLE on any particular topic, please share your idea with the co-chairs. Go to the Litigation Committee's page on the AABANY website to learn more about the Committee and how you can get in touch.
*Please note that CLE credit was only granted for attending in person. Credit will not be granted for viewing the recording.