On Wednesday, January 26th, AABANY held a virtual Winter Soiree featuring a lively sommelier-led wine tasting and trivia games. Organized by the In-House Counsel Committee, the event brought together more than 50 senior in-house lawyers and corporate law firm attorneys. Companies represented included Mastercard, MetLife, Google, and Goldman Sachs. Attendees streamed in from a variety of locations across the United States, from California to New York.
The evening was full of fun, excitement, and laughter as Brooklyn Winery guided attendees through a Chardonnay and Cuvée Noir tasting. Attendees received tasting kits ahead of the event, which included bottles of wine, a bottle opener, tasting glasses, "make your own wine label cards" and virtual wine games instructions. There were two rounds of trivia, the first focusing on wine and winemaking, the second on wine and pop trivia. Attendees also mingled in breakout sessions after each round to get to know each better or to catch up.
Susie Dare from Marsh & McLennan won the trivia games and was gifted a tasting kit from Brooklyn Winery – congratulations, Susie!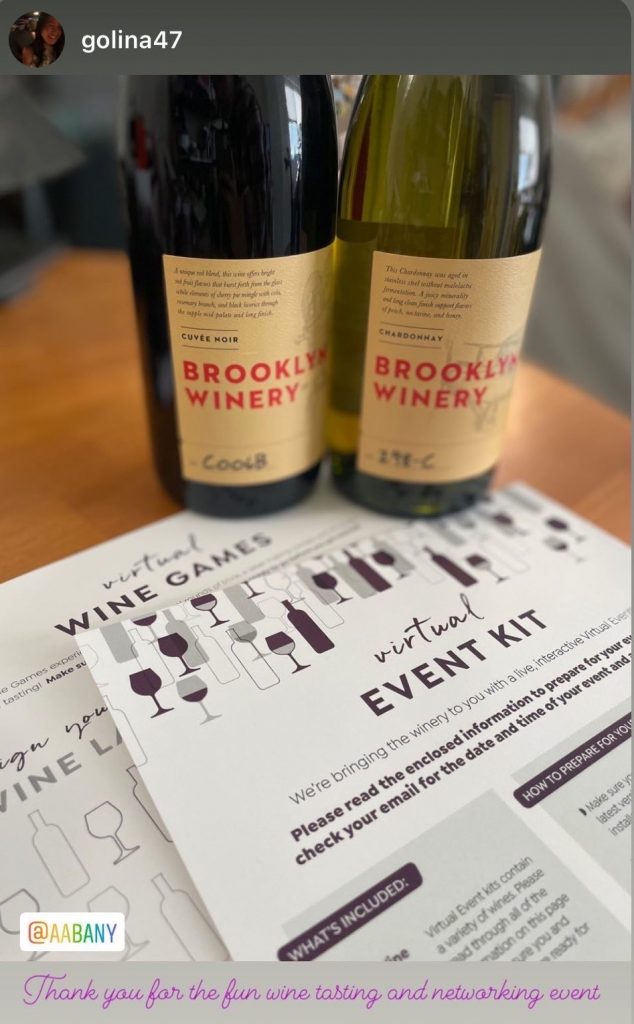 The event was made possible by our headline sponsors:
We would also like to thank our sponsors
Thank you to all our attendees, and we hope to see everyone again at next year's soiree (which we hope will be in person). To learn more about the In-House Counsel Committee go to: https://www.aabany.org/page/149