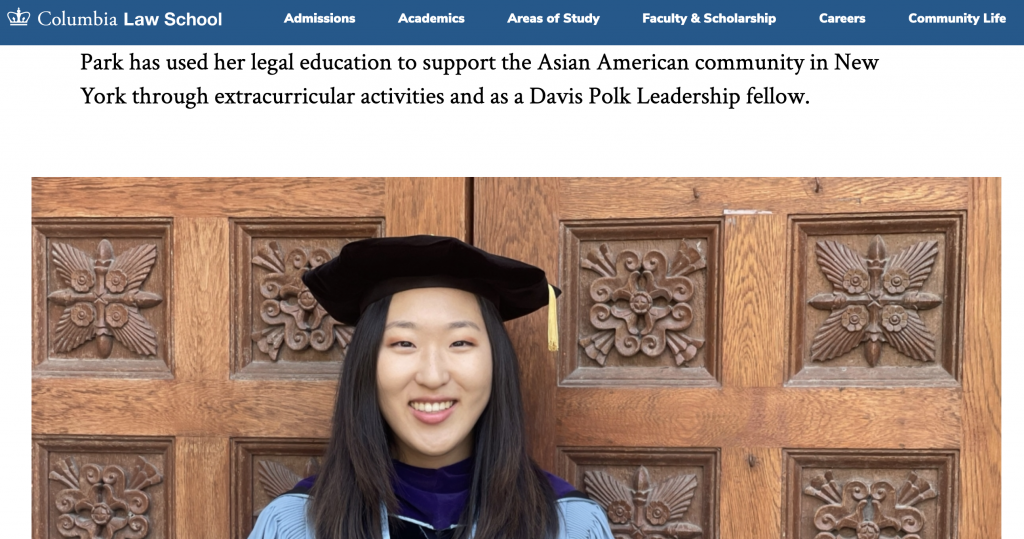 AABANY Student Leader Jenny Park was recently featured in Columbia Law School's May 27 article titled "Student Spotlight: Jenny Park '21 on Community Advocacy, Corporate Law, and What's Next." In the article, Jenny shared her journey to law school, her extracurriculars as a law student, and her post-graduation plans.
Among the many extracurricular activities she participated in, Jenny partnered with AABANY twice to assist members of the Asian American community. First, she was a COVID-19 task force leader in the summer of 2020, where she helped provide pro bono resources to the community along with other task force members. As a 2020-2021 Davis Polk Leadership fellow, she partnered with AABANY again in 2021 through a spring break caravan. Jenny and other Columbia Law students updated and translated AABANY's COVID-19 webpages; participated in client consultations with volunteer attorneys; and researched New York laws. Speaking about her post-graduation plans, Jenny said: "After graduation, I will (hopefully!) pass the bar and begin working at Freshfields Bruckhaus Deringer in New York. Recently, I was also offered a vice chair position with AABANY's Young Lawyers Committee. I hope to continue serving as a mentor and assisting young professionals as I grow in my career. As a 1L and throughout law school, I also worked with the Esports Bar Association, assisting to host an annual conference, drafting and distributing a diversity and inclusion toolkit, and more. I am currently serving on the diversity committee and plan to remain involved as esports continue to grow."
To read the full article, click here. To read AABANY's blog post on the CLS-AABANY Pro-Bono Caravan, click here.
Please join AABANY in congratulating Jenny on her graduation from Columbia Law School and thanking her for all the hard work she has done for AABANY!