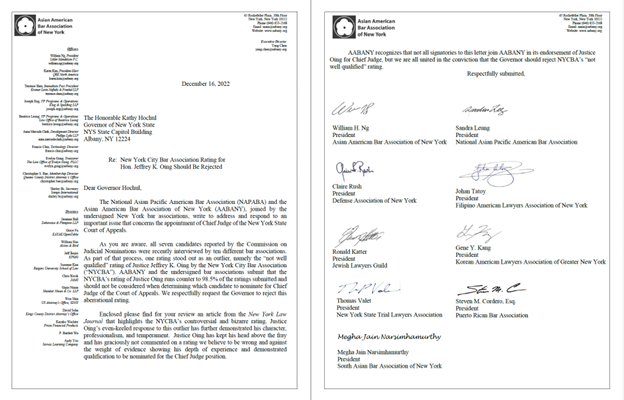 On December 16, AABANY sent a letter to Governor Hochul calling on her to reject the New York City Bar Association's "not well qualified" rating of Hon. Jeffrey K. Oing. AABANY was joined on the letter by the National Asian Pacific American Bar Association (NAPABA) and the following New York bar associations:
Defense Association of New York
Filipino American Lawyers Association of New York
Jewish Lawyers Guild
Korean American Lawyers Association of Greater New York
New York State Trial Lawyers Association
Puerto Rican Bar Association
South Asian Bar Association of New York
The letter can be found here.
The Women's Trial Lawyers Caucus separately sent a letter to the Governor indicating its support for both Justice Oing and the call to reject the "not well qualified rating."
All signatories were unanimous in calling on the Governor to reject the bizarre outlier rating given by the New York City Bar Association, with reference to the New York Law Journal article (subscription required) from Dec. 14 about the controversial and unusual rating.
AABANY stands by its statement released on December 12 endorsing Justice Oing as the most highly qualified candidate for the Chief Judge of the New York Court of Appeals and continues to urge the Governor to nominate him as Chief Judge.