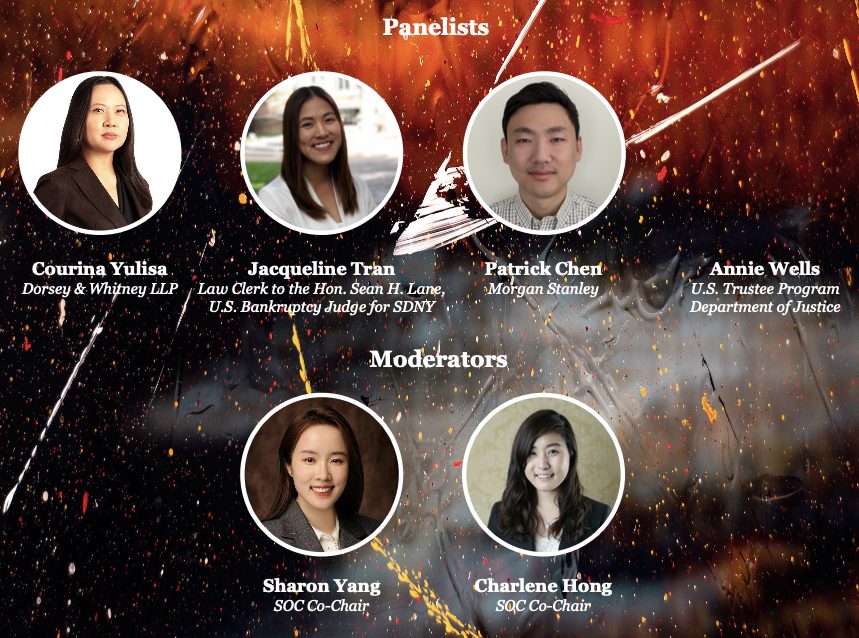 On February 21, 2023, AABANY's Student Outreach & Bankruptcy Committees hosted a virtual panel discussion to inform students about different career pathways for bankruptcy attorneys. The event ran from 6-7pm virtually on Zoom. The panel was moderated by Student Outreach Committee Co-Chairs Sharon Yang and Charlene Hong and featured the following panelists:
· Courina Yulisa (Dorsey & Whitney LLP)
· Patrick Chen (Morgan Stanley)
· Jacqueline Tran (Law Clerk to SDNY Bankruptcy Judge Sean H. Lane)
· Annie Wells (U.S. Trustee Program, Department of Justice)
Panelists discussed the difference between bankruptcy and restructuring and the unique characteristics of bankruptcy as a legal practice. In particular, the panelists highlighted how litigation and transactional skills overlap within a bankruptcy practice group at a firm. The discussion also covered the day-to-day of a bankruptcy law clerk, the various hats an in-house counsel must wear, and the role of a government attorney in the U.S. Trustee Program. The main takeaways included the importance of seeking various internships and opportunities to gain exposure to bankruptcy practice, and the value of networking with bankruptcy attorneys to understand their various roles.
AABANY thanks the Student Outreach and Bankruptcy Committees for organizing the event and all panelists, moderators, and students who attended. To learn more about the Student Outreach Committee, please click here. To learn more about the Commercial Bankruptcy and Restructuring Committee, please click here.