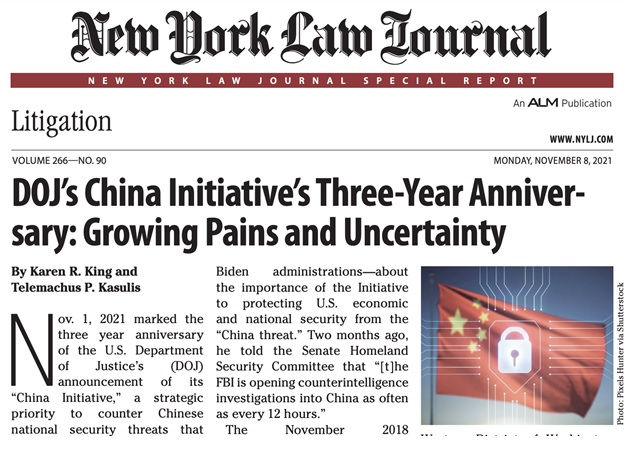 On November 8, 2021, the New York Law Journal published an article co-authored by Pro Bono & Community Service Committee Co-Chair Karen King, together with fellow Morvillo Abramowitz Partner Telemachus Kasulis. The article is entitled "DOJ's China Initiative's Three-Year Anniversary: Growing Pains and Uncertainty."
The article discussess how the Department of Justice's "China Initiative" encourages discrimination and racial profiling against Asian Americans. The China initiative was started three years ago to combat economic and national security threats from the Chinese government. The article reveals how in reality only a small portion of cases involved actual charges of economic espionage or conspiracy. In one instance, a Chinese Canadian engineering professor, Anming Hu, was wrongly prosecuted for being a Chinese spy and was acquitted of all charges this past September.
The authors note a parallel of the China Initiative to other discriminatory acts: "Critics continue to liken the China Initiative to the Chinese Exclusion Act of 1882, the internment of Japanese Americans during World War II, McCarthyism, and racial profiling against Muslims in the wake of the September 11th attacks."
The article relates that the Biden administration has only made five new cases public. The authors note that the Biden administration appears to be stepping away from non-disclosure cases in which ties to the Chinese government appear weak.
To read the full article, click on the following link:
https://files.constantcontact.com/d6baf1e7801/f2add8b0-8343-4378-956c-6826d2ca9289.pdf