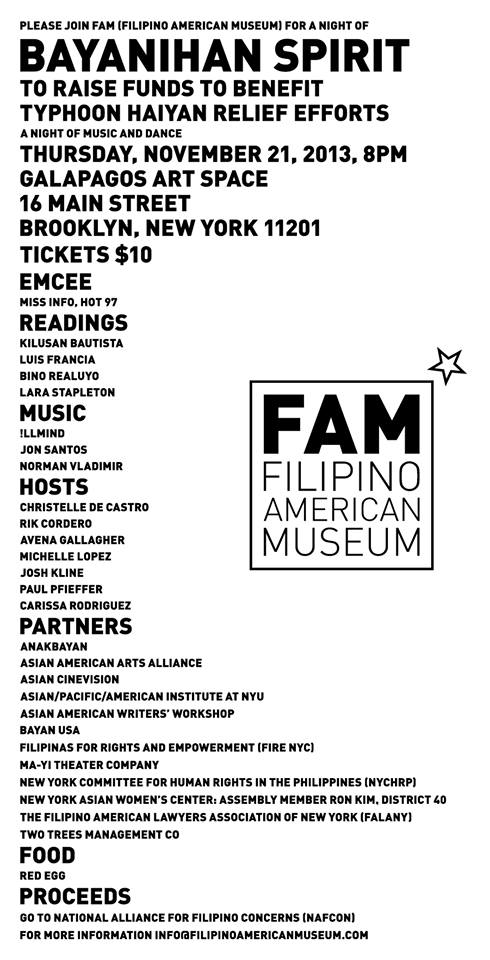 Thursday, November 21, 2013 at 8pm
Galapagos Art Space
16 Main Street
Brooklyn, NY 11201
(Flushing, Queens – November, 18, 2013) – A press conference at the District Office of New York State Assemblymember Ron Kim announced a major benefit to raise funds for Typhoon Haiyan relief efforts. Organized by FAM (Filipino American Museum), the fundraiser will take place this Thursday, November 21 at the Galapagos Art Space in Dumbo, Brooklyn. With an estimated 11 million Filipinos affected, displaced or left homeless by this catastrophic event, FAM has urgently rallied an impressive group of individuals, businesses, local government officials, and community organizations to create an evening celebration of the Bayanihan Spirit. The Filipino term, 'Bayanihan', refers to a spirit of communal unity and effort to help build a neighbor's home.
All proceeds will go to National Alliance for Filipino Concerns (NAFCON), whose "Taskforce Haiyan" is a grassroots relief effort coordinated directly between Filipinos in the US and those in affected areas of the Philippines. Funds will be spent on food, water and medical supplies and distributed by Philippines based groups. For more information, please visit NAFCON's website by clicking here.
According to Nancy Bulalacao, a FAM founding member, "At FAM we have the ability to build a coalition that demonstrates a solidarity as New Yorkers and Asian Americans by coming together to support the real efforts for relief on the ground in the Philippines. We are artists, writers, musicians, cultural and community organizations moved by the tragedy and looking for ways to express our support. We serve constituents who are directly affected by the tragedy. What happens thousands of miles away resonates directly with us here. The level of loss in the wake of Typhoon Haiyan can be felt no matter who you are or where you live."
Assemblymember Ron Kim states, "I join my colleagues in government and all our community members in feeling absolutely heartbroken over the recent natural disaster in the Philippines. Through the recent natural disasters that have hit our coast in the last two years, we know a fraction of what is going on now in some of the cities and towns in the islands of the Phillpines.  As part of the worldwide community, it is important to show our support and solidarity, now more than ever.  My office will continue to do what we can to support groups like FAM in raising relief funding."
The Emcee for the evening will be Miss Info from HOT 97. The program will feature readings by Kilusan Bautista, Luis Francia, Bino Realuyo, and Lara Stapleton; music by Deep Foundation, DILIA*, Hydroponikz, !llmind, Joe Bataan, Masia One, Norman Vladimir, and Smokey Robotic; DJ sets by GETLIVE!, and Jon Santos; and a demonstration by Pekiti Tirsia Kali Elite. Food for the event will be catered by Red Egg and Salome Tarts.
FAM is grateful to the benefit's Host Committee, comprised of Christelle de Castro, Rik Cordero, Stephen Decker, Avena Gallagher, Michelle Lopez, Josh Kline, Paul Pfeiffer, and Carissa Rodriguez. FAM also acknowledges the immense support and help from the following Community Partners: ANAKBAYAN, Asian American Arts Alliance, Asian Cinevision, Asian/Pacific/American Institute at NYU, Asian American Writers' Workshop, BAYAN USA, Filipinas for Rights and Empowerment (FiRE NYC), Ma-Yi Theater Company, New York Committee for Human Rights in the Philippines (NYCHRP), New York Asian Women's Center, Next Day Better, Assemblymember Ron Kim, Assembly District 40, The Filipino American Lawyers Association of New York (FALANY), Two Trees Management Co, UniPro.
The hashtag #FAMaid will be used throughout social media networks by FAM and by all of the partners to spread the word about the benefit.
Tickets to the event are $10 and can be purchased at the door or online.
About FAM
FAM (Filipino American Museum) is the first museum focused on examining the connection between contemporary Filipino American arts and the roots and traditions of the Philippine diaspora. A start-up committed to presenting cultural programs in stimulating and unprecedented ways, FAM is dedicated to seeking out what it is to be Filipino in America. In the spirit of a diverse people, FAM's roving programs serve as a fluid, user-generated, inquiry-based space. An untold American story, FAM presents its findings through live performances, exhibits, installations, community forums, online content and otherwise.
Website filipinoamericanmuseum.com
Email info@filipinoamericanmuseum.com
Facebook facebook.com/filipinoamericanmuseum
Twitter @famnewyorkcity
Instagram @famnewyorkcity
Media Inquiries
Nancy Bulalacao
917-472-9936 or nancy@filipinoamericanmuseum.com