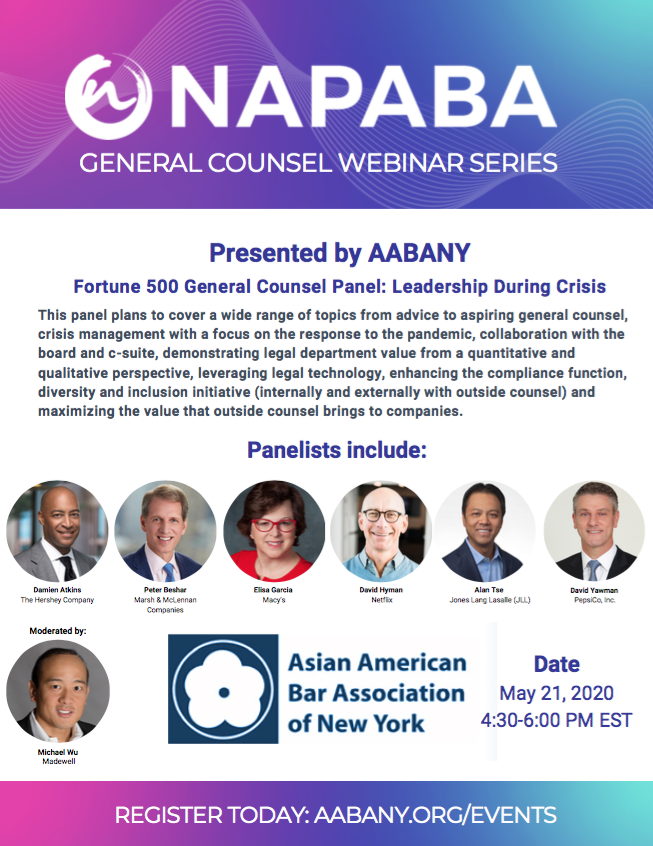 In celebration of Asian Pacific American Heritage Month, AABANY is proud to present "Fortune 500 General Counsel Panel: Leadership during Crisis" as part of the National Asian Pacific American Bar Association ("NAPABA") General Counsel Webinar Series. The event will feature a panel of prominent General Counsels covering a wide variety of industries to discuss topics that range from advice to aspiring General Counsels, crisis management with a focus on the response to the pandemic, collaboration with the board and c-suite, demonstrating legal department value from a quantitative and qualitative perspective, leveraging legal technology, enhancing the compliance function, diversity and inclusion initiatives (internally and externally with outside counsel) and maximizing the value that outside counsel brings to companies. The panel will take place via Zoom on Thursday, May 21, from 4:30 to 6:00 PM.
Moderator:
Michael Wu. Michael currently serves as the Chief Legal Officer and Corporate Secretary of Madewell. He sits on the advisory boards of the Georgetown Law Corporate Counsel Institute and AABANY. Michael is also a member of the Georgia Asian Pacific American Bar Association Board of Directors. He has previously served as an executive and general counsel at companies including Carter's, Rosetta Stone, Teleglobe, and Global One.
Panelists:
Damien Atkins. Damien currently serves as the General Counsel of the Hershey Company. He has previously served for three years as the General Counsel for Panasonic North America, for ten years as the Deputy GC (Corporate) and Chief Compliance Officer for AOL, and for seven years at a major New York City law firm. In addition, Damien has previously founded two start-ups. His expertise includes mergers and acquisitions, corporate governance, securities regulation, global ethics and compliance, and government investigations.
Peter Beshar. Peter currently serves as the Executive Vice President and General Counsel of Marsh & McLennan. Previously, he was a partner at Gibson, Dunn & Crutcher and served as the Co-Chair of the firm's Securities Litigation Group and had served as the Assistant Attorney General in charge of the New York State Attorney General's Task Force on Illegal Firearms. Additionally, he has served as the Special Assistant to the Honorable Cyrus Vance in connection with the United Nations' peace negotiations in the former Yugoslavia.
Elisa Garcia. Elisa currently serves as the Chief Legal Officer and General Counsel of Macy's and serves on the Board of Directors and Nominating and Governance Committee of Dollarama, Inc. and the Board of the Institute for Inclusion in the Legal Profession. She has previously served as an executive for Office Depot, Domino's Pizza, and Philip Morris International.
David Hyman. David currently serves as the General Counsel of Netflix and as the company's Secretary. Prior to Netflix, David served as General Counsel of Webvan, Inc. and was with the law firms Morrison and Foerster in San Francisco and Arent Fox in Washington, DC.
Alan Tse. Alan currently serves as the Global Chief Legal Officer and Corporate Secretary of JLL. Previously, Alan served as an executive for Petco, Churchill Downs, LG Electronics, Ligos Corporation, and Centerpoint Broadband Technologies. He is a co-founder and Board member of the Asian American Legal Foundation and has served on the Board of Directors of the Association of Corporate Counsel from 2013-2019. Alan was recognized by NAPABA as one of its Best Lawyers Under 40 and received the Corporate Leadership Award at AABANY's 2020 Annual Dinner.
David Yawman. David currently serves as the Executive Vice President of Government Affairs, General Counsel and Corporate Secretary of PepsiCo. Previously, he served as the Senior Vice President and Deputy General Counsel for PepsiCo and General Counsel for North America and Corporate, the Senior Vice President, Chief Compliance and Ethics Officer for PepsiCo, the General Counsel of business units comprised of North America Beverages, Quaker Foods North America and Latin America Beverages, the Associate General Counsel for the Pepsi Bottling Group, and had spent six years as a member of PepsiCo's corporate law department. Prior to joining PepsiCo, Dave was an associate with the law firm Fried Frank and served as a law clerk in the United States District Court.
"AABANY is pleased to be co-sponsoring the NAPABA General Counsel webinar series," states President Sapna Palla. "Each of the first two webcasts have already seen attendance by nearly 500 attorneys from all across the country. We are looking forward to a similar turnout for the one AABANY is presenting on May 21. We thank Michael Wu for organizing these webcasts and serving as moderator to guide the discussion on important topics of interest to attorneys across a broad range of industries and sectors. Through these programs, and as we celebrate APA Heritage Month in May, we continue to highlight the vital role played by diverse in-house attorneys in leading and advancing the legal profession."
If interested, please register by May 20. Click on the flyer above for registration information.