Reflecting on Days of Connecting and Learning
We are thrilled to announce the successful conclusion of the NAPABA In-House Counsel (IHC) Summit and the landmark inaugural Partners Summit. These events have not only marked memorable milestones but have also underscored the power of collaboration, conversation, and shared purpose within our vibrant community.
As detailed in A Portrait of Asian Americans in the Law 2.0: Identity and Action in Challenging Times, we know that though the Asian American, Native Hawaiian, and Pacific Islander (AANHPI) community has seen progress in some areas, underrepresentation of our community in the top ranks of the legal profession persists. Both summits served as a space for us to connect, collaborate, and encourage each other to continue to chart the path forward and advance to positions of leadership and influence within the legal profession and beyond.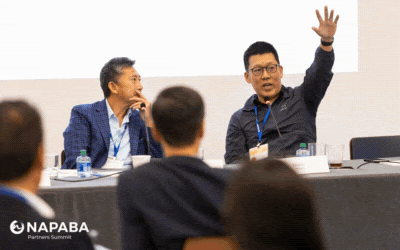 In-House Counsel Summit Highlights
The NAPABA In-House Counsel Summit brought together legal luminaries, thought leaders, and in-house counsel from diverse backgrounds. Engaging discussions, insightful panels, and immersive workshops explored crucial topics facing in-house legal professionals today and offered key skills to elevate individuals to the C-Suite at Fortune 500 companies. As outlined in NAPABA's 50×25 Pipeline initiative this program continues to curate, cultivate, and promote a robust pipeline of senior AANHPI IHC.
Partners Summit Highlights
The Partners Summit marked the beginning of a new era of partnerships and collaboration. We were honored to convene with our valued members, and speakers who were instrumental in propelling our shared vision forward. The rich exchange of ideas and collective commitment to our mission were palpable throughout the summit.
IHC and Partners Summits Joint Dinner + Panel
For the first time, NAPABA hosted a joint dinner with Partners Summit and IHC Summit participants. This dinner provided a unique platform for networking and fostering meaningful connections. The panel of industry experts discussed how to leverage law connections and getting a seat at the table. This event not only strengthened professional relationships but also facilitated the sharing of expertise, enhancing participants' ability to navigate complex legal challenges effectively.
As we look to the future, we are invigorated by the energy and enthusiasm generated during these summits. We look forward to utilizing the insights and learnings to drive impactful change and develop the pipeline of senior AANHPI attorneys.