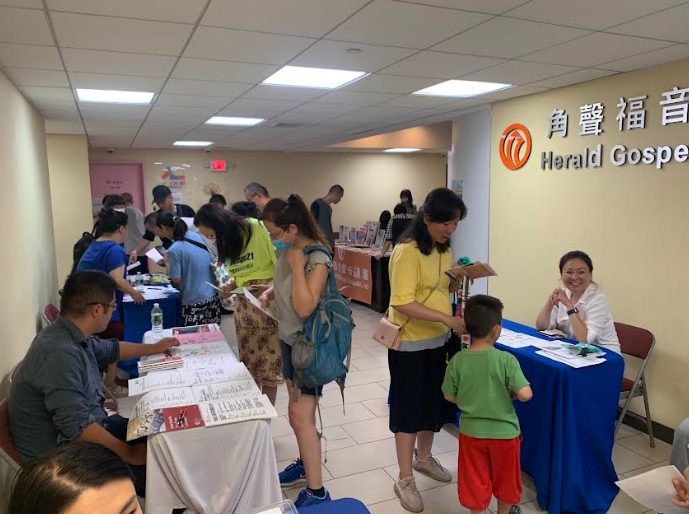 On July 15th, 2023, AABANY's Pro Bono and Community Service (PBCS) and Immigration Law Committees participated in Immigrant Resource Day, a community event aimed at promoting services for New York immigrants, including those who are newly-arrived in the country. Held in Herald Gospel Plaza in Flushing, nearly twenty New York City government departments and various community organizations came together under the banner of the Chinese Christian Herald Crusades.
The event attracted hundreds of attendees of various backgrounds, coming in for immigration information, legal consultation, social welfare programs, and to apply for the New York Resident Card (IDNYC). At the event, PBCS Committee Co-Chairs, Kwok Ng and Lina Lee, and Vice Chair May Wong, managed the Pro Bono Legal Clinic at the event. At the clinic, AABANY volunteer attorneys generously volunteered their time and expertise to offer guidance, advice, and support to those seeking legal assistance.
The event surpassed all expectations in terms of the number of individuals served in a single day. With 56 registered participants seeking advice, AABANY was able to successfully assist 28 families facing challenging situations. We are immensely grateful for the overwhelming support and dedication shown by the volunteers who participated in the event. The tireless efforts of our team, consisting of fourteen AABANY attorneys, four AABANY non-attorneys, and three staff members from Asian American for Equality (AAFE), our community partner, contributed to the overall success of the day.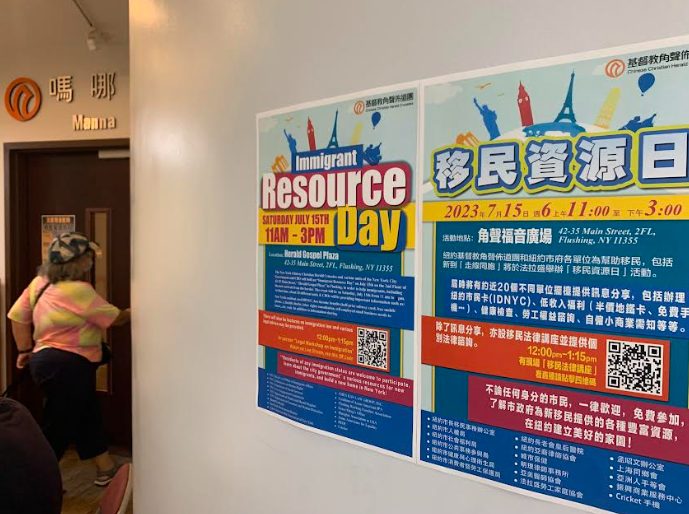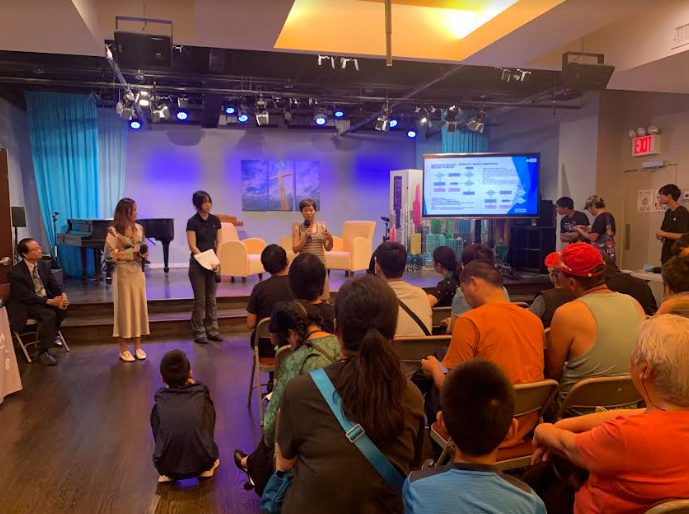 Furthermore, the Co-Chairs of the Immigration Law Committee, Zhixian (Jessie) Liu and Susan Song, invited former Co-Chair Tsui H. Yee to present a workshop about asylum and immigrant rights. Ms. Yee, an immigration lawyer with over 20 years of experience, discussed the process of applying for asylum, requirements for qualification, the timeline of the application process, and answered questions posed by the audience. Overall, the workshop not only provided valuable insights into the asylum application process, but also gave attendees a platform to receive expert guidance from an experienced legal professional.
The fair also highlighted the urgent need for immigration attorneys that can provide crucial assistance to Chinese migrants and asylum seekers that have arrived at the US-Mexico border in recent months. AABANY lawyers were able to interact with many individuals seeking assistance with asylum and deportation-related matters, who were influenced by misleading information on social media platforms, exploited by unscrupulous agents, or left without legal representation. The Immigration Law Committee hopes to establish a comprehensive network of trusted referrals and legal support for this community, enlisting the help of attorneys on a pro bono basis, through paid representation, or for collaboration in future workshops.
Thank you to the PBCS and Immigration Law Committees for organizing this event. Furthermore, we extend our gratitude to Jessie Liu and Susan Song, the Co-Chairs of the Immigration Law Committee, for their exceptional efforts in conducting the workshop alongside Tsui H. Yee. We appreciate their dedication in assisting clients with immigration issues, even taking on back-to-back cases to address clients' pressing concerns. We thank Tsui for sharing her valuable legal expertise during the workshop and for generously addressing the concerns of clients even after its conclusion. Her contributions helped drive the success of the event. In addition, we thank our partner organizations, the Chinese Christian Herald Crusades (CCHC), and AAFE.
Last but not least, thank you to the dedicated volunteers that made the Pro Bono Clinic at Immigration Resource Day a success:
Volunteer Attorneys:
Chris Kwok
Gary Yeung
John Hwang
Kevin Hsi
Kwok Kei Ng
Lina Lee
May Wong
Shengyang (John) Wu
Shirley Luong
Susan Song
Tsui Yee
Yvette Wang
Zhixian (Jessie) Liu
Zhujing Wu
Interpreters & Shadowers:
David Tse
I-Kai Lee
Jadyn Tiong
Ruo Yang
Nuala Naranja (AAFE)
Elton Ye (AAFE)
Xiaodong Zhang (AAFE)
If you have expertise in asylum and deportation matters, or you know someone who does, please reach out to the Immigration Law Committee co-chairs, Zhixian Liu or Susan Song, and help AABANY establish a network of trusted referrals for newly arrived immigrants.

You can also help out by keeping an eye out for future Pro Bono Clinics here, and registering as a volunteer. Click here to view the calendar entry for the next Pro Bono Clinic on August 16th, and fill out the registration form here. Please register as a volunteer by 12pm, August 11th, 2023.