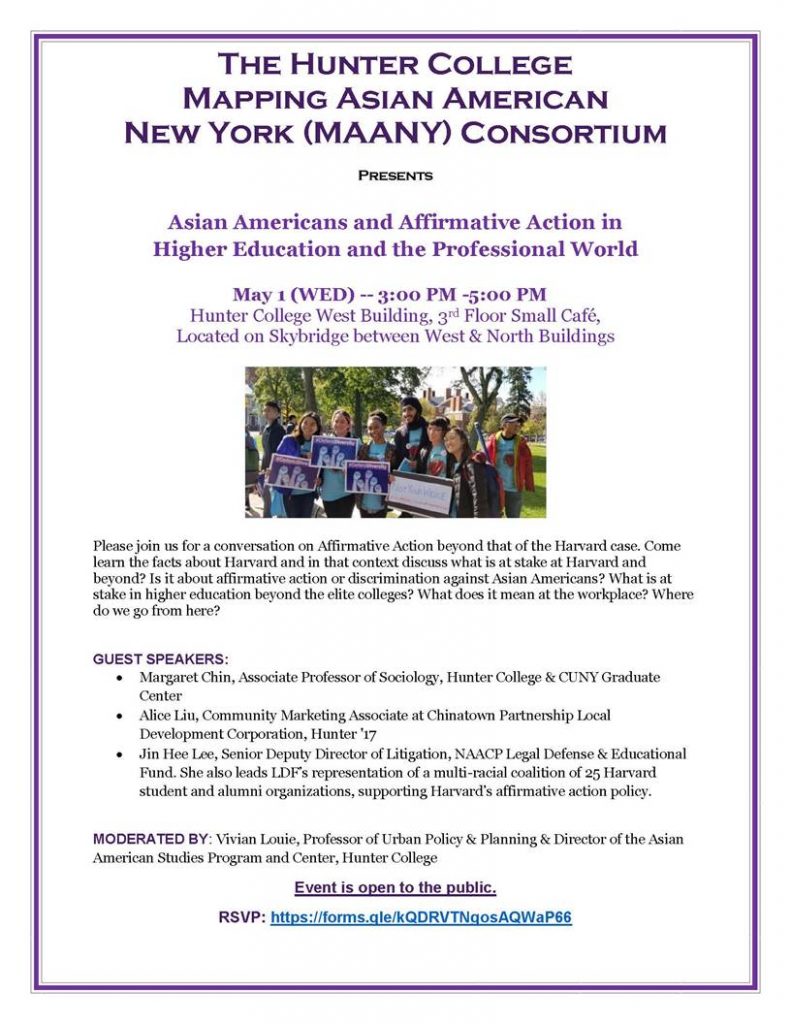 Thank you to Gabriel Galindez for this announcement. Please direct all inquires to ggalinde@hunter.cuny.edu.
Sponsored by CUNY Diversity Projects Development Fund 
Please join us for a conference on, Asian American Leadership at CUNY and Higher Education, on Friday, May 6, 2016, from 9:30am to 5pm, at the CUNY Graduate Center, 365 Fifth Avenue, Concourse Level, Manhattan. This conference is free and open to the general public.
There is a remarkable absence of Asian Americans in the upper ranks of leadership at CUNY,and in higher educationnationwide. AAARI will release the findings of its CUNY Asian American Leadership Initiative Report at this conference, and will address recommendations for outreach and recruitment, as well as development of the student and faculty pipeline for leadership.
This conference will focus on why there is a lack of Asian American leadership, best practices for recruitment and professional development, student leadership, tenure and promotion, as well as the importance of Asian American and Asian Studies in preparing and inspiring the next generation of Asian American Leaders.
Keynote Speaker
Dr. Santa Ono, President, University of Cincinnati
Conference Sessions
CUNY Asian American Leadership Initiative Report: Findings, Recommendations and Accountability
Trajectory to the Top – Barriers on the Path to the Presidency
Best Practices: Government Agencies, Foundations, Corporate Sector and Professional Organizations

AABANY's Issues Committee Co-Chair, Chris Kwok, will be speaking on this panel.

Student Leadership
Tenure and Promotion: Process and Advice
State Of Asian American and Asian Studies at CUNY and Its Importance to Asian American Leadership in Higher Education
Foundation for the Future – Working Group Discussions
To RSVP and to view the full program for this conference, please visit www.aaari.info/2016leadership.htm. Please be prepared to present proper identification when entering the building lobby.
See you on May 6th!
---
FOR IMMEDIATE RELEASE 
June 24, 2013
HNBA Contact: Erika Lopez (202) 223-4777 
NAPABA Contact: Emily Chatterjee (202) 775-9555 
NBA Contact: Erika Owens (202) 842-3900 
NNABA Contact: Mary Smith (405) 761-1723 

Coalition of Bar Associations of Color 
Reassured by Supreme Court's Decision in Fisher v. University of Texas at Austin
WASHINGTON – The Coalition of Bar Associations of Color (CBAC) – the Hispanic National Bar Association (HNBA), the National Asian Pacific American Bar Association (NAPABA), the National Bar Association (NBA) and the National Native American Bar Association (NNABA) – is reassured by the Supreme Court's decision today to reaffirm the principle that diversity in higher education is a compelling national interest. We remain cautiously optimistic about the Court's decision to send the case back to the Fifth Circuit Court of Appeals.
The Supreme Court partially vacated a lower court ruling that had upheld the right of the University of Texas at Austin to partially consider race in its admissions' policy. However, in deciding Fisher v. University of Texas at Austin, it left intact the precedent it set in Grutter v. Bollinger, which allows schools to consider racial diversity as an admissions factor.
Last summer, CBAC filed an amicus curiae brief with the Supreme Court in the Fisher v. University of Texas at Austin case. The brief highlights the progress made in diversifying the legal profession since the Court's ruling in Grutter v. Bollinger, while discussing the continued need for race-conscious admissions programs to further the diversification of the legal profession.
"We are encouraged that the United States Supreme Court's ruling affirmed the Grutter v. Hollinger decision which allows racial and ethnic diversity to be considered as one of many factors in a carefully crafted admissions policy," stated HNBA National President Peter M. Reyes, Jr. "These are important factors to consider when taking a holistic admissions approach, and the Court in a 7-1 strongly supports our position."
"We are encouraged by the Court's decision today in Fisher," said Wendy C. Shiba, president of NAPABA. "A strong majority of the Court has stood in support of diversity as a compelling interest, and members of the Asian Pacific American community are heartened by this outcome. We see evidence of the importance of a diverse workforce every day in the legal profession, and are thankful that our nation's commitment to the values of diversity and inclusion has been ratified today."
"Today's decision underscores diversity as a compelling interest for all institutions of education and higher learning," stated John E. Page, President of the National Bar Association. "Even with strict scrutiny of the methods used to achieve such diversity, the US Supreme Court continues to agree that many factors, including race, can be a factor in an admissions program."
"Diversity is important to educational opportunities for all and furthers classroom discussion and understanding," said Mary Smith, President of the National Native Bar Association. "We are heartened that the Supreme Court has recognized the importance of diversity."
###