On Thursday, May 23, 2019, AABANY and SABANY co-sponsored a trial reenactment of two Supreme Court cases, Takao Ozawa v. United States (1922), and United States v. Bhagat Singh Thind (1923) at the Ceremonial Courtroom in 225 Cadman Plaza, Brooklyn. These cases revolved around the fight of two Asian Americans to become naturalized U.S. citizens.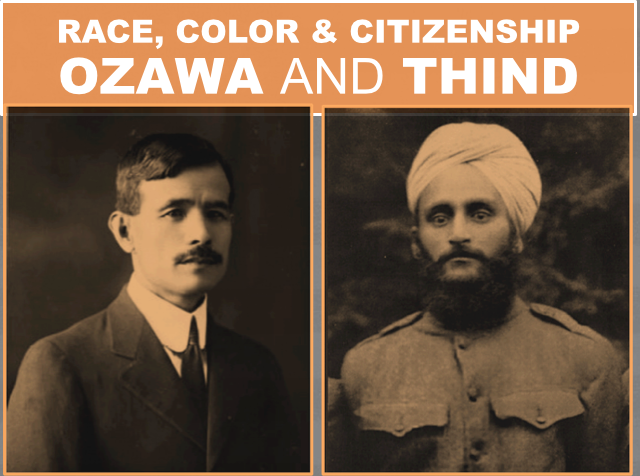 Takao Ozawa, was born in Japan but moved to the United States at a young age in 1914. He attended the University of California, became a businessman, converted to Christianity, got married and had children in the United States. He sought to become a naturalized U.S. citizen, but his application was denied. His fight for citizenship went all the way to the Supreme Court, where he argued that people of Japanese descent should be classified as "free white persons" under the Naturalization Act of 1906. However, Justice Sutherland, writing for a unanimous Court, held that a person of Japanese descent could not be classified as "white." In reaching that decision, the court relied on scientific evidence and found that the term "white persons" in the Naturalization Act of 1906 only includes persons of the "Caucasian race."
Bhagat Singh was born in India and received his bachelor's degree there before moving to the United States, seeking higher education in 1913. He completed his Ph.D. at the University of California and went on to give lectures in metaphysics. He also joined the U.S. Army during World War I and became the first turbaned Sikh man to serve alongside American soldiers. After the war ended, he was honorably discharged and applied for citizenship. His petition for citizenship was granted initially in Oregon, but government attorneys initiated proceedings to have it canceled on the grounds that he was not "white." His case went to the Supreme Court, where he presented scientific evidence asserting that South Asians, such as himself, were actually of Aryan descent and therefore of the Caucasian race and thus he should be granted citizenship.
However, the Supreme Court held that even though it "may be true that the blond Scandinavian and the brown Hindu have a common ancestor in the dim reaches of antiquity … the average man knows perfectly well that there are unmistakable and profound differences between them today." The court backtracked on the rationale it used in Ozawa, where it relied on scientific evidence to find that Takao Ozawa could not be classified as Caucasian, and therefore was ineligible for citizenship.
As a result of the Supreme Court's rulings in Ozawa and Thind, many Asians were stripped of their citizenship retroactively, leading a man named Vaishno Das Bagai to take his own life. He left a note that read: "But now they come and say to me I am no longer an American citizen. What have I made of myself and my children? We cannot exercise our rights, we cannot leave this country. Humility and insults… blockades this way, and bridges burned behind."
These two Supreme Court decisions are a stain on our great nation's history. They set the precedent that being an American was not enough, that to be a real American you had to be "white" based on society's perception of what qualifies as "white" during a given period of time in history.
The reenactment serves as a reminder of the struggles that Asian Americans had to endure in the past, and it highlights why we must continue to strive to create change for the future generations of Asian Americans.
We thank Judge Denny Chin and Kathy Hirata Chin for leading the reenactment program and thank our judicial all-star cast which included: EDNY Chief Judge Hon. Dora Irizarry, Hon. Kiyo Matsumoto, Hon. Pamela Chen, Hon. Peggy Kuo, Hon. Sanket Bulsara, and Hon. Faviola Soto.
Thanks to SABANY for performing this re-enactment. AABANY was proud to be a co-sponsor, presenting 1.5 CLE credits in the Diversity & Inclusion category.