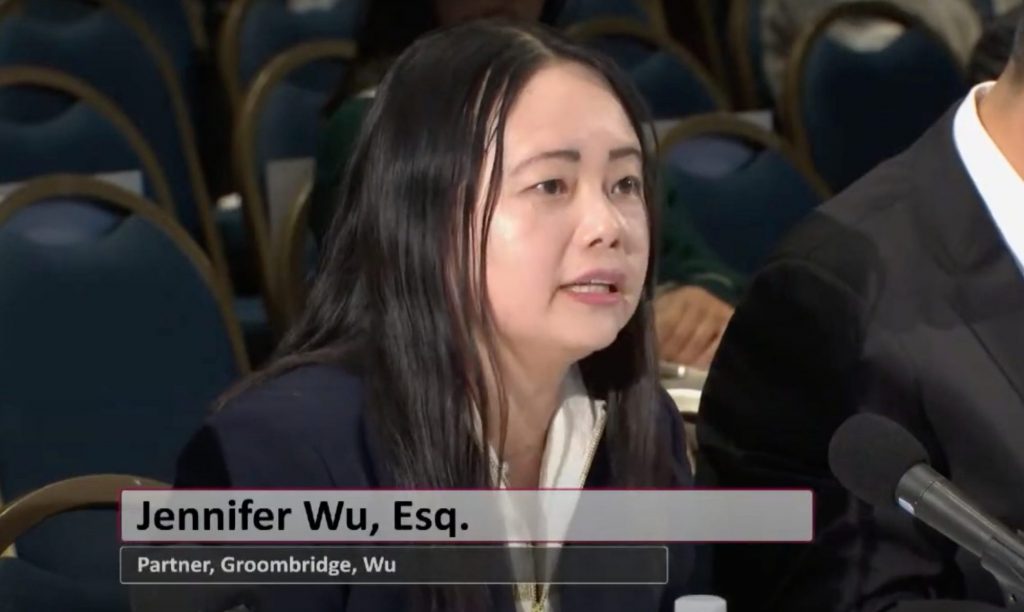 On March 24, 2023, the U.S. Commission on Civil Rights (USCCR) organized a briefing to address the federal government's response to anti-Asian racism in the United States. Jennifer H. Wu, Co-Chair of the AABANY Women's Committee and a member of the AABANY Anti-Asian Violence Task Force, provided her testimony during the session. Jennifer highlighted the fact that none of her pro bono clients, who were victims of well-known anti-Asian hate crimes, had ever reported the crimes to federal agencies. "I am here, because I became a civil rights lawyer," Jennifer declared, "because there has been no federal response to anti-Asian racism."
During her testimony, Jennifer emphasized the importance of reading AABANY's reports on anti-Asian violence in 2021 and 2022 to understand "the response from the local community to people in our community dying." She acknowledged the precipitous rise in anti-Asian hate crimes in New York City and the growing atmosphere among of fear within the AAPI community during the pandemic. Jennifer called for comprehensive support for victims, including providing and advocating for qualified and experienced interpreters in interactions with the police and improved training and education. In addition, "[the] victims need wraparound services [such as] people to help them with [setting up a] Go Fund Me. In order to withdraw funds, you need [a] Social Security number from the United States as well as [a] bank account [in] the United States. They also need [the] ability to apply for U visas if they are undocumented. They need help with healthcare." Jennifer, herself a daughter of immigrant parents and a mother of three children, expressed her deep "yearn[ing] for a better future."
AABANY extends our congratulations and gratitude to Jennifer for her outstanding efforts and advocacy work in support of the AAPI community during a most difficult and challenging time. Her invaluable pro bono work advising and assisting survivors and victims of anti-Asian violence in New York over the past few years were recognized with a Member of the Year Award at AABANY's 2023 Annual Meeting. We commend her for her dedication and commitment.
To view the full hearing before the USCCR, please click here.
To view the highlights of AAPI leaders who testified:
Jo-Ann Yoo, Asian American Federation
John Yang, Asian Americans Advancing Justice
Cynthia Choi, Chinese for Affirmative Action
Jennifer Wu, Asian American Bar Association of New York
Manjusha P. Kulkarni, AAPI Equity Alliance
please click here. Thanks to Commissioner Magpantay for sharing the highlight video.