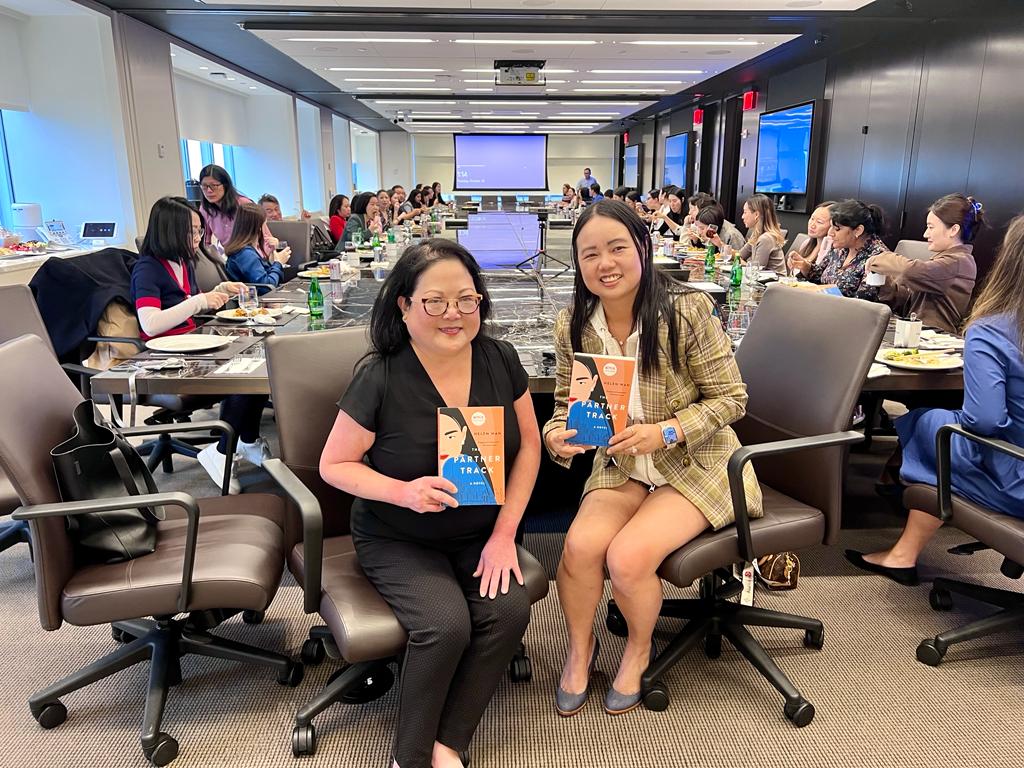 On Tuesday, October 25, Paul, Weiss and AABANY's Women's Committee invited alumna Helen Wan to host a lunch and discussion on the 2022 Netflix series, Partner Track, based off of her 2013 book, The Partner Track. The event drew about 50 attendees in person at the New York office of Paul, Weiss and about 30 more who joined online via Zoom. The book follows Ingrid Yung, a first-generation Chinese-American and the first lawyer in her family as she attempts to navigate the old-boy corporate culture of her law firm. As she is about to become the first minority woman to make partner at the firm, an offensive incident at a summer outing highlights her outsider status.
Helen heavily based the book off of her own experiences with corporate culture and the legal profession. As the daughter of Taiwanese immigrants, she went to law school and entered the legal profession as an aspirational goal and for the experience, seeing this as the American Dream. It was only when she came to Paul, Weiss that she experienced the social dynamic of the corporate environment – who was sinking or swimming or being called on for more involvement with clients and committees. As a young woman of color, she noticed the subtle differences and it played a role in her decision to seek other opportunities: "I think if there had been more representation and more people who looked like me in the senior ranks, I would have considered staying longer."
It was after transitioning from a law firm to in-house counsel that she found the opportunity to dedicate more time to her passion of writing. She began writing The Partner Track 20 years earlier on the subway to work. It consisted of journal scribblings of observations about corporate life in the city, about people, group dynamics, work dynamics, and not just the legal field but even anecdotes from friends in different industries. In order to further perfect her story, Helen took writing classes at NYU night school and forced herself to attend after spending grueling hours at the law firm. It took several years of securing the right literary agent, publishing house, marketing approach, compatible creative visions, and 3 different endings before releasing the final version of The Partner Track.
While the book and series are decidedly fiction, it was very important to Helen to write as realistic, authentic, and unvarnished a portrayal of corporate life as possible. She saw a big overlap in workplace experience and culture across fields and the experiences of her friends and peers. Consequently, most of the characters were amalgams of people she knew or heard about from friends. The conversations and topics the book tackled became more real and concrete. It is this tangibility and intersectionality that makes The Partner Track special. It may speak a lot on Asian American lived experience but also on dating, corporate culture, materialism, personal values, etc.
The Netflix adaptation, altered from the novel, tried to do "so many things at once, be so many different things to different audiences." For instance, human resources colleagues at law firms Helen worked at also felt heard when the show discussed how prevalent racist undertones and commentary is present in corporate settings and the struggle HR representatives go through when ensuring that these moments are resolved properly and effectively. Other audiences expressed that they were unable to finish the show because it reminded them of the struggles associated with navigating American corporate life as a Asian-American.
Helen repeatedly stated that she believes the conversations surrounding both the book and the show are optimistic rather than pessimistic. The story not only reveals a side of American corporate culture that often gets hidden behind fancy suits and tall buildings but also shows how valuable it is when audiences are represented rather than merely mentioned. The Partner Track shows that real life stories are relatable to everyone.
We thank Helen Wan for taking the time to discuss her book and its new Netflix series. For more information about her work and life, visit her website here. Helen, joined by actress Arden Cho and show runner Georgia Lee, presented the keynote remarks at the Saturday night Gala during at the 2022 Annual NAPABA Convention in Las Vegas on Nov. 5. Congratulations to Helen on the success of the book and series!