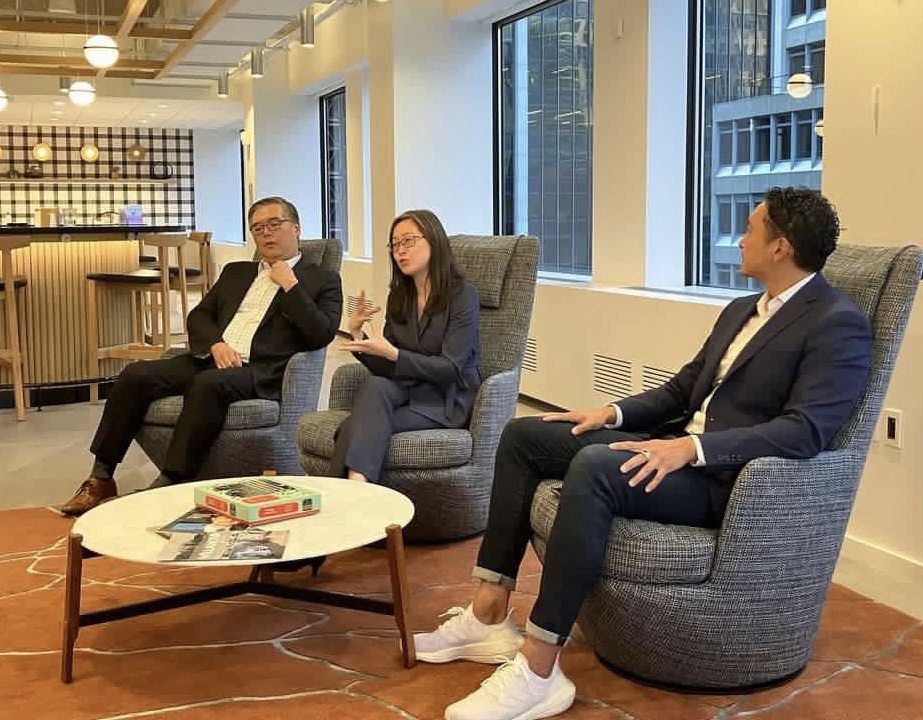 On Thursday, July 20th, 2023, the AABANY Membership Committee held the first event of the Meet the Board Series this year, at which attendees heard from AABANY President Karen Kim and AABANY Board Director Won Shin about their respective careers. The event was hosted by FTI Consulting in Midtown Manhattan, and co-sponsored by AABANY's Women's, Government Service & Public Interest, and Prosecutors' Committees.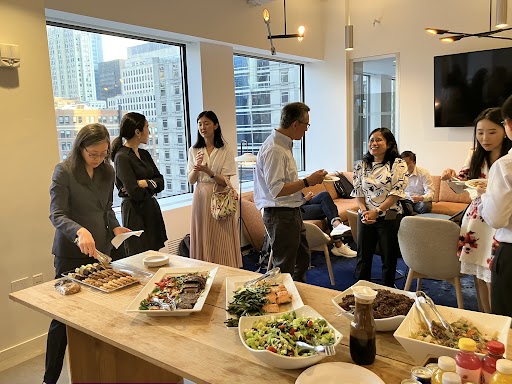 At the beginning of the night, attendees chatted and mingled over dinner before sitting down to participate in a Q&A session with Karen Kim and Won Shin moderated by Membership Director Christopher Bae. Christopher started by asking how the two became involved with AABANY, their most memorable cases, and how working with AABANY has changed their careers.
Won talked about his early career, starting with his work as a litigation associate at Wachtell, Lipton, Rosen & Katz for six years, his position as Assistant Solicitor General at the New York State Attorney General's office and his stint in complex frauds and cybercrime in the United States Attorney's Office. Finally, Won described his entrance into his office's appeals unit, where he now serves as Chief of Appeals of the Criminal Division.
Karen spoke about her work at a small firm doing mainly litigation, residential real estate, and construction law, before serving as Vice President of Operations and Strategic Development at Minority Corporate Counsel Association in D.C. and finally landing a position at QBE Insurance through former AABANY president Linda Lin. Karen believes her experience at the small firm she first worked at prepared her for her presidency at AABANY, because she worked on "a hodgepodge of everything" in both positions.
Christopher turned to the guests for one last question before taking inquiries from the audience. "So how do mentees make themselves stand out so that you would want to mentor them? What can younger attorneys be doing to find more than a mentorship in name and instead build an actual relationship with you?"
Karen paused to think of an answer. "Well, I like chocolate."
After around half an hour of audience questions, Christopher concluded with a round of rapid fire questions for Karen and Won. We learned that Won's favorite legal show is "Jury Duty," and Karen's favorite judge, past or present, is Judge Judy (the TV judge, not Hon. Judy Kim). The evening wrapped up with more mingling and enjoying food and drinks in FTI's stylish and modern space.
Thank you to Karen Kim and Won Shin for sharing your experience and wisdom with us, and Christopher Bae for moderating an insightful conversation. We look forward to hosting more Board Members in the Meet the Board Series. To learn more about the Membership Committee, go here.