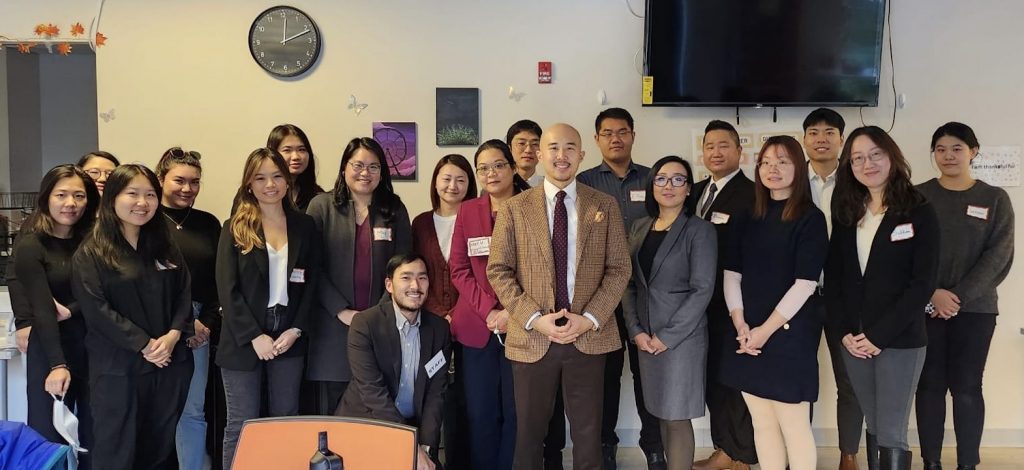 On November 19, AABANY's Pro Bono & Community Services Committee and Asian Americans for Equality (AAFE) joined forces to hold a pro bono legal clinic at AAFE's One Flushing Community Center in Queens.
We met with 25 clients who had questions about family, housing, immigration law. Since early August, Spanish-speaking asylum seekers have been sent by state governments in Texas and Florida to New York, precipitating a migrant. Unfortunately, many not-for-profit organizations in the city remain overwhelmed by this crisis, due to limited resources available from federal and state governments. AABANY and AAFE received numerous requests for assistance from New York City's vast community of immigrants at Saturday's clinic.
This Saturday's clinic used a multitude of digital and analog resources to provide top-notch services. We creatively used a hybrid Zoom call setup to bring in immigration attorneys (Jackson Chin and Judy Lee) and maintain a non-stop stream of consultations. One group of attorneys helped a client find actionable steps forward from his complex legal status, providing him with additional resources and referrals. AAFE generously made its printer and xerox machines available, which were critical in handling the larger-than-usual volume of Spanish-speaking clients we saw on Saturday. We were able to print out Spanish-language brochures about asylum, immigration eligibility for public benefits in New York State, and pro bono referrals.
AABANY Legal Intern Daniel Kang reflected on the work he witnessed at the Clinic: "Every attorney who volunteered their time on Saturday was deeply and professionally invested in the problems facing clients. I had the opportunity to shadow and complete intake forms for consultations held by Jackson Chin and Judy Lee. It was incredible seeing Jackson and Judy drill to the legal substance of each client's case by asking the right questions and bringing their own legal expertise to the fore. I was also heartened by the presence of Spanish-speaking volunteer interpreters who successfully broke through the language barrier between volunteer attorneys and locally based clients."
Not many of the attorneys who attended Saturday's clinic practice immigration law or speak Spanish. Immigration law is a complicated practice area which changes with each Presidential administration. A 30-minute legal consultation may not help those in dire need of immigration legal services, but clinics like AABANY's may be a client's best hope. Immigrant clients come to AABANY consultations in their attempts at acquiring information about the legal process, updates in immigration policy, how to survive in New York, and legal referrals. As usual, AABANY welcomes any and all practicing attorneys across the city to sign up for future clinics—as well as non-attorney volunteers who can speak Spanish or Chinese. Free lunch is provided to all volunteers at our clinics.
AABANY thanks everyone again for coming to volunteer at Saturday's clinic! Please join us at our upcoming clinics:
• Saturday, December 3 – please register by 12pm, 11/30
Manhattan Location – VNS Health, Community Center, 7 Mott Street, New York, NY 10002
• Saturday, December 10 – please register by 12pm, 12/7
Brooklyn Location – United Chinese Association of Brooklyn (UCA), 1787 Stillwell Avenue, Brooklyn, NY 11223
| | | |
| --- | --- | --- |
| Attorneys | Interpreters & Observers | AAFE Staff |
| Beatrice Leong | Daniel Kang | Daphne Mei |
| Eugene Kim | Jeremy Chih Cheng Chang | Gabriel Hisugan |
| Jackson Chin | Siobhan Feng | Constance Lee |
| Johnny Thach | Sue Yu | Elton Ye |
| Judy (Ming Chu) Lee | Vincce Chan | Carmen Cruz |
| May Li | Willow Liu | Maria Bergeron |
| May Wong | Yuichi Hayashi | |
| Richard In | Yuwen Long | |
| Rina Gurung | | |
| Shawn Lin | | |
| Shengyang (John) Wu | | |
| Shirley Luong | | |