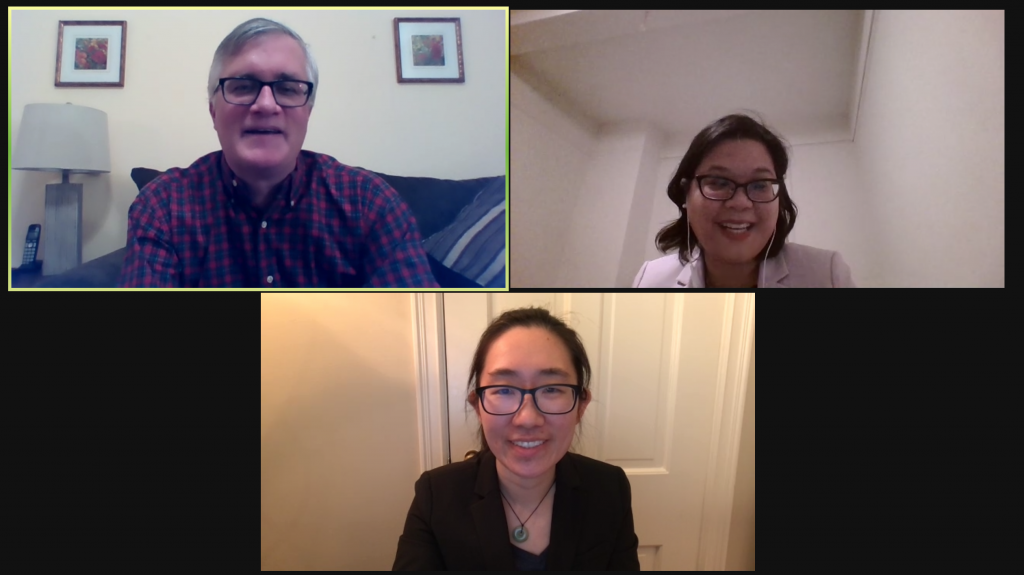 New York State Senators John Liu (11th District, Queens), Andrew Gounardes (22nd District, Brooklyn), Brian Kavanagh (26th District, Manhattan) and Toby Stavisky (16th District, Queens) hosted a Lunar New Year virtual celebration Tuesday evening, February 16, featuring performances from AAPI youth and community honorees. The event was well-attended by city, state and federal elected officials, as well as community leaders and their organizations.
Senator Kavanagh presented May Wong, Esq., and Olympia Moy with a certificate of commendation to recognize the work of AABANY's Pro Bono and Community Service Committee in providing invaluable legal assistance to the AAPI community during the pandemic. May Wong and Olympia Moy were proud to accept the certificate on behalf of the Pro Bono and Community Service Committee. In their acceptance speech, they detailed the committee's success in creating a one-day "in-person" clinic in July 2020 to assist tenants with paper applications for the COVID Rent Relief Program. When the COVID Rent Relief Program was extended to February 2021, law students volunteered again to establish a two-week remote hotline service to assist non-English speaking tenants apply via telephone. They were able to assist callers in Mandarin, Cantonese, and Spanish with the help of the committee's community partners, Chinatown CLT and GOLES. May Wong and Olympia Moy concluded their speech by expressing gratitude towards the State for its effort in addressing the State's housing and poverty crisis and strongly encouraged the State to "direct emergency financial relief to tenants and property owners in meaningful programs that can provide permanent rental assistance and increased access to rental subsidies."
Thank you to all the attorney volunteers and law students who helped AABANY and the community, especially May Wong, William Lee, Karen Lin, Nicholas Loh, Xinyi Shen, and Olympia Moy.
Congratulations to the Pro Bono and Community Service Committee on this well-deserved recognition! To learn more about the Committee and all its wonderful work, go to probono.aabany.org. They are always looking for more volunteers so email them at clinic.volunteer@aabany.org if you can help.