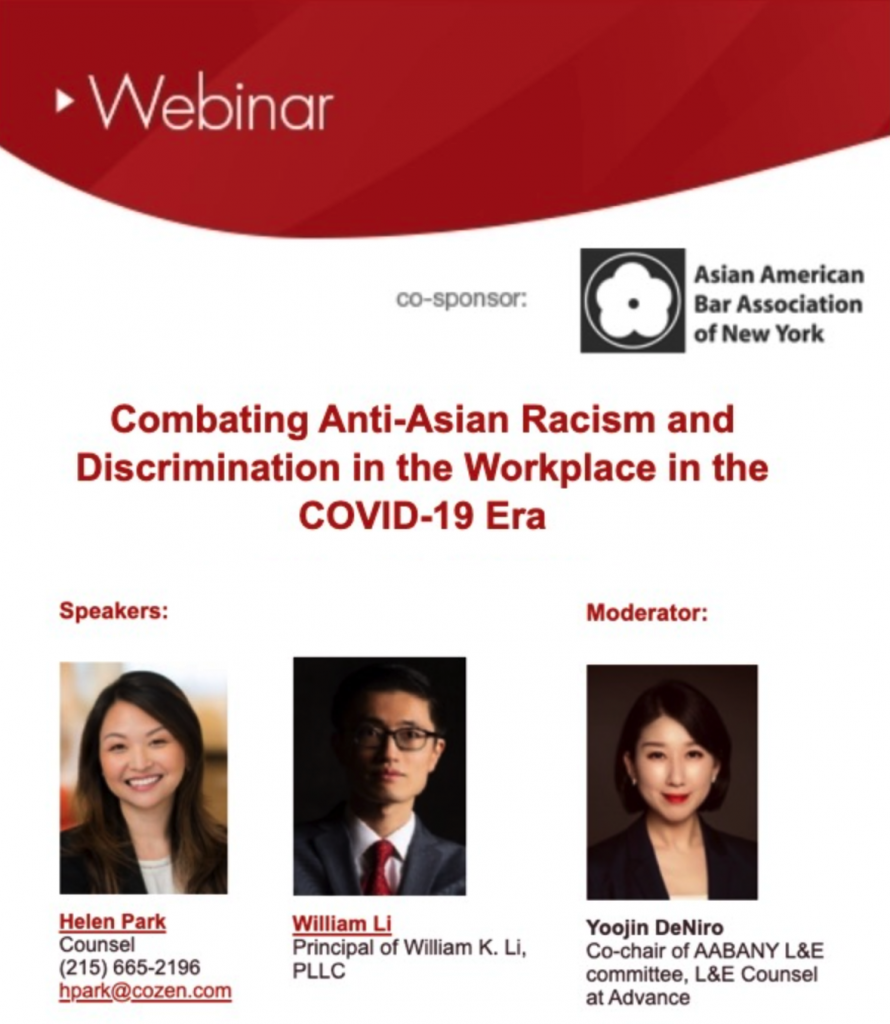 On July 10, AABANY co-sponsored a CLE Program on anti-Asian racism and discrimination in the workplace in the COVID-19 era. The panel focused on how COVID-19 is causing an increase in anti-Asian sentiment and detailed the current state of workplace discrimination laws. Speakers included Helen Park, Counsel at Cozen O'Connor, and William Li, Principal and Founder of William K. Li Law PLLC. The program was moderated by Yoojin DeNiro, Co-Chair of the AABANY Labor & Employment Law Committee.
The panel began with historical background on anti-Asian discrimination in the United States, with a focus on the recurring villainization of minority groups. Significant examples include the Chinese Exclusion Act of 1882, the internment of Japanese during World War II, and the murder of Vincent Chin (mistaken for Japanese) by white auto-workers.
Discussion also centered on the model minority myth as a barrier to recognizing the existence of workplace discrimination against Asians. Stereotypes perpetuating the image of Asian American children as math and musical geniuses may appear positive, but actually encourage a damaging narrative that deems Asians as a minority group not suffering from discrimination. The many repercussions include, for example, the separation of Asians from the rest of America by lumping them into one homogenous group and the characterization of all Asians as being polite and submissive.
The panel then outlined the current state of workplace discrimination laws and provided tips for Asian employees to keep in mind when reporting such conduct in the workplace. According to William Li, legal protections against workplace discrimination exist at both federal and state levels. Some states, such as New York, will have a more extensive list of those protected from workplace discrimination than the Federal law. Tips to keep in mind when reporting workplace discrimination include maintaining an extensive paper trail, remembering that harassment need not be severe or pervasive in order for the employer to be liable, and that a complainant does not have to complain to their employer or file a formal grievance in order to establish liability.
While discriminatory incidents against Asian Americans have increased in public since COVID-19, it is important to keep in mind that because most work remains remote, the full impact may not be seen until later.
Thank you to speakers Helen Park and William Li for their time and insight, and Yoojin DeNiro for moderating. Additional thanks to the Cozen O' Connor firm for hosting the webinar. Those interested in learning more about AABANY's Labor and Employment Law Committee can do so here.