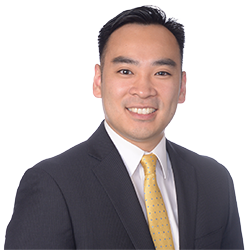 William Ng, President-Elect of AABANY, was recently featured in Binghamton University's April 2021 Alumni Newsletter. In the article titled "Alumnus Leads Bar Association, Combats Racism," William discussed AABANY's mission of ensuring meaningful participation of Asian Americans in the legal profession. He also highlighted AABANY's leadership in addressing the rise of hate and violence against the Asian American community. As President-Elect, William looks forward to prioritizing fundraising and ramping up virtual programs to position AABANY for success in a post-pandemic environment. Speaking about his time at Binghamton, William '04 credits his experience serving in the Student Association and as a Student Conduct Board Member to furthering his interest in law.
The newsletter also acknowledges other Binghamton alumni who have served or currently serve on the AABANY Board:
Yang Chen '87, Executive Director
Linda Lin '00, Past President
William Wang '00, Past President
Bobby Liu '93, Former Board Member
Christopher Bae '10, Secretary
Beatrice Leong '06, Membership Director
To read the full article on Binghamton University's Alumni Newsletter, click here.