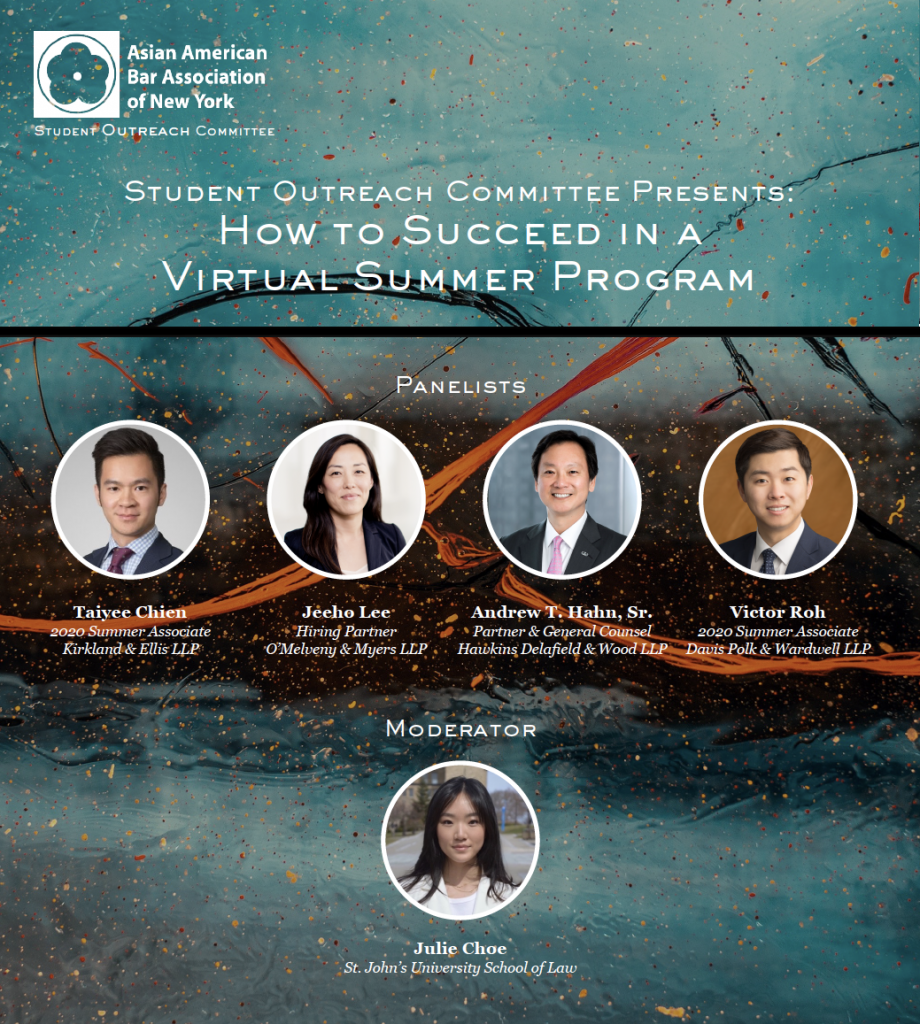 On June 3rd, the Asian American Bar Association of New York's Student Outreach Committee (SOC) hosted a panel discussion about the dos and don'ts of being a virtual summer associate. Haynes and Boone summer associate and SOC Student Leader Julie Choe moderated the panel. The panelists were Andrew T. Hahn, Sr., General Counsel and Chief Diversity Officer at Hawkins Delafield & Wood and past AABANY President in 2004; Jeeho Lee, hiring partner at O'Melveny & Myers; Taiyee Chien, summer associate at Kirkland & Ellis and SOC Student Leader; and Victor Roh, summer associate at Davis Polk & Wardwell and SOC Marketing Director and Student Leader.
Julie opened the event by introducing the panelists for the evening. The student leaders then shared their experiences as (virtual) summer associates, and discussed a variety of topics with the other panelists including how to gain diverse work experience, how to reach out to partners, the advantages and disadvantages of a remote program, work-life balance, and more. The panelists also discussed the qualities of a good summer associate, which included being attentive to detail, respectful, taking responsibility for mistakes, being responsive to emails, and keeping your camera on during meetings. The panelists also emphasized the importance of building your own unique "brand" at the firm from your particular strengths and character. After the event, the discussion was opened to the attendees for questions.
AABANY thanks SOC for hosting this timely event in the midst of the pandemic and thanks the panelists for sharing their thoughts and experiences about summer associate programs. AABANY SOC will also be hosting several upcoming events, including a mock interview workshop and two panel discussions as part of the Students Meet Firms series. The first panel will feature attorneys from Cleary Gottlieb. The second presentation will discuss the legal recruiting process with recruiters at Shearman & Sterling. To learn more about AABANY's SOC, click here. To join the SOC slack channel, click here.