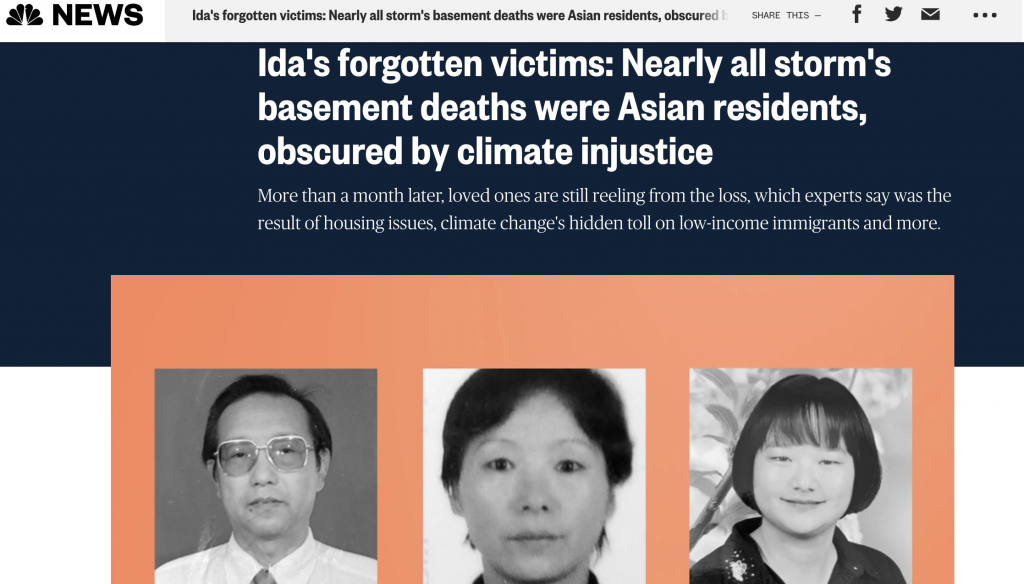 In early September, Hurricane Ida made landfall in New York City and left countless individuals to suffer the aftermath of flooded basements. A closer look into the eleven basement-flooding deaths reveals that a majority of them were Asian residents. A number of factors played into this tragedy including a lack of affordable housing, climate change, and pandemic change. These issues are prominent among low-income Asian immigrants who resort to illegal basement apartments that are deemed to have unsafe living conditions.
"Realistically, a lot of these tenants would have family members, many who are clustered into very, very small rooms," said Lina Lee, executive director of housing justice nonprofit organization Communities Resist. "When you have these natural disasters, there's obviously going to be really a life-and-death situation, and when you have very limited or no access to leave your living space, these families really had no way out."
Lee continues, "They cluster in small communities where they are able to access people who speak the same language, who are from the same culture and are living in the same conditions that they have to live in. For them, they have nowhere else to live with, except those small pockets in Queens."
Punishing tenants is not an ideal solution. Lee said reporting landlords for housing violations enforces building codes which could prompt agencies to issue a vacate order and inadvertently force a tenant to move out.The Mayor proposes an emergency warning system for basement-dwellers but the victims' families are not convinced.
To read the full NBC News article, click here.
Lina Lee will also be the moderator for a program titled "Fighting for Housing And Community Justice: The Role of Lawyers In The Movement" at AABANY's Fall Conference on Saturday, October 23. Click here for more information.