Dear NAPABA Community,
We pause to remember the lives of eight people lost, including six Asian women, in the Atlanta-area shootings one year ago. As we continue to grapple with the continued impact of anti-Asian hate and violence on our communities, we hope you are taking care and finding space for reflection and healing. We invite you to join and share events from the NAPABA community and affiliates.
Join GAPABA in partnership with The AAPI Crime Victims & Education Fund, The GAPABA Law Foundation, NAAAP-Atlanta, and Asian Americans Advancing Justice – Atlanta. Register for the event here.

All proceeds go towards the AAPI Crime Victims & Education Fund. If you would like to make an extra online donation, you may do so here.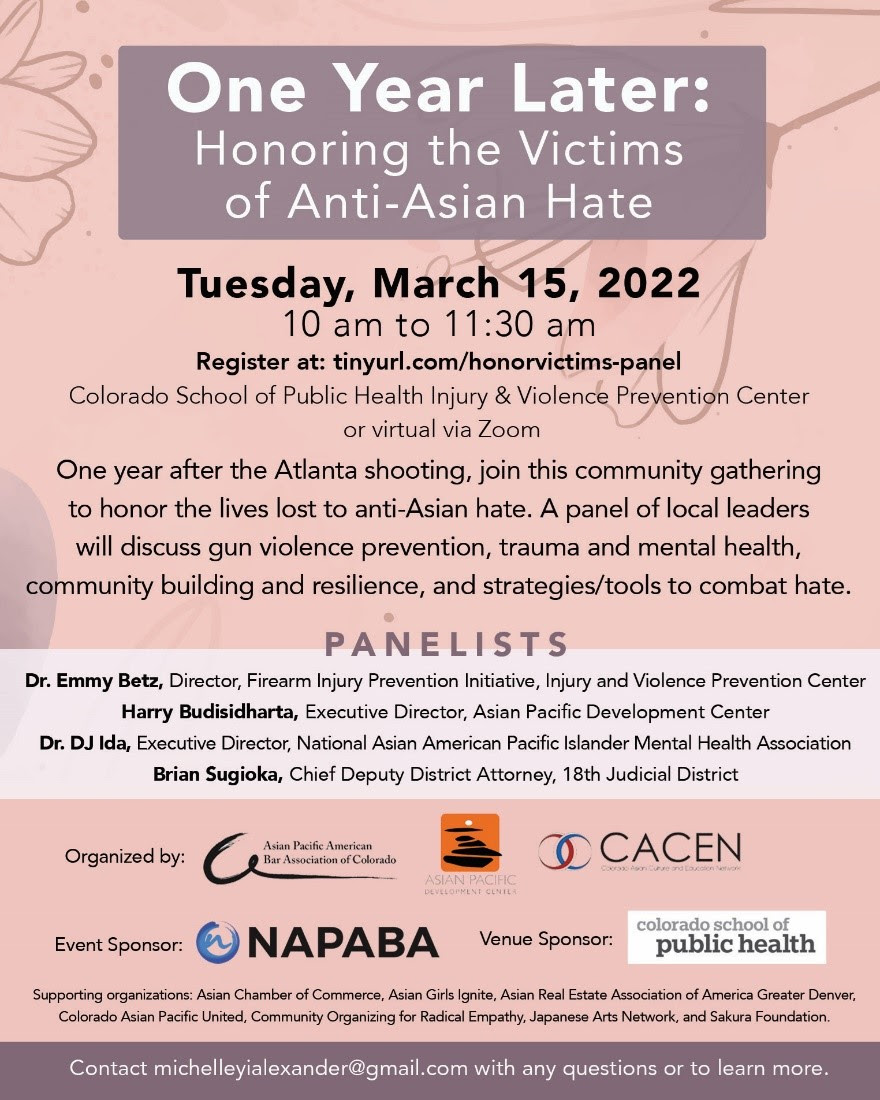 On March 15, 2022, the Asian Pacific American Bar Association of Colorado is hosting a press conference and panel discussion at the Colorado School of Public Health's Injury & Violence Prevention Center where members of the media and community are invited to learn about the issues impacting the AAPI community and what the community needs in order to end gun violence and hate crimes. Following the press conference, a panel will discuss resources for coping with the trauma associated with community victimization, and tools for where we – as a community – go from here. Register here to attend in-person or via Zoom.
On March 16, 2022, the Asian American Bar Association of Houston is sponsoring the Houston component of the National Asian Women's rally on the one-year anniversary of the tragic Atlanta spa shootings.
Similar rallies will take place simultaneously in Atlanta, Houston, New York, San Francisco, Sacramento, Washington D.C., and other cities around the country. The Houston rally will be held at Discovery Green in downtown Houston at 6:00 pm CT.
The goal of the event is to uplift the experiences of API women by acknowledging the complexities of their struggles, demanding change, and celebrating women's strength. Conscious of the anniversary of the Atlanta shootings, and the one too many tragedies in over the last year, this event is meant to emphasize that the violence enacted on API women's bodies does not solely define their identities and existence.
For more information about the event, please visit aabahouston.com.