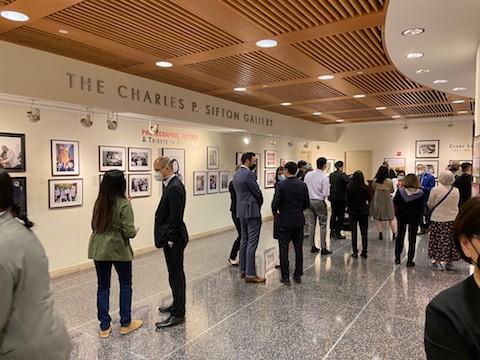 On Thursday, May 19, 2022, AABANY board members, committee chairs and invitees attended a private viewing of "Photographic Justice: A Tribute to Corky Lee." The event was well-attended by numerous EDNY judges, community members and elected officials.
"Photographic Justice" pays homage to the life and work of renowned New York City-based photographer Corky Lee, who documented the Asian American movement through the last five decades. The group photography exhibit features a selection of Lee's works along with that of other Asian American photographers. The term "photographic justice" has been used by Lee to describe his mission to rectify the exclusion of Asian Americans in America's visual history.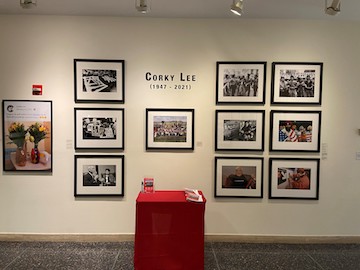 Lee's last project was to chronicle the effort to combat anti-Asian violence before his passing from COVID-19 in 2021.

A long-time friend of AABANY, Lee was the photographer for AABANY's Annual Dinner for many years. In 2017, AABANY co-sponsored a photo exhibit by Corky Lee in celebration of Asian Pacific American Heritage Month. At the event, Lee discussed his experiences as a photojournalist over the years as and his role as the self-proclaimed "Undisputed Unofficial Asian American Photographer Laureate."
AABANY President William Ng, in his remarks during the reception, read the dedication to Corky from AABANY's Anti-Asian Hate and Violence Report: "Corky Lee personified the Asian-American movement, and AABANY honors his memory by carrying on his work to combat indifference, injustice and discrimination against Asian Americans."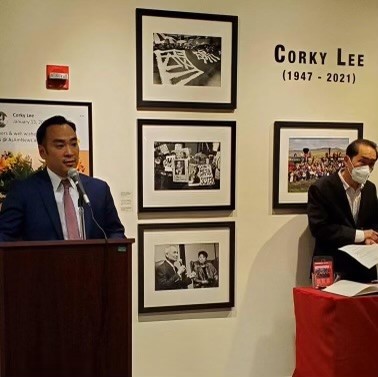 This exhibit is open to the public Monday through Friday from 8:30 AM to 5:00 PM through November 20, at Hon. Charles P. Sifton Gallery of the United States Courthouse for the Eastern District of New York (225 Cadman Plaza East).
Thanks to AABANY board member Chris Kwok for his instrumental role in organizing and making this VIP reception possible.