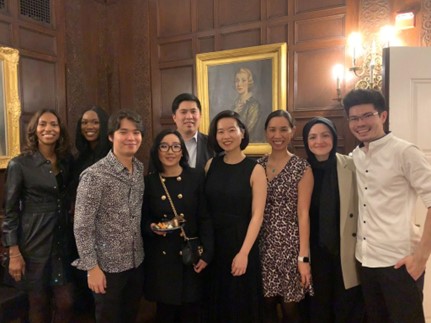 On November 14th, the IP Committee presented their first concert event, a group outing to see the ARKAI Duo play their award-winning music at the historical Kosciuszko Foundation House. New connections were made among the attendees, which included law firm attorneys, in-house counsel, and students!
The performance started with ARKAI's own musical piece, "Womp'n Stomp," followed by their own cover versions of "Moon River" and "Blackbird." They ended with "Muziqawi Silt," an original work from their electronic debut composition "Letters from COVID." The piece is unique in that it merges together electronic and classical music, creating an unorthodox melody that aims to reflect the confusion and uncertainty of the early days of the pandemic.
The performance was followed by a reception where the IP Committee had the opportunity to meet the ARKAI Duo and have lively discussions about how the duo prepared for the concert, the challenges they faced, and also the IP Committee's own interest in music, all while enjoying glasses of wine and hors d'oeuvres!
Please sign up for the IP Committee mailing list and look out for the Committee's next event! To learn more about the IP Committee, please click here.