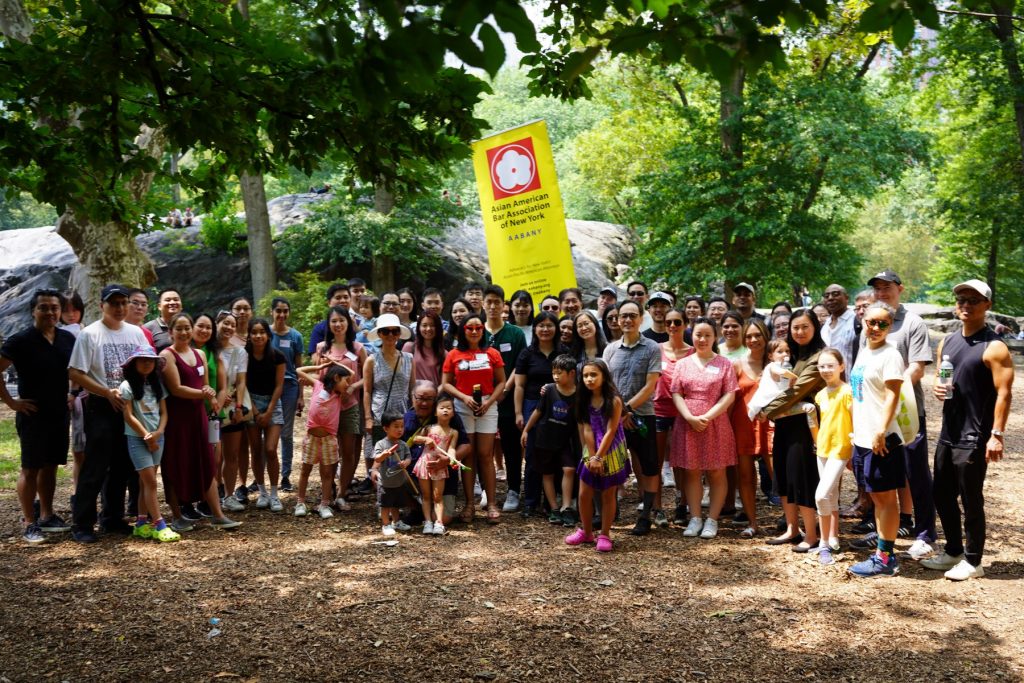 On July 8, 2023, AABANY's Young Lawyers Committee ("YLC") hosted its annual picnic in Central Park's Heckscher Picnic Area, connecting members from various committees and their families and pets. Alongside family and friends, AABANY members chatted and relaxed over burgers from Shake Shack and fresh fruits and healthy snacks from Whole Foods. Among the attendees were the President, Karen Kim, the Executive Director, Yang Chen, and former President, Terrence Shen. YLC's Co-chairs, Ada Wang and Kwonsun Jung, organized the event.
While temperatures this summer are breaking record highs, the heat did not inhibit our members' enjoyment of the event. Throughout the picnic area, members could be found bonding under the eaves of shady pine trees, sharing laughter and making memories. The picnic ran from 11 AM to 3 PM, and the time passed quickly. Unfortunately, thunder clouds loomed in the distance as 3 PM approached. To avoid getting drenched by incoming storms, attendees woefully packed up their snacks and blankets. Thankfully, the festivities continued, with members gathering for an afterparty at the Smith near Lincoln Center, continuing the joy over drinks and light bites. 
Thank you to everyone for spending their Saturday with AABANY and contributing to the warm and vibrant community that makes our organization so special. We look forward to many more memorable events and opportunities to come together in the future. Special thanks to the Young Lawyers Committee, and the Co-Chairs, Kwonsun and Ada, for their hard work planning and organizing this event. To learn more about the Young Lawyers Committee, click here.