On September 23, 2023, AABANY hosted its 14th annual Fall Conference, "Embracing Wellness and Well-being," at the Fordham University School of Law. This year's conference was co-sponsored with Fordham Law School's Center on Asian Americans and the Law. AABANY was also honored to co-host the National Asian Pacific Islander Prosecutors Association (NAPIPA) 4th Annual Conference. AABANY thanks NAPIPA for contributing many excellent programs to the Fall Conference, including the Plenary Lunch Session.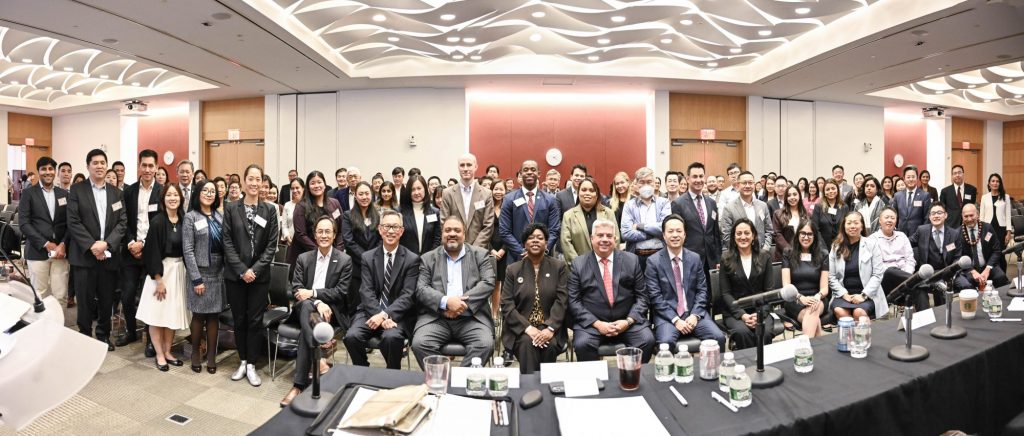 The conference kicked off with breakfast, which welcomed legal professionals from around the country to Fordham Law School. Attendees chatted over coffee, pastries and other breakfast fare, sharing their excitement and anticipation, before heading off to attend the morning's CLE programs.
The morning session of the conference offered a variety of topical programs to choose from, including:
The sessions ran concurrently, in two 90-minute blocks in three parallel tracks.
The theme of this year's conference was "Embracing Wellness and Well-being," which was well- reflected in this year's diverse lineup of programs. The morning's panels laid a strong foundation for the rest of the event, addressing complex and evolving challenges within the legal profession, while emphasizing the importance of well-being and community engagement. This thematic emphasis on well-being resonated throughout the event, encouraging attendees to reflect on their roles as legal professionals while nurturing their personal and collective wellness. To see photos from the morning session go here. 
During the first part of the morning session, AABANY's Anti-Asian Violence Task Force premiered their video, "Voices against Anti-Asian Hate." The documentary featured survivors of anti-Asian hate attacks and community supporters, followed by a panel discussion among members of the Anti-Asian Violence Task Force involved in the production of the video. For more information about the screening, click here.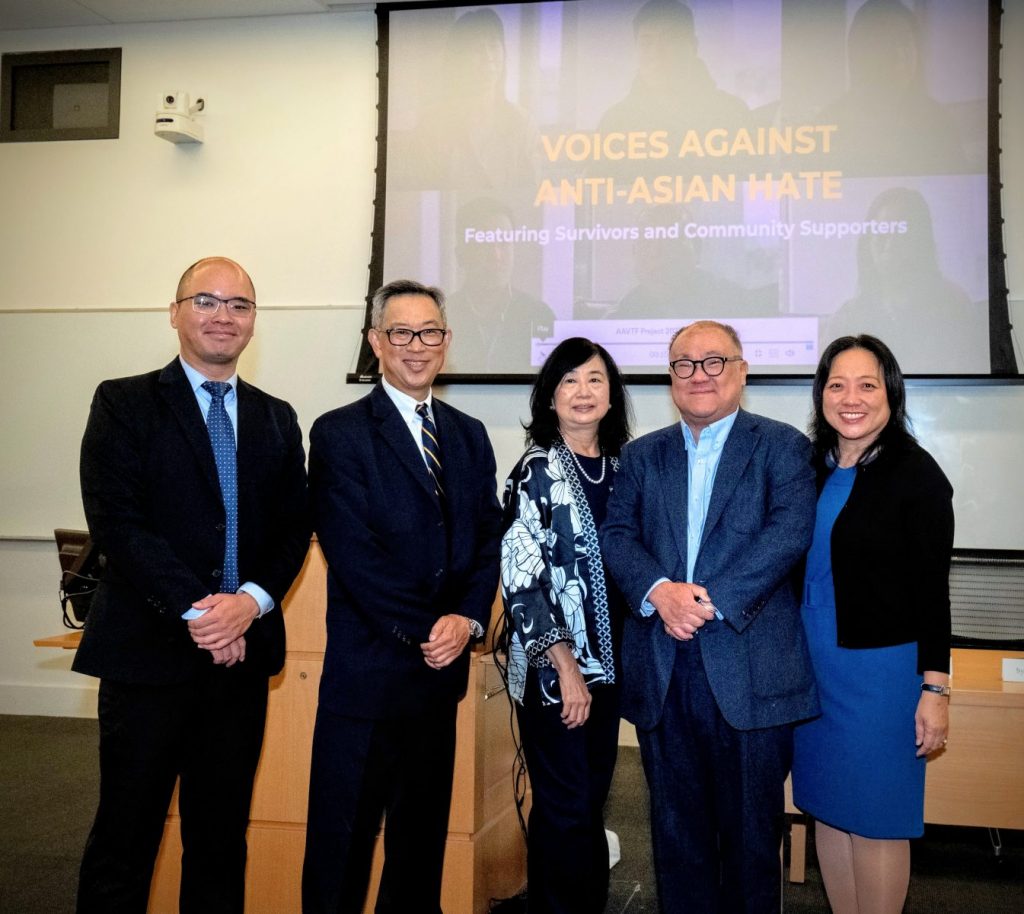 In a fourth track, the Fall Conference's Trial Advocacy Program (TAP) was held. TAP offered junior lawyers a unique opportunity to hone their trial skills under the guidance of experienced mentors. This year's TAP program was particularly noteworthy for conducting the first two segments over Zoom, in the weeks leading up to the Fall Conference. The program unfolded over two virtual sessions on specific dates. The first segment, held on September 13th, delved into Opening Statements and Direct Examinations. The second session, which took place on September 20th, covered Cross Examinations and Closing Statements, further enriching participants' trial skills and knowledge.
The culmination of the TAP program occurred in-person, at the Fall Conference, kicking off with an engaging keynote speech delivered by Brian Lee, Executive ADA at the Nassau County District Attorney's Office. His insights and expertise added tremendous value to the program. Following the keynote address, TAP participants conducted a mock trial, where participants had the chance to put their newly acquired skills into practice. Seasoned trial lawyers graciously served as mentors during this mock trial, providing invaluable feedback and guidance to help participants refine their trial advocacy skills. Thanks to all the TAP mentors and participants who made this year's TAP a success.
Starting at 10:30 am, the Fall Conference offered a Diversity Career Fair, featuring a range of public and private sector organizations eager to network and connect with passionate young professionals. Participating employers included Legal Services NYC, The Legal Aid Society, the U.S Department of Justice, and several District Attorneys' offices. Attendees were able to converse with representatives, receiving answers to questions and learning more about working at the various agencies, organizations and companies. Some employers collected resumes and held on-site interviews, providing the opportunity for candidates to express their interest in working for participating employers.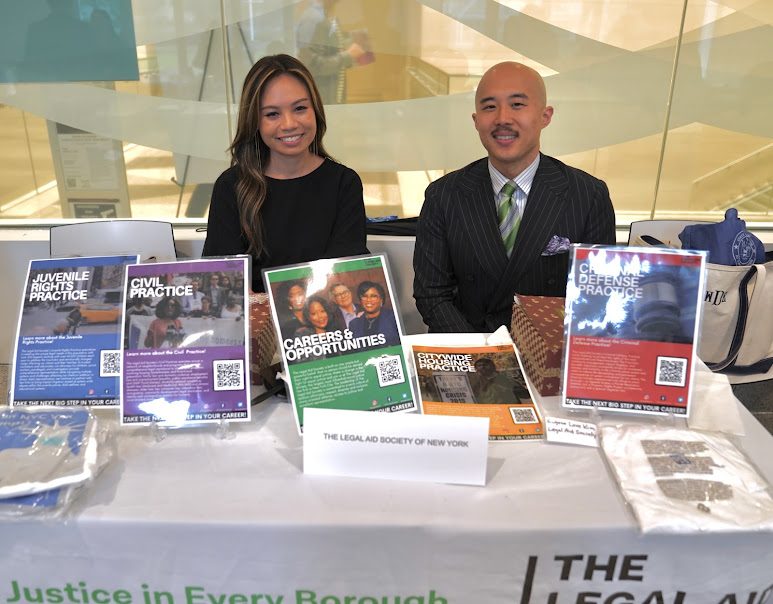 To see photos from the Diversity Career Fair, go here.
Attendees convened in the Costantino Room for the Plenary Lunch Session, featuring the program "Prosecution in the 21st Century: Discussion with Four Trailblazer District Attorneys." The panel featured four renowned District Attorneys, including:
Eric Gonzalez, District Attorney, Kings County
Alvin Bragg, District Attorney, New York County
Darcel Clark, District Attorney, Bronx County
Thien Ho, District Attorney, Sacramento County
Participants listened intently as the DAs discussed their unique journeys and challenges as diverse attorneys and prosecutors. They talked about their roles as advocates for future diverse prosecutors and shared their visions and policies for the short- and long-term future of prosecution. Additionally, the DAs addressed the crucial issue of prosecuting anti-Asian bias incidents and hate crimes, emphasizing the importance of combating prejudice and protecting marginalized communities.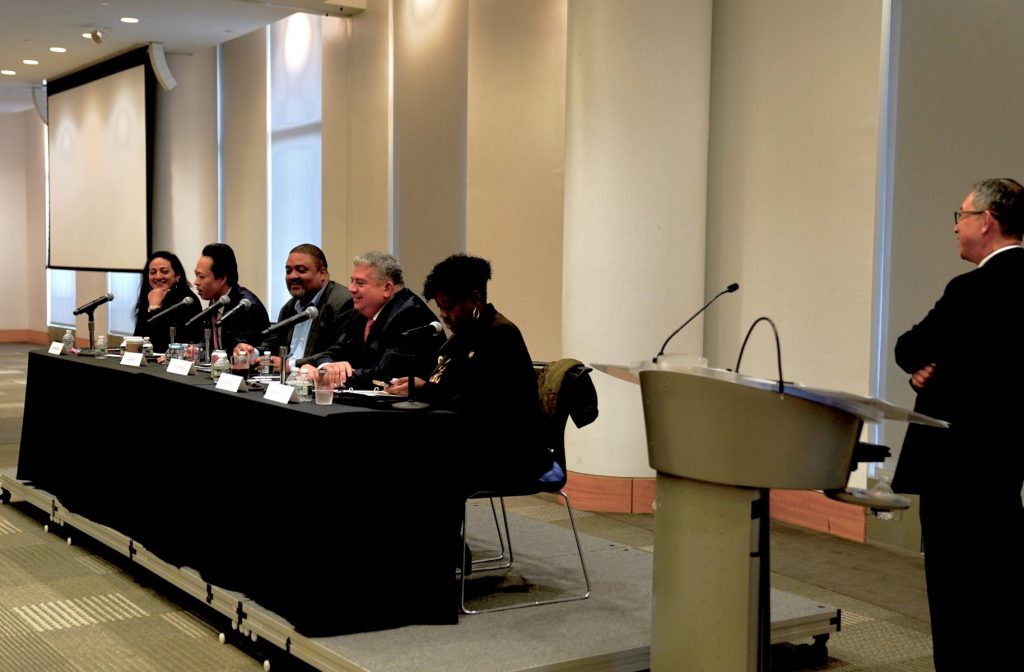 The Fall Conference also featured the Corky Lee photo exhibit, featuring six photos taken by the renowned photographer. The exhibit highlighted Corky's legacy of photographing every aspect of the Asian American experience. The works on display included a 2003 photo of Asian American judges from both the Federal and State judiciary, with Hon. Denny Chin and Hon. Marilyn Go (Ret.) featured in front, and a photo of Vincent Chin's mother, illustrating the long legacy of anti-Asian hate crimes. AABANY honored Corky with an award in 2017 recognizing his invaluable contributions to society and especially the AAPI community. We continue to carry forth his legacy of activism through the work of AABANY and its partners at the 2023 AABANY Fall Conference, NAPIPA (National Asian Pacific Islander Prosecutors Association) and the Center on Asian Americans and the Law at Fordham Law School.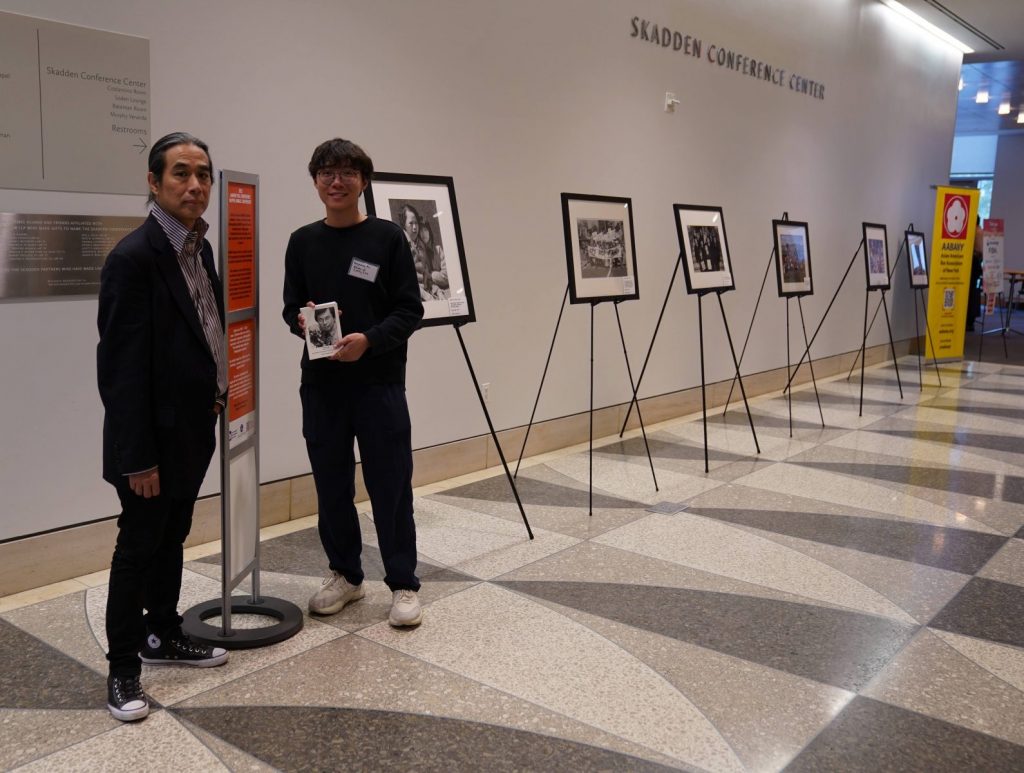 The afternoon session featured more engaging and impactful programs:
These panels covered a range of topics, including work-life balance, affordable housing, hate crimes prosecution, and mental health well-being. Additionally, they discussed the importance of embracing wellness in the legal profession and promoting diversity in appellate courts. Overall, the panels provided insights and strategies for addressing these pressing issues in the legal profession. Attendees were exposed to a wealth of knowledge, inspiration, and opportunities for professional and personal growth. To see photos from the afternoon session go here.
After a full day of CLE programs, TAP, and DCF, the conference closed with a cocktail reception, where panelists and attendees connected over drinks and light bites.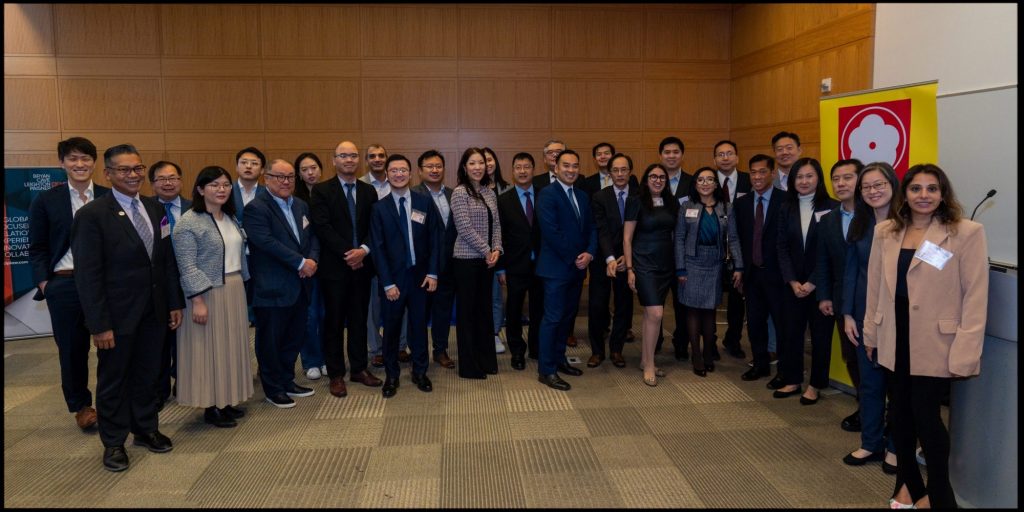 "It was such an honor to be surrounded by so many different law students and lawyers from so many different areas of law, and learn more about the Asian legal community," said volunteer Alyzah Ziga, part of the large Syracuse Law School contingent. A special thanks goes out to the dedicated student volunteers from:
Brooklyn Law School
Cardozo School of Law
Columbia Law School
Cornell University
Fordham Law School
New York Law School
New York University
NYU School of Law
Pace School of Law
Seton Hall School of Law
St. John's University School of Law
Syracuse University College of Law
Touro Law Center
Thank you for generously contributing your time to assist with registration, address attendee inquiries, and handle attendees check-in/check-out for CLE credits. The Fall Conference would not have run as well and as smoothly without your assistance throughout the day. To see some photos of our dedicated volunteers, go here.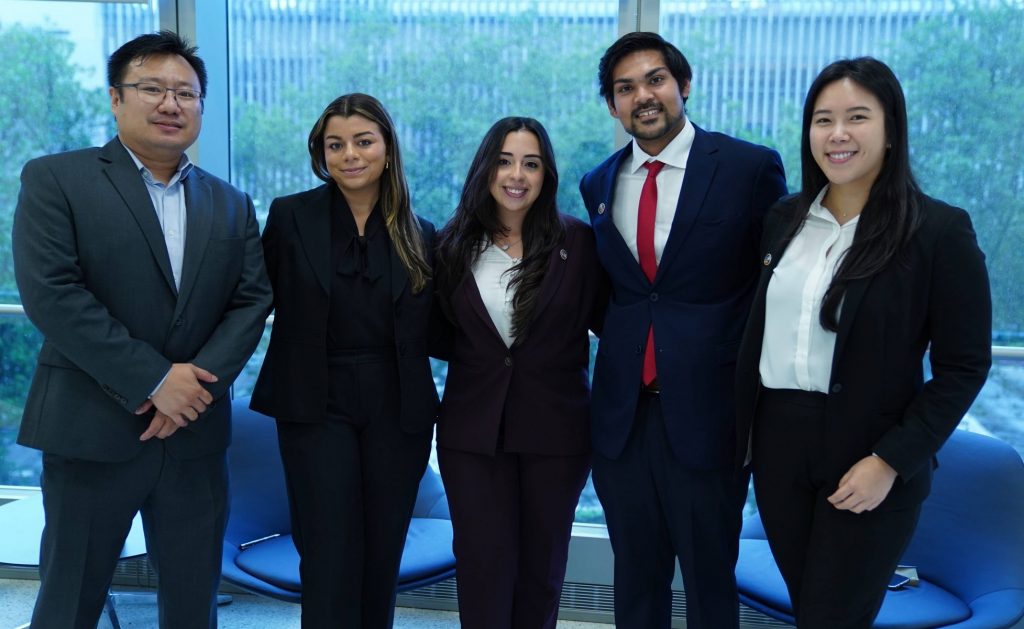 The informal and relaxed atmosphere during the reception allowed attendees to actively converse and forge professional connections, a testament to the sense of camaraderie and community that had been prevalent throughout the day. "It was amazing to meet all of these like-minded and passionate Asian American lawyers. It's always very inspiring to be around such driven, and accomplished individuals who really just want to help each other succeed. Though this was my first Fall Conference, it's definitely not going to be my last," said Kwonsun Jung, Young Lawyers Committee Co-Chair and associate at Lowenstein Sandler.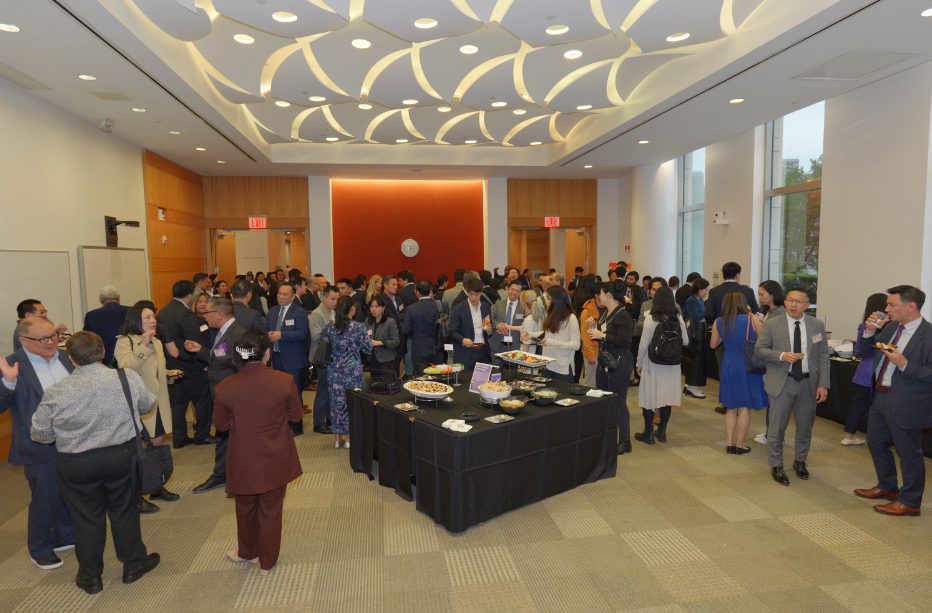 While the reception was still going on, some of the attendees departed Fordham Law School to attend NAPIPA's 9th Annual Scholarship Banquet & Trailblazer Award Presentation, hosted at Seng Seafood Restaurant in Chinatown. AABANY congratulates Paul Jhin, President of NAPIPA, for winning the Award of Excellence. Paul has not only been a prominent leader but also a catalyst for change within the AAPI law community, serving as an inspiration to all. Judge Chin received NAPIPA's Trailblazer Award. Judge Denny Chin's illustrious career and commitment to justice have not only left an indelible mark on the legal community but have also inspired countless individuals. We would also like to recognize Hugh Mo, who was honored with NAPIPA's Lifetime Achievement Award. Hugh's lifelong pursuit of legal excellence and AAPI advocacy serves as a testament to his commitment to justice and equity for all. Lastly, AABANY extends its warmest congratulations to James Lin, this year's recipient of AABANY's Trailblazer Award. James has been a powerful and dynamic presence in the criminal justice and law enforcement community for over thirty years, and we are excited to formally recognize his considerable achievements over a long career. The evening was a true celebration of outstanding individuals dedicated to making a positive impact in our legal community, and AABANY is proud to have been a part of it. To see photo from the NAPIPA Scholarship Banquet, go here.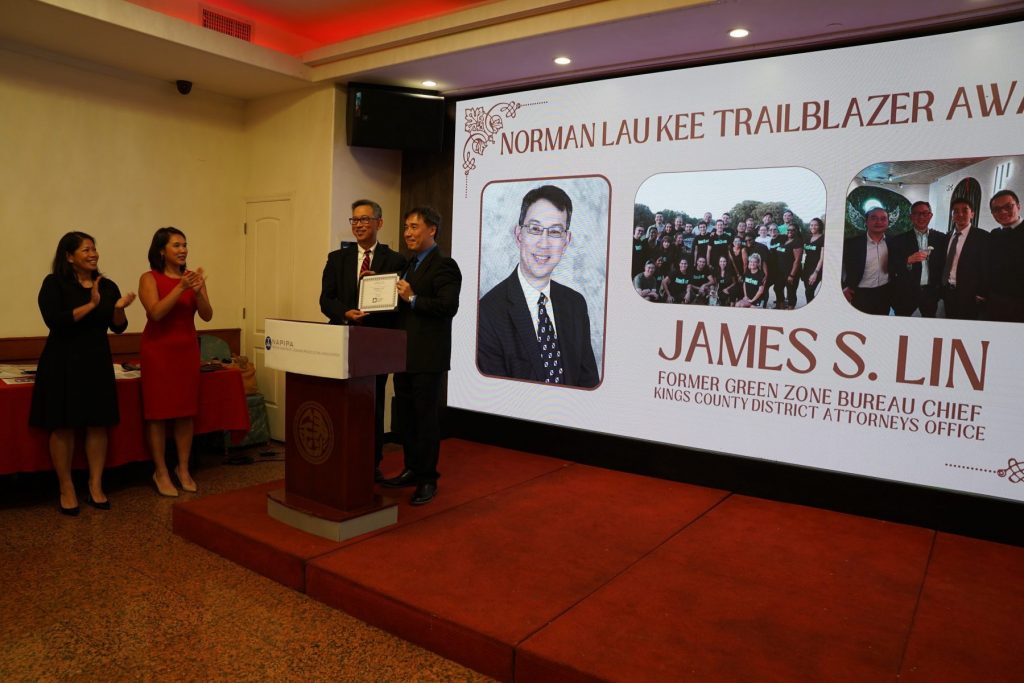 AABANY wishes to express its heartfelt gratitude to the sponsors who contributed to the success of the 2023 Fall Conference. We extend our sincere thanks to the following sponsors:
Broadridge Financial Solutions (Elite Sponsor)
ConEdison (Elite Sponsor)
Fish and Richardson (Elite Sponsor)
Perkins Coie (Gold Sponsor)
Bryan Cave Leighton Paisner (Bronze Sponsor)
Goldstein Hall (Bronze Sponsor)
Hudson Court Reporting (Bronze Sponsor)
Kensington Vanguard (Bronze Sponsor)
Wilson Sonsini Goodrich Rosati (Bronze Sponsor)
In addition, we acknowledge and thank the Annual Dinner 2023 Sponsors for their generous year-round support of AABANY. We extend special recognition to Morrow Sodali, our After-Party Sponsor; Broadridge Financial Solutions, our Diamond Sponsor; and Kirkland & Ellis, our Pre-Dinner GC Reception Sponsor. To view a full list of our generous sponsors, please visit our sponsors page here. Your continued support empowers us to pursue our mission and create meaningful events like the Fall Conference. Thank you for your commitment to AABANY as well as its numerous programs and activities.
Furthermore, AABANY thanks all our esteemed panelists and moderators for sharing their valuable insight and time with our members and community. We express our sincere gratitude to all the Program Chairs who organized an excellent slate of programs. We are deeply grateful for their vital role in making this event an enriching and enlightening experience for all attendees. Finally, thank you to the attendees and volunteers who gave us their valuable time this weekend. The Fall Conference thrived through your participation, and we hope that we will see you again at upcoming AABANY events.
For more information about this year's Fall Conference, you can visit our website here.