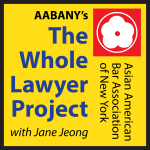 For our third episode of The Whole Lawyer Project, we are honored to have Karen Kithan Yau, who shares her inspiring and authentic journey as a public interest lawyer, a former community organizer, a former professor, and a proud wife and mother of two multiracial children. Now an Of Counsel at Kakalec Law in New York who fights for employees, workers, and immigrants, Karen shares her personal story as the daughter of two garment workers who grew up in public housing projects in Hong Kong and a one-bedroom Brooklyn apartment with her family.
Karen explores how her own family story shaped her mission to fight for those who are marginalized, invisible, and disenfranchised — and how this mission is particularly important today, given the spike in anti-Asian harassment and the perpetual treatment of Asian Americans as very "other" (regardless of where we were born or how much we personally identify as "American"). She provides guidance on how we can better recognize implicit biases, what we can do to fight the bamboo ceiling, and how we can all get out of our comfort zones in addressing anti-Asian hate (some tips: get organized, demand more, and find your communities). Finally, Karen offers words of wisdom for young attorneys who are trying to balance work and family (tip: remember that not everything happens in a straight line) as well as for those who are struggling to find their footing in their own careers (tip: remain resilient and remember that there are more open doors than we think).
If you want to work with Karen in supporting pro bono opportunities, please visit the AABANY Pro Bono site here . For anyone who wants to be inspired, this is an absolute must-listen.