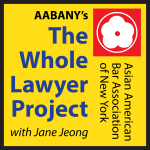 Hosted by Jane Jeong
We are excited to present to you AABANY's The Whole Lawyer Project, which highlights Asian American attorneys and leaders throughout the nation and the human stories behind their success. Today, I am happy to introduce David Lat, the founding editor of Above the Law, as well as a legal recruiter at Lateral Link. Before launching Above the Law, David attended Harvard College and Yale Law School. After law school, he worked as a law clerk for a federal appeals judge, an associate at Wachtell Lipton Rosen & Katz, and an Assistant U.S. Attorney.
On this episode, David shares his storied journey from an Assistant U.S. Attorney to legal blogger, his experience managing traditional Asian parental expectations when leaving the law, his advice for any lawyer who wants to explore their creative pursuits (tip: carve out the time and have an accountability buddy), and his advice for anyone who is thinking of entering (or leaving!) the legal profession. You can check out David's latest brainchild at https://davidlat.substack.com/.