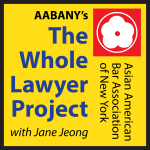 Shinhong Byun, an attorney, a mother, a military spouse, and podcast host: On surviving rape and PTSD, and channeling her pain into power.
We are so excited to host Shinhong Byun, an Of Counsel at Chan + Punzalan and the host of The Curious Ahjuma podcast (https://curiousahjuma.libsyn.com/), for which she bravely shares her healing journey following a brutal rape and a harrowing trial in Korea, and the bouts of PTSD, shame, and depression that haunted her even after 15 years. Together, we explore everything — from discovering self-compassion to refusing to numb ourselves to day-to-day microaggressions to refusing to define oneself as a broken victim (no matter how brutal some of our life experiences can be).
In addition to matters of the heart, we also explore Shinhong's storied legal career and all the advice she has for attorneys looking to pivot through different areas of the law (Shinhong has pivoted through criminal law, commercial litigation, and maritime law at various points throughout her life). Shinhong is a graduate of the University of Minnesota Law School, Tulane University Law School, and the University of California, San Diego.
Shinhong's story is a must-listen for those who embrace healing, growth and self-compassion.