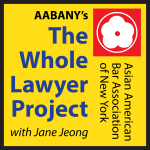 Stephanie Tsao, an attorney and founder of API International Connectors: On taking a pause from BigLaw and organizing an international rally to Stop Asian Hate
We are so excited to host Stephanie Tsao, a former BigLaw attorney who founded API International Connectors (API-IC), a nonprofit connecting community leaders, NGOs and grassroots organizations to unite to Stop Asian Hate. Alongside organizations in the U.S., Canada and Australia, API-IC is organizing an international rally for May 15, 2021 to fight against anti-Asian hate around the world. For more information, please check out their Instagram @apiic_org or www.communityagainsthate.org.
In addition to promoting the rally, Stephanie speaks on the first step anyone can take to fight for social justice, on her unexpected pause in her BigLaw journey to care for her two young babies during COVID, on the one movie she recommends we all watch to keep perspective (yes, it's from Disney!), and on her latest side-hustle candy business she is launching in the middle of the pandemic (check out http://viviandlivy.com/ for a preview of what's to come!).
Stephanie's story is a must-listen for all the hustlers out there: Remember you are never too late to start over, to make that cold call, to make intentional memories with your family, or to launch that business you've always dreamed of. Hope you enjoy.