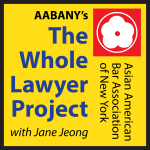 Wookie Kim is the Legal Director of the ACLU of Hawaiʻi, as well as a Lecturer in Law at the University of Hawai'i at Manoa and an endurance athlete who competes in 100-mile trail races.
On this episode, we explore how Wookie's Teach for America experiences motivated him to become a civil rights lawyer, how he navigated the transition from BigLaw to the ACLU (pro tip: grab a copy of The Great Firm Escape here: https://hls.harvard.edu/dept/opia/the-great-firm-escape/), and how the spike in anti-Asian violence has resurfaced all the various microaggressions we all too easily swept under the rug while growing up. Wookie also shares how a near-death experience while trail running and months-long road to recovery empowered him to speed up his dreams, get out of his comfort zone, and tune deeper into his intuition — no matter how difficult it can be to go against the current at times.
Prior to joining the ACLU, Wookie was a litigation associate at Quinn Emanuel Urquhart & Sullivan, LLP in Washington, D.C and served as a law clerk to the Honorable Catherine C. Blake of the U.S. District Court for the District of Maryland. Wookie is a graduate of Harvard Law School and Yale College.