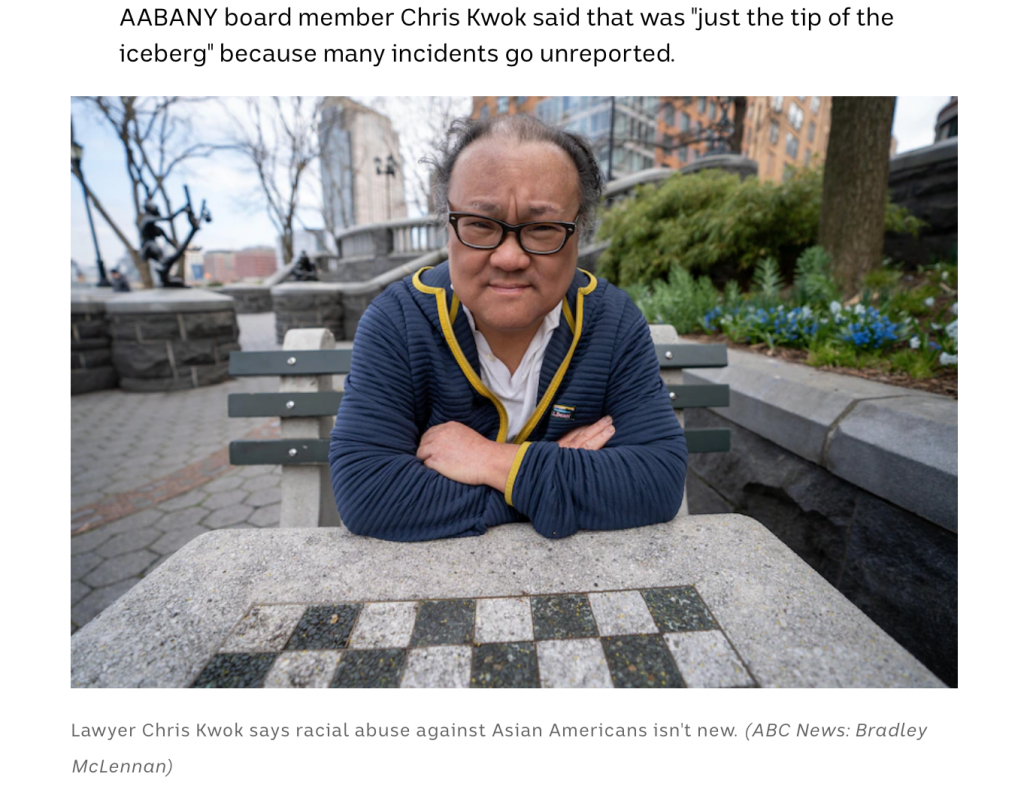 AABANY's report on anti-Asian violence was recently mentioned in a May 6, 2021 ABC News article titled "Asian Americans take a stand as the US faces a new racial reckoning." The article highlighted the report's finding of the eight-fold increase in the number of anti-Asian hate incidents that were reported to the NYPD in 2020 compared to the previous year. Co-Executive Editor of the report and AABANY Board Director Chris Kwok was interviewed on the underreporting of anti-Asian hate incidents and the increase of anti-Asian hate and violence during the pandemic. Chris discussed the long-standing anti-Asian sentiments in America which date back to laws in the 19th and early 20th centuries controlling the rights of Chinese workers. He stated: "The pandemic unleashed, I think, a growing fear of China going back to [Barack] Obama's second term…Then if you take the thread back longer in the West, in America, there's always been a fear of Chinese in America." Chris also mentioned how former President Donald Trump's reference to COVID-19 as the "China virus" and "Kung Flu" fueled anti-Asian sentiment during the pandemic, providing perpetrators "the ultimate authorisation to behave to the worst impulses that you had."
To read the full article, click here.
Please also take a look at previous blog posts from February 19, March 1, March 8, March 15, March 29, and May 10 highlighting news stories about our report. If you have come across a news report or article about our report that is not listed above, please let us know at main@aabany.org.
More public awareness about our report and the rise in anti-Asian violence is needed. Please share our report widely. If you have ideas or thoughts about how we can combat anti-Asian violence, please share them with us at main@aabany.org.