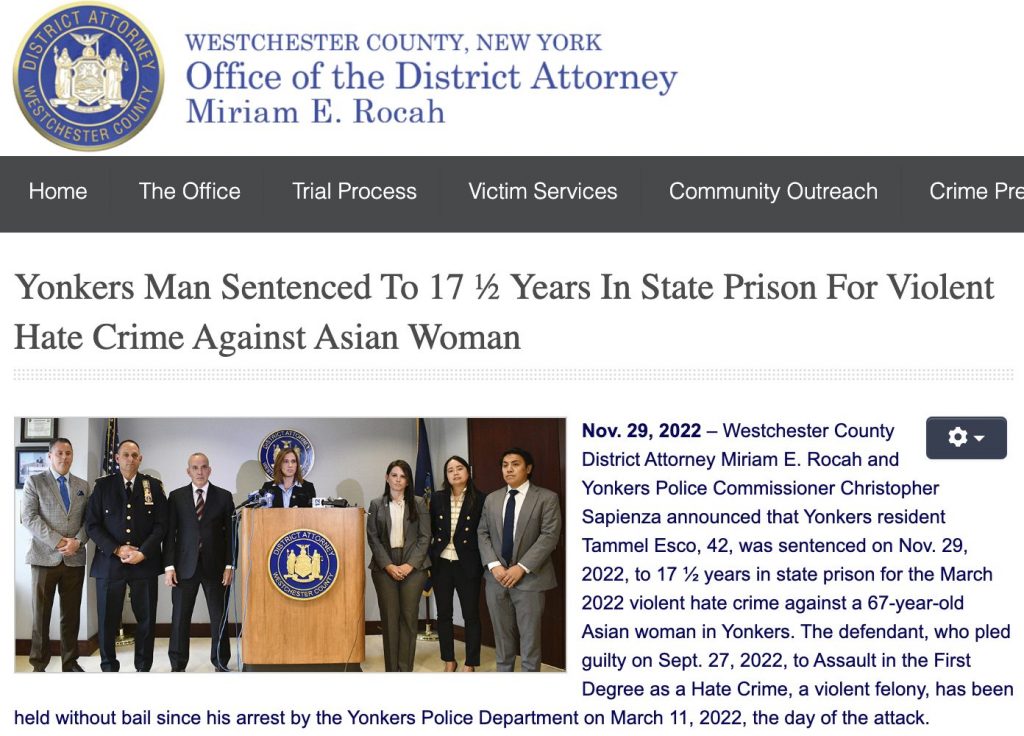 On November 29th, AABANY's Anti-Asian Violence Task Force (AAVTF) led by Chair Elaine Chiu and member Jim Lin, attended the sentencing of Tammel Esco in support of the survivor of a horrific act of hate that took place in Yonkers on March 11, 2022. AAVTF member Jennifer Wu represented the survivor pro bono as the case against Esco proceeded through the courts and accompanied the survivor, together with co-counsel Johan Tatoy (also an AABANY member) at the sentencing.
Tammel Esco was arrested after he brutally beat a 67-year-old Filipino-American woman at the entrance of her Yonkers apartment. Esco pleaded guilty to the charge of first-degree assault as a hate crime and was sentenced to 17-1/2 years in prison followed by five years of supervised release. Judge Minihan presided at the sentencing and recounted Esco's sad history. She offered him the chance to apologize or explain himself, but he declined. In her victim impact statement, the survivor stated, "A complete stranger heartlessly spit, beat, and kicked me over 100 times just because of my heritage. I lost months of my life. I will forever be on edge." Currently, she remains in stable condition, yet had to move out of her longtime home due to the traumatic event.
After the sentencing, AABANY members had the chance to meet the District Attorney of Westchester County, Mimi Rocah, at her press conference, where Jennifer Wu commented on the survivor's behalf, stating, "Leaving the home that you've had for 24 years and where you raised your daughters, is incredibly painful." During the meeting, AAVTF members offered proposals on statutory reform and how to prevent such gruesome cases from occurring in the Asian American community in the future. Elaine Chiu commented further on AAVTF's attendance at the sentencing and the press conference, stating, "It was a very valuable day with efforts that contribute to the multi-faceted work of our Task Force."
Watch this News 12 report about the sentencing, in which Johan Tatoy, as the survivor's attorney, spoke at the press conference and AAVTF Task Force Chair Elaine Chiu was interviewed.
To learn more about the AAVTF and support its efforts, please click here.
Join the AAVTF at the next court watching on January 10, for the sentencing for Elisaul Perez, who pled guility to manslaughter in the death of GuiYing Ma. More details here:
https://www.aabany.org/events/event_details.asp?legacy=1&id=1701949