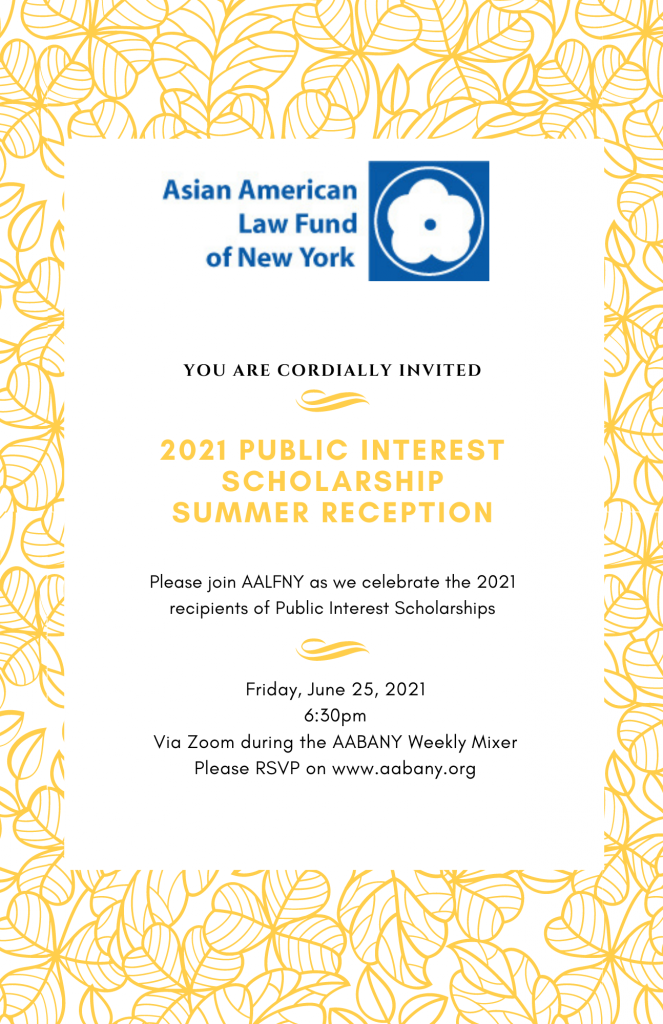 Please join us for the AABANY/AALFNY virtual Summer Reception to be held on zoom from 6:30 to 7:30 p.m. on Friday June 25, 2021.
Please RSVP at https://www.aabany.org/events/event_details.asp?legacy=1&id=1420369
The Reception is the main fundraising event of the Asian American Law Fund of NY and provides funding for our projects which include, among others, our Public Interest Scholarships, the Turning the Tide Project and the AABANY Pro Bono Clinic.
While not a requirement for attendance at the event, we would be delighted if you or your firm would demonstrate support of the Fund by making a donation. The donation would be acknowledged on the Fund's website. The various contribution levels are detailed below.  The Fund is a 501(c) (3) entity and contributions are tax deductible to the extent permitted by applicable law.
Feel free to circulate this announcement to any interested lawyers and law students. There is no charge for attendance.  If you have any questions, please do not hesitate to contact me.
Contribution Levels
Diamond …………………………………………………….……$1000
Gold ………..……………………………………………………….$750
Silver ……………………………………………………………….$500
The Asian American Law Fund of New York awards Public Interest Scholarships each year to law students with a demonstrated commitment to the Asian American community. The purpose of the award is to assist law students with their tuition while encouraging them to use their legal knowledge and training to benefit the Asian American community in New York and to foster commitment by law students to public service to the Asian American community in New York.  Since 1997, AALFNY has funded more than 60 public interest scholarships to law students.
This year's recipients were Amanda Jimenez, Evelyn (Meng) Lin, and Shelley Wu. In addition, Dawa Lhamo was the recipient of the AALFNY-SABANY Public Interest Fellowship.
The Asian American Law Fund of New York was established in 1993 by the Asian American Bar Association of New York (AABANY) to create and support non-profit and charitable efforts to eliminate prejudice and discrimination and to defend human and civil rights.
Donations to AALFNY may be made at asianamericanlawfund.org/donate or by check to AALFNY, PO Box 161, 41 Purdy Ave., Rye NY 10580. A copy of our latest annual report may be obtained from us at the above address or from the NY Attorney General's Charities Bureau website www.charitiesnys.com. Information may also be obtained from us at donations@AsianAmericanLawFund.org or the NYS Attorney General at 212-416-8686.