Again showing AABANY's commitment to raising up the next generation of Asian American lawyers, the Government Service and Public Interest (GSPI) committee teamed up with the Student Outreach Committee (SOC) and Mayer Brown LLP to host the first ever "AABANY Students Meet Government and Public Interest Lawyers" event. The program was held on the evening of February 23 and was very successful, featuring a room packed with students and mentors, and two professional panels, followed by a networking reception.

The panels showcased how Asian Americans have succeeded as lawyers in government service and in the public interest. The panels featured:
Rahul Agarwal, Deputy Chief Counsel from the Office of Chief Counsel to the Mayor and City Hall;
Sofia Khan, Director of the Family Law Unit from Legal Services NYC (LSNYC);
Belinda Luu, Staff Attorney from Mobilization for Justice's (MFJ) Special Litigation Project;
Frank Ng, Deputy General Counsel from the New York City Office of Administrative Trials and Hearings (OATH);
Kwok Ng, Associate Court Attorney from New York City Civil Court;
Nakeeb Siddique, Director of Housing from the Legal Aid Society's Brooklyn Neighborhood Office;
Marti Weithman, Assistant Commissioner from the New York City Department of Housing Preservation and Development (DHPD); and
Annie Wang, Director of Immigrant Justice Project from the Asian American Legal Defense and Education (AALDEF).
The panels showed students what it is like to work in a variety of fields in government and public interest and what it takes for students to get a foot in the door.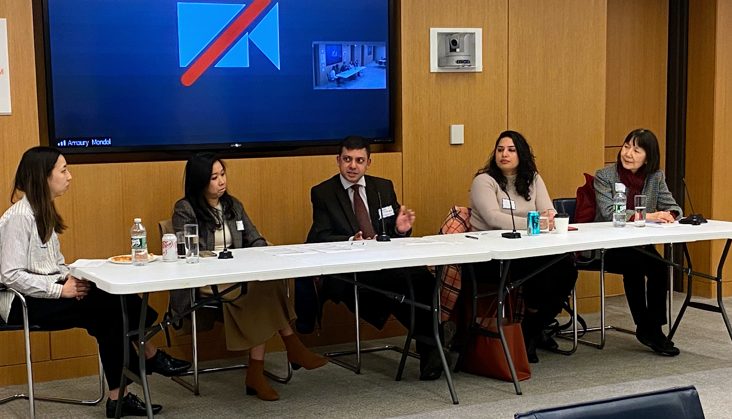 The panel discussions were followed by a networking reception with more government service and public interest lawyers. In attendance were, Ernie Collete from MFJ, Kevin Hsi from DHPD (also GSPI Committee's Co-Chair), Jonathan Rosen from New York City Housing Authority (NYCHA), May Wong (Pro Bono & Community Service Committee Co-Chair) from DC 37 Legal Services. Also, in attendance were AABANY's Executive Director Yang Chen, Vice President of Programs and Operations Beatrice Leong, and Treasurer and Co-Chair of the GSPI Committee Evelyn Gong.
Thank you to AABANY student leaders Stephanie Sun (Fordham Law) and Alex Lao (Pace Law), SOC Vice Chair Justin Lee (NYU Law), SOC Co-Chair William Lee (Associate, Mayer Brown LLP) and GSPI Committee Co-Chair Rina Gurung (Associate Court Attorney, Housing Court) for leading the charge.
Special thank you to Mayer Brown LLP for sponsoring and hosting this event.
To learn more about the GSPI Committee, click here. To learn more about the SOC, click here.