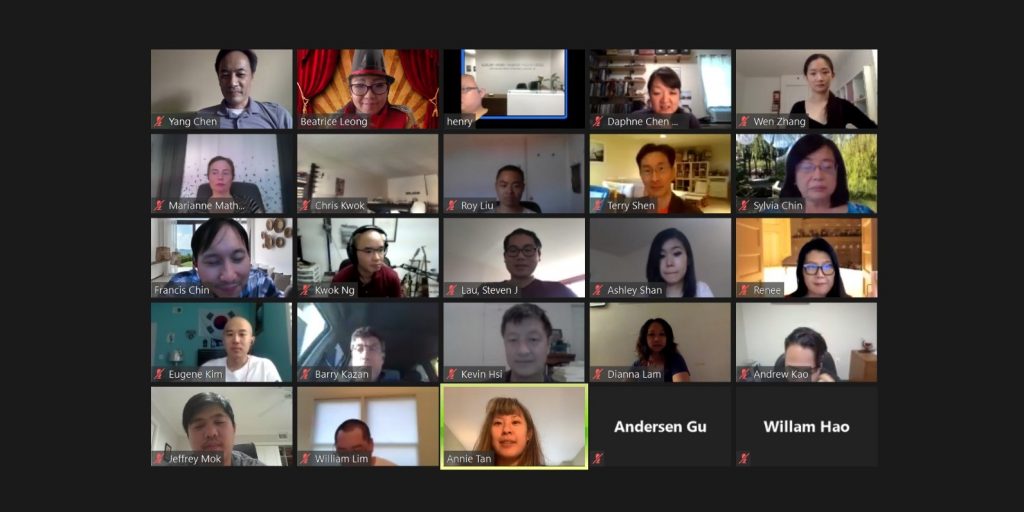 On July 17, 2020, the Membership Committee hosted their weekly Zoom Membership Mixer, with 26 participants in attendance. The icebreaker question posed to the participants was: "What is your talent, or if you don't have a talent, what talent do you wish you had?" Members overwhelmingly said they were piano players. For the people who didn't have special talents, they wished they could speak foreign languages, sing, play musical instruments or code their own video games.
This week, AABANY's most talented members displayed their skills virtually. We want to give our love and appreciation to the performers:
Steven Lau performed "Wagon Wheel" by Old Crow Medicine Show, singing and playing guitar.
Wen Zhang performed a traditional Chinese dance in a beautiful dress.
Andrew Kao performed a standup comedy routine (sitting down).
Kwok Ng performed "The Thrill Is Gone" by B.B. King, singing and playing the guitar.
For the Mixer afterparty, Kwok performed an encore, singing and playing "House of the Rising Sun" by the Animals, and those who stayed were able to sing along.
The Membership Committee previously hosted Monthly Mixers at bars, ballparks, stadiums, operas, etc, but due to COVID, we have moved online to offer members a weekly outlet to share their feelings, see old friends, and make new connections. Mixers start at 6:30pm on Friday and the main event ends at 7:30pm but people have regularly stayed on after 7:30pm to continue chatting.
Membership Committee will continue to host weekly Zoom mixers until it is safe to gather together again in person.
We have been giving away door prizes at some of the Mixers. To win, you must be a member and must RSVP on the calendar entry at aabany.org to get a raffle number. Non-members can join the Zoom Mixer but won't be eligible to win a prize.
Mixers are not recorded, and are LIVE, so don't miss out.
This Friday's Mixer will be done in collaboration with KALAGNY (the Korean American Lawyers Association of Greater New York). To join us, please register by Thursday, July 23, at https://www.aabany.org/events/event_details.asp?legacy=1&id=1366645