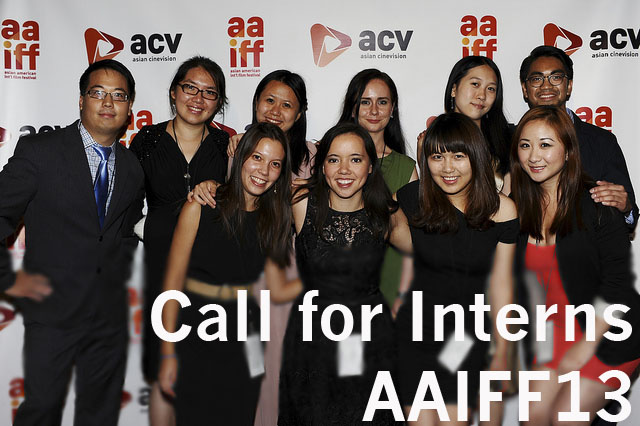 At Asian CineVision, we are currently looking for dedicated people to join the team and organize the 36th Annual Asian American International Film Festival (AAIFF). Started in 1978, AAIFF is the first and longest running Asian American film festival in the United States, and we showcase some of the best independent art-house cinema. This summer, we are seeking enthusiastic cinephiles to join our progressive community of organizers, artists, and filmmakers.
Community Outreach Coordinator
Network and build relationships with existing and new community organizations
Outreach to student and community organizations by creating unique program campaigns
Coordinate ticket sales with community and student organizations
Invite and follow-up with political figures to attend the festival
Technical Production Coordinator
Coordinate logistics and equipment needs for the duration of the festival (Step and repeat, walkie-talkies, t-shirts, U-Haul, car rentals, HD Cam decks)
Work with Venue projectionist in coordinating proper screening formats
Compress movie files to appropriate format given by the venue projectionist
Create AAIFF'13 curtain raisers
Create and edit AAIFF'13 trailer
Make DVD and digital copies of showtapes and screeners as needed
Assist with CineVue related projects as needed with editing or video coverage
Box Office Manager
Supervise will-call information desk, office phone sales, and transactions
Manage will-call personnel on pick-up protocols and procedure
Liaise with Social Media Coordinator and Outreach Coordinator for ticket-giveaways
Input Program Content on ACV website
Setup Box Office System on ShowClix
Coordinate with Social Media and Website Manager on implementing the ShowClix system on Social Media Platforms & Website
Social Media and Website Manager
Develop a content management calendar and promotional strategies
Manages all execution of all ACV's social media channels (YouTube, Facebook, Twitter, Tumblr, etc)
Publishes content provided by all team members
Write copy and send out email newsletter
Track Social Media traction via Google Analytics on a weekly basis and provide feedback on content value
Responsible for all postings on ACV's website
Troubleshoot any technical problems
Update content as needed (all aaiff13 marketing materials: save-the-date card, program guide, brochure, etc.)
Design Assistant
Assist Design Manager with AAIFF'13 creatives
Design for print and web collaterals (examples: aaiff program guide, forms, public signage, name tags)
Manage timeline for overall design team
About Asian CineVision
Asian CineVision (ACV) is a nonprofit media arts organization devoted to the development, promotion, preservation, and exhibition of Asian and Asian American film and video. Since 1978, ACV has produced the Asian American International Film Festival (AAIFF), the nation's longest running festival of its kind and the premier showcase for the best in independent Asian and Asian American cinema.
Now in its 36th year, ACV has steadily defined and progressively broadened its role as an Asian American media arts center by serving a growing constituency that includes filmmakers, media programmers, and the local and regional Asian American community and a national audience. ACV is committed to film and media as a tool for social change and to the support of diversity in independent cinema.
Qualifications
Time Commitment: Summer interns must be available approximately 15 hours/week in the office, and be willing to work for the entirety of the festival: July 24 through August 3, which includes evening and late night hours.
Strong interest in the public sector & the community through nonprofit arts.
Must be entrepreneurial, well-organized, and detail-oriented with excellent writing and interpersonal skills.
Enthusiastic personalities a must!
Benefits
Interns receive $5.00/day travel stipend
Casual work environment with flexible hours
Media Fan membership: Free and discounted tickets throughout the year to partner screenings and to AAIFF
Credit on website and festival program book
Working on the nation's oldest Asian and Asian American film festival with a focus on independent cinema!
TO APPLY
Please submit your cover letter and resume to info@asiancinevision.org with the subject line "2013 Internship Application – Your Name". Applications are accepted until all positions are filled. Earlier applications, people with an earlier start date, and those who are based in NYC will receive preference.
Apply and work with a team of leaders defining the next generation of independent Asian Pacific American films!
Click Here for more information.