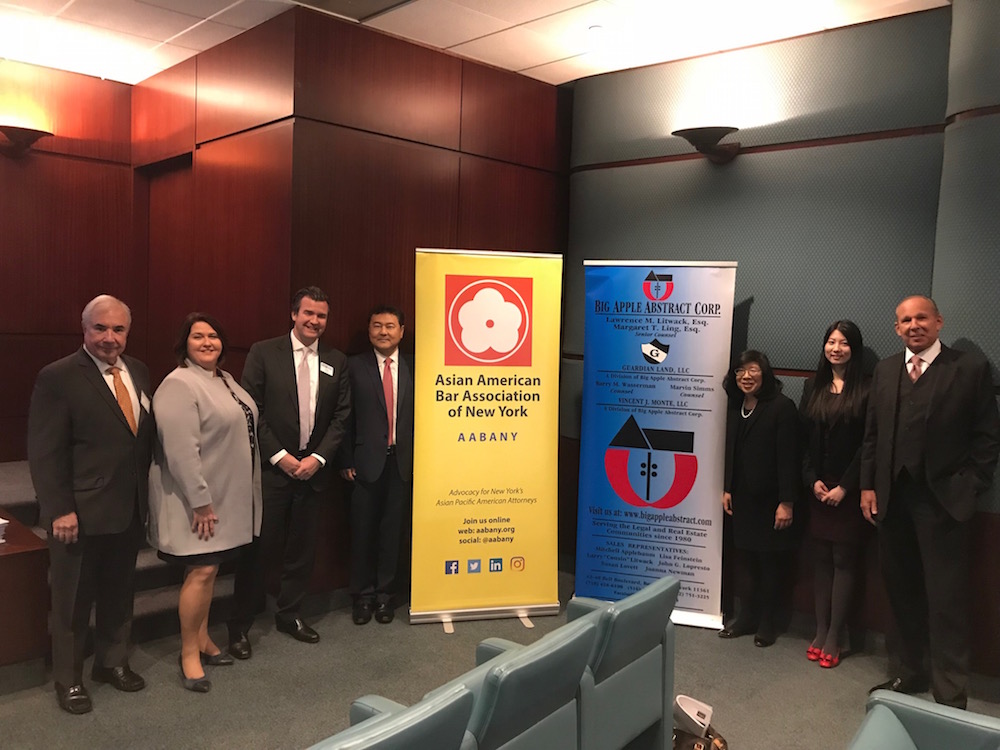 On April 11, 2019, the AABANY Real Estate Committee successfully presented a CLE and networking event entitled "Trends in Long Island Real Estate Development – IDA Zoning and Land Use." Over 60 attorneys and real estate professionals were in attendance. The event was held at the Omni Building in Uniondale and was co-sponsored by AABANY, KALAGNY, Forchelli Deegan Terrana, Flushing Bank, and Big Apple Abstract Corp.
The panelists were:
Margaret Ling, AABANY Development Director and Real Estate Committee Co-Chair
Daniel Deegan, Partner at Forchelli Deegan Terrana
Kathleen Deegan Dickson, Partner at Forchelli Deegan Terrana
Rose Liu, Director of Finance & Research at Colliers International
Herbert Agin, CEO of Colliers International
The speakers led an insightful discussion on the following topics: title insurance, the key facets of Industrial Development Agencies (IDA) in Nassau and Suffolk County, zoning, variances, and municipal regulations in Long Island and how they have a significant impact on the success of real estate projects.
In addition, Rose Liu discussed the latest statistics involving real estate development projects in Long Island and Herbert Agin shared the latest updates on the Lesso Holdings development project in Westbury, Long Island.
The key takeaway of the event was that there are a lot of real estate development opportunities for investors in Long Island, but for the project to be successful, you need to have the right people on your team to navigate the rules and regulations surrounding real estate developments.