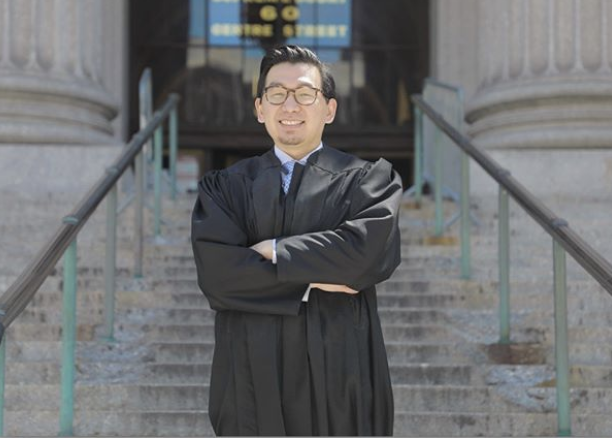 Hon. John Z. Wang, a proud member of AABANY, has launched his own campaign to run for New York City Civil Court in the First Municipal Court District, which covers Battery Park, Chinatown, FiDi, Greenwich Village, Soho, Tribeca, and Two Bridges. An active contributor to the Judiciary Committee of AABANY, Judge Wang has organized panels on how to become an appointed and elected judge in hopes of encouraging more Asian American and Pacific Islander lawyers to pursue this path. Now, he hopes to make his community proud by becoming the first Asian American Civil Court Judge elected to the First District.
Judge Wang immigrated to the United States at five years old and grew up in a predominantly working-class Italian American neighborhood in Brooklyn. As one of very few Asian Americans in his community, he recognized the dangers of racism and bigotry and the importance of respecting other cultures and races.
The Judge has devoted his entire career to public service. After graduating from Vassar College and Brooklyn Law School, he received a six-month fellowship to work at Legal Services, where he advocated for claimants of unemployment insurance. Subsequently, he served as a court attorney in Brooklyn Family Court and the Bronx and Manhattan Civil Courts, and clerked for Hon. Anthony Cannataro, a New York State Supreme Court Justice and the Administrative Judge of the New York City Civil Court. Last year, Judge Wang was appointed as a Brooklyn Housing Court Judge. In all his years serving in New York's courts, he has also contributed to policy-making by helping to restructure parts of the Manhattan Civil Court.
Now, Judge Wang hopes to serve as the first Asian American Civil Court Judge elected to the First Judicial District. Judge Wang views the Civil Court as the people's court–it serves everyday people with real, working-class issues. He is moved by the stories and individuals that these small claims and credit card disputes represent, and hopes to do his part to deliver justice to everyday people.
Judge Wang also maintains a reputation for treating individuals that come before him with dignity, compassion, and fairness. As the only sitting judge in this contested race, Judge Wang understands the weight of making difficult decisions regarding people's livelihoods.
AABANY's Judiciary Committee vetted Judge Wang for his appointment to Housing Court in 2017 and found him highly qualified and well-suited for the role. The Committee noted that "[t]he advocates and judges that encounter Mr. Wang in the courthouse uniformly praise his intellect, work ethic and demeanor." After more than two years on the bench, Committee Co-Chair Will Wang (no relation) observed: "It is somewhat uncommon for a relatively recent judge to have published the number of opinions Judge Wang has published. To me, this demonstrates both Judge Wang's work ethic and overall writing ability."
Judge Wang believes he faces a tough but winnable campaign. The COVID-19 pandemic has created serious challenges, including uncertainty in voter turnout and participation, but he hopes that his experience working in Civil Court will inspire individuals to volunteer and vote for him.
For more information on Judge Wang's campaign, including how you can volunteer or support his candidacy, visit https://www.judgewang4civilcourt.com/ or email judgewang4civilcourt@gmail.com.
This member profile has been published for informational purposes only and does not constitute and should not be construed as a campaign endorsement.