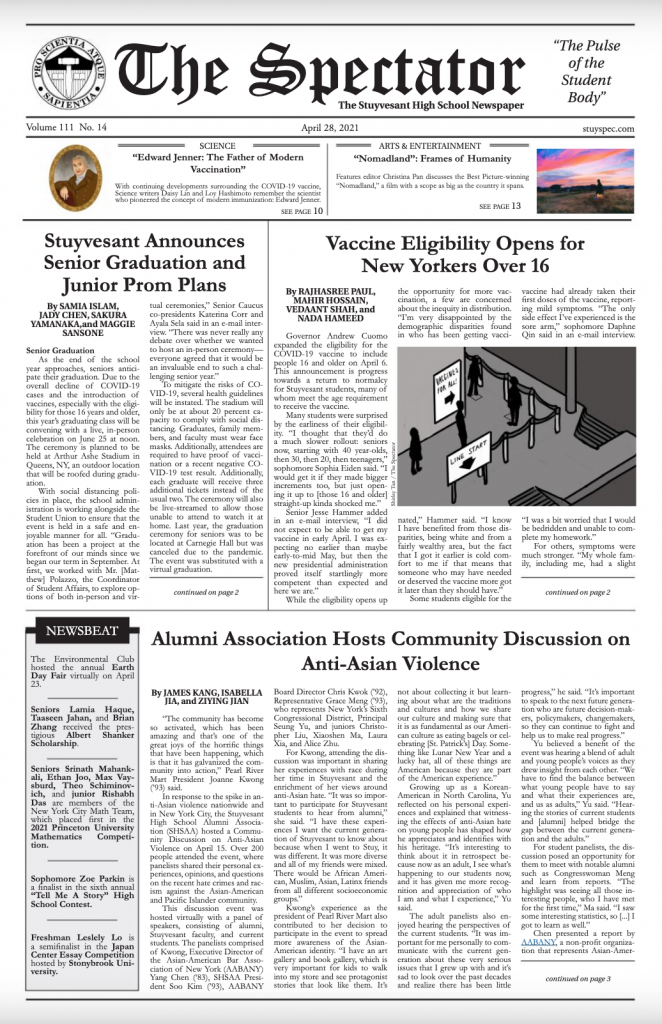 AABANY Executive Director Yang Chen and Board Director Chris Kwok were recently mentioned in the April 28, 2021 edition of The Spectator, the Stuyvesant High School newspaper, in an article titled "Alumni Association Hosts Community Discussion on Anti-Asian Violence." Both alumni of the school, Chris ('92) served as the moderator and Yang ('83) was one of the speakers in the April 15 community discussion. Other panelists included Joanne Kwong ('93), President of Pearl River Mart; Soo Kim ('93), President of the Stuyvesant High School Alumni Association; U.S. Representative Grace Meng ('93); Seung Yu, Principal of Stuyvesant High School; and current Stuyvesant juniors Christopher Liu, Xiaoshen Ma, Laura Xia, and Alice Zhu. During the discussion, panelists shared with over 200 attendees their personal experiences with race and their opinions on the recent increase of hate crimes and racism against the Asian American and Pacific Islander (AAPI) community.
Yang presented the findings and solutions outlined in AABANY's report on anti-Asian violence and spoke about how AABANY is supporting the AAPI community. He stated: "One thing we're pushing hard on is to make sure the NYPD Asian Hate Crimes task force is being fully funded. We're very much supportive of any effort by law enforcement to bring attention to this issue and we're trying to put as much word out as possible especially to the Mayor's office. Mayor de Blasio denounced Asian-American violence a year ago but we're still waiting for someone who is arrested for the crime to actually face criminal sanctions for it."
To read the full coverage of the program on The Spectator, click here.