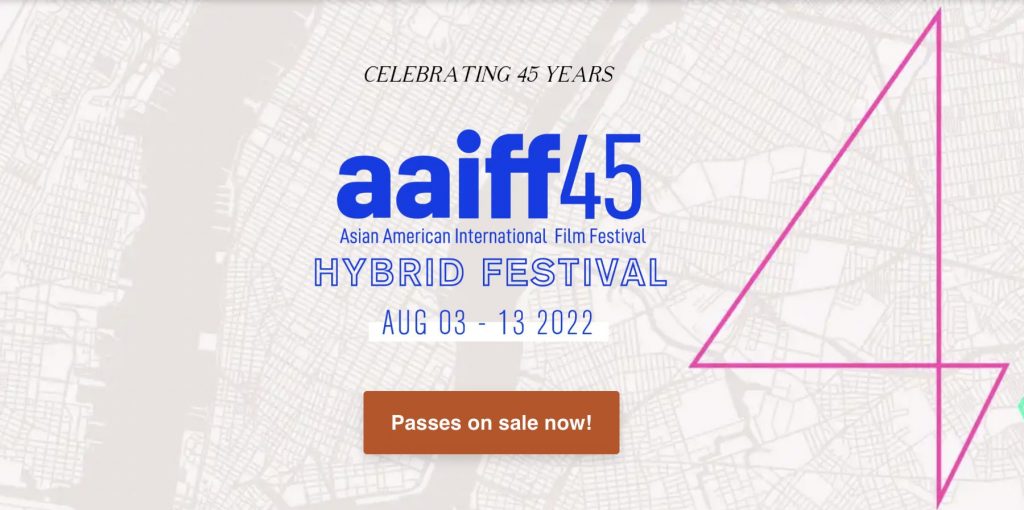 AABANY is longtime community partner to the AAIFF, and AABANY members are invited to attend the film festival with the special 20% discount code: AAIFF45BAR.
Our own Francis Chin, AABANY's professional development committee chair will also be speaking on the 72 Hour Shootout post-screening panel, a special part of the AAIFF.
About the Festival
The Asian American International Film Festival (AAIFF) proudly known as "The First Home to Asian American Cinema," is the first and longest running festival to premier and showcase independent Asian, Asian diaspora and Pacific Islander cinema. With its origins at the Henry Street Settlement in New York City's Lower East Side, the AAIFF brings together audiences from all over New York City, the tri-state region, and around the world. The 45th Asian American International Film Festival (AAIFF45) will take place from August 3 – 13, and combines in-person screenings and events with online programs.
This year, AAIFF will feature FREE CHOL SOO LEE, a documentary which excavates the essential story of 1970s San Francisco, when 20-year-old Korean immigrant Chol Soo Lee is racially profiled and convicted of a Chinatown gang murder. In the past, AABANY featured Chol Soo Lee's case in a trial reenactment titled, Alice in Chinatown: Chol Soo Lee and His Fight for Freedom. Five decades later, this documentary by Julie Ha and Eugene Yi revisits Chol Soo Lee's story and serves as an urgent reminder that his legacy is more relevant than ever.
On August 13th, the festival will showcase its Closing Night Presentations. Features include DEAR CORKY, directed by Curtis Chin illustrating an intimate look at the legendary photographer Corky Lee. A long-time friend of AABANY, we have hosted various events honoring Corky's legacy, including the photo exhibit "Photographic Justice: A Tribute to Corky Lee," currently showing at the U.S. District Court Eastern District of New York. Passionate about activism, documenting history, and combatting Asian hate crimes through his camera, Dear Corky is a film revealing the man behind the iconic pictures that mobilized the Asian American community.
To learn more about the other films and see the full schedule of the festival, click here. For more information about ticketing, click here.