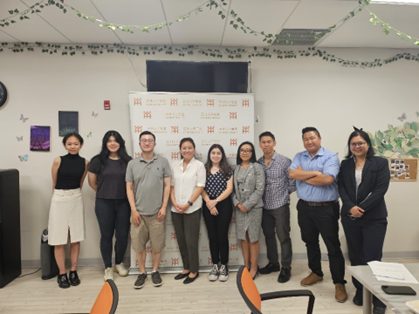 On September 6th, 2023, AABANY held its Queens Pro Bono Legal Clinic at the AAFE One Flushing Community Center. The clinic met with 31 clients, coming in with questions about housing, immigration, family law, and civil litigation. Volunteer attorneys and interpreters patiently addressed client concerns, answering questions and connecting them to lawyers through AABANY's Legal Referral and Information Service (LRIS). We are extremely grateful to have volunteers willing to start early at 6pm and stay beyond 8:30pm to finish speaking with the clients.
We thank the AABANY Pro Bono & Community Service (PBCS) Committee and Asian Americans for Equality for organizing and hosting this event. We also thank Council Member Sandra Ung for partnering with us to make this service available to the community.
Thank you to our volunteers for supporting the clinic. Your time and dedication are essential for delivering crucial assistance to individuals seeking legal guidance. We extend our heartfelt gratitude to:
Volunteer Attorneys:
Richard In
Lina Lee
Beatrice Leong
Lord Chester So
May Wong
Gary Yeung
Interpreters and Coordinators:
Gabriel Hisugan
Jocelyn Jao
Willow Liu
Nuala Naranjo-Odoherty
Here is a list of upcoming Pro Bono Clinics:
● Brooklyn, October 14, from 12:30 pm to 3:30 pm, at Chinese-American Planning Council, Inc., 4101 8th Avenue. Sign up here to volunteer.
● Manhattan, October 18, from 6:30pm to 8:30pm, and AAFE Community Center, 111 Norfolk Street. Sign up here to volunteer.
● Queens, November 1, from 6:30pm – 8:30pm, at AAFE One Flushing Community Center, 133-29 41st Ave 2nd Floor. Sign up here to volunteer.
Click here for more information about our Pro Bono Clinics and the PBCS Committee.