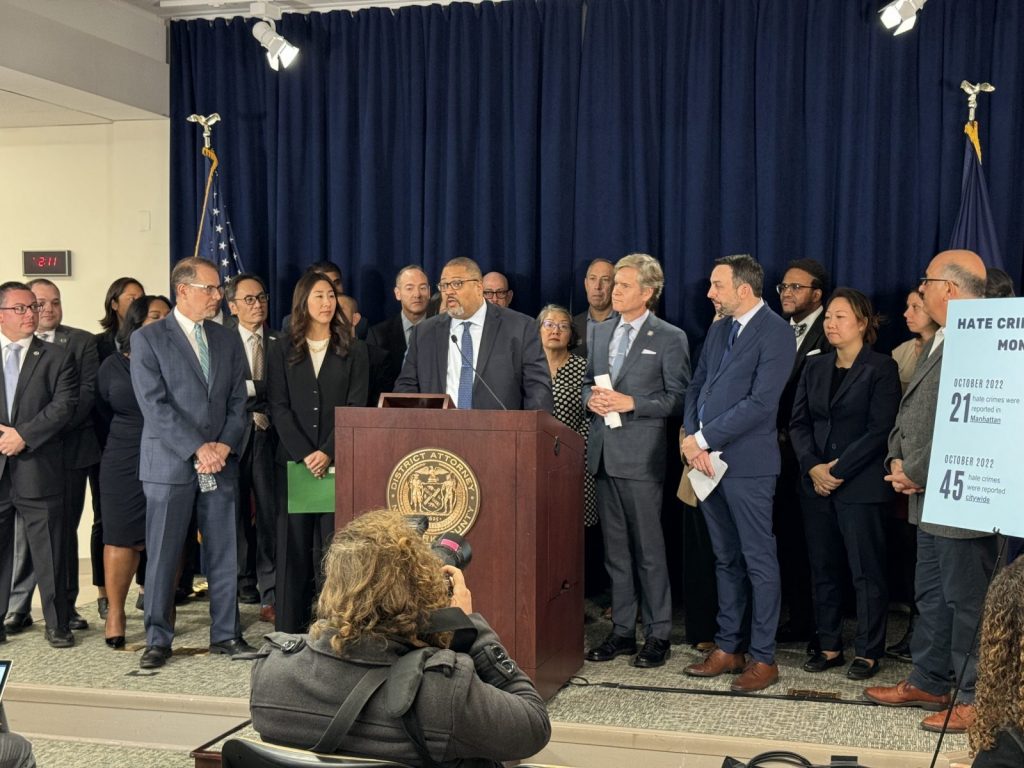 On November 6, at a press conference held at the New York County District Attorney's Office, Manhattan District Attorney Alvin L. Bragg, Jr., New York State Senator Brad Hoylman-Sigal, and New York State Assemblymember Grace Lee announced the introduction of new state legislation called the Hate Crimes Modernization Act (S7737). This legislation aims to close existing loopholes in state law related to hate crimes. It expands the list of charges eligible for hate crime designation from 66 to 97, allowing for enhanced charges and sentences in cases involving hate crimes.
The legislation is a response to the rising number of hate crimes in New York City and New York State, with a record high of 650 reported hate crimes in New York City last year. The types of incidents have become more diverse, and the existing penal code has not kept up with these changes. Some significant charges were not previously included in the hate crimes law, such as Gang Assault, Making Graffiti, Sex Trafficking, Labor Trafficking, False Reporting, Criminal Possession of a Weapon, and certain sex crimes. The Hate Crimes Modernization Act is designed to address these issues and ensure greater accountability for individuals who commit offenses motivated by bias and prejudice.
AABANY's contribution to fact-finding, statistical research and policy development is mentioned in the press release:
"Over the last few years, through its Anti-Asian Violence Task Force (AAVTF), AABANY has been closely monitoring and studying the sharp rise in hatred and violence against the New York AAPI community," said Yang Chen, Executive Director, Asian American Bar Association of New York (AABANY). "We have worked closely with the Manhattan D.A.'s office and have shared several proposals for reform, including legislative reform. D.A. Bragg's office has been open and receptive to our suggestions, and we commend the time and effort the office has put into drafting proposed changes to the hate crimes laws. We believe the current proposed statutory reforms to the New York hate crimes law represent a step in the right direction, and we look forward to continuing our collaboration with the Manhattan D.A.'s office to bring about effective hate crimes prosecution and enforcement."
The legislation has garnered support from various community leaders, organizations, and government officials, including Manhattan Borough President Mark Levine, New York City Councilmember Keith Powers, the New York Police Department's Hate Crimes Task Force, the NYC Office for the Prevention of Hate Crimes (OPHC), and multiple advocacy groups representing diverse communities. The bill is seen as a necessary step to combat hate crimes, protect marginalized communities, and hold perpetrators accountable for their actions.
To read the full press release, click here.