On July 22, 2023, AABANY successfully hosted its inaugural Wellness Day in commemoration of Minority Mental Health Awareness Month. The event, held under the theme "Embracing Wellness and Well-Being: Strengthening the Legal Profession by Investing in Ourselves," took place at Brooklyn Law School. This event was made possible through the generous support of our distinguished speakers and sponsors, enabling us to address crucial topics such as fostering wellness, seeking therapy, building resilience, and more.
Mental health and well-being, particularly within the Asian American, Native Hawaiian and Pacific Islander (AANHPI) community and in the context of the legal profession, have often been overlooked and under-discussed. With this event, AABANY sought to break barriers and shed light on these critical issues, providing a safe and supportive platform for these conversations to take place.
Wellness Day registration started at 9 a.m. with the first 25 attendees to sign-in receiving a free stainless steel AABANY water bottle. Attendees were encouraged to come in casual attire and the program was also offered via Zoom, to be inclusive of those unable to attend in-person. The full-day event kicked off with breakfast from Paris Baguette, allowing participants to network and connect with one another over pastries and coffee for an enjoyable hour. Soon after, AABANY President Karen Kim delivered welcoming remarks. She extended her appreciation to all the attendees who joined this meaningful event and the pivotal role of the speakers and sponsors, recognizing their significant contribution to wellness and mental health advocacy.
Anu Gupta, the Founder of BE MORE with Anu, began with an enlightening presentation. His program, titled "Mindful Embodiment as a Means to Heal Burnout and Internalized Anti-Asian Bias," commenced with a guided meditation, allowing attendees to clear their minds, relax, and focus on the session.
Anu introduced his PRISM ToolkitⓇ. PRISM is designed to help reduce unconscious bias and stereotyping, enhance social connectedness, strengthen relationships, and alleviate stress. Anu emphasized the significance of "love and kindness for oneself" and how true wellness is rooted in understanding and managing our internal environment. He stressed the importance of self-love as the foundation for extending that love to others, fostering connections beyond our differences.
Anu, a lawyer, scientist, and educator, shared his personal healing journey, which began during his 2L summer in law school when he went to Taiwan to become a monk. Continuing his quest for healing, during his 3L year, he became a certified yoga teacher. Toward the end of his presentation, Anu highlighted the wisdom of the Asian diaspora, citing the teachings of HH Dalai Lama, who emphasized the philosophy of kindness. Anu firmly believes that kindness and love should form the "foundation of society." Thank you, Anu Gupta, for setting a meaningful tone for the day and reinforcing the importance of prioritizing wellness and meditation for personal and professional growth.
For more information about PRISM and Anu Gupta, please visit his website here.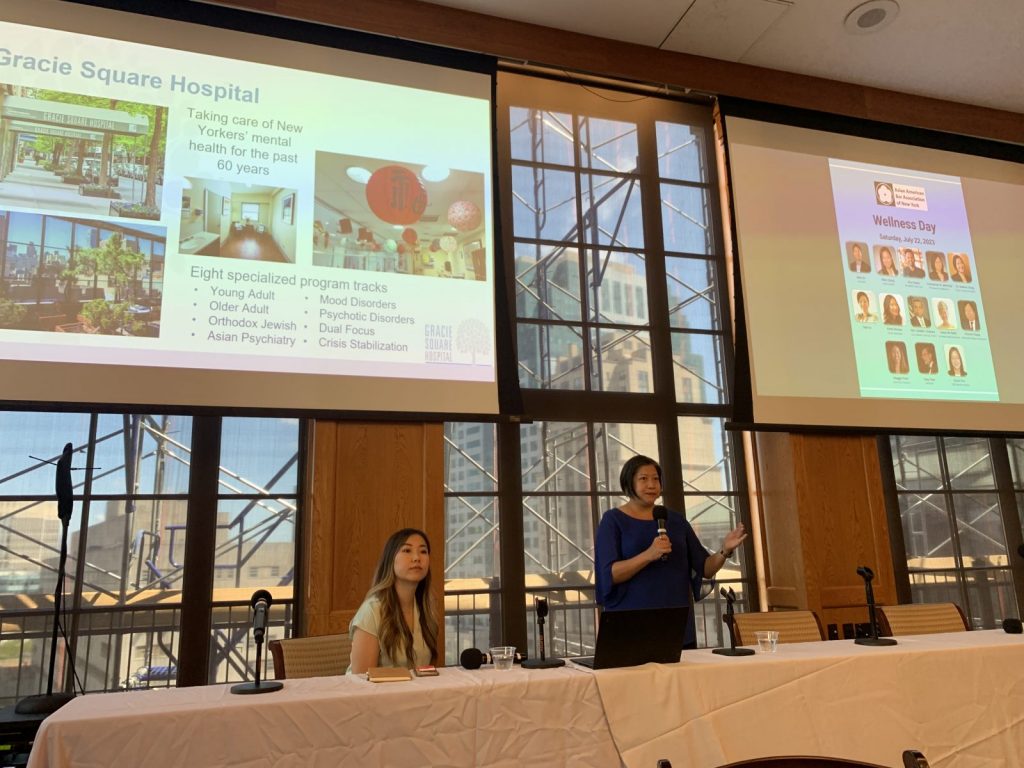 Next, Dr. Nadine Chang, Ph.D., Clinical Psychologist at Gracie Square Hospital, and Alice Zhang, CEO of Anise Health presented their program, "Mental Health 101 for the Asian Community." They talked about misconceptions of mental illnesses, signs of depression and anxiety, importance of culturally informed care and barriers to mental health treatments.
During her presentation, Alice highlighted that "[the] current solutions [in the mental health care system] are not often tailored for minorities," including the process of deciding to seek care, browsing for providers, conducting consultations, and continuing care. Alice then introduced the attendees to Anise Health, a culturally-responsive digital mental health and wellbeing platform dedicated to meeting the unique needs of communities of color, starting with a focus on the AANHPI population. Following up, Dr. Chang spotlighted the much-needed steps towards breaking the stigma surrounding mental health in the AANHPI community and fostering a more understanding and supportive environment for those facing mental health issues, such as learning to support your loved ones struggling with mental illness by being more present, listening, and empathizing with the other person's situation by reflecting on how they may think and feel being in their shoes.
For more information about Anise Health, Dr. Nadine Chang, and Alice Zhang, please visit here.
To conclude the morning session, speaker Ona Lu and moderator Maggie Poon presented their fireside chat titled, "How to Find a Therapist and Mental Well-Being Tips." Ona Lu, a former AABANY Legal Intern, began the conversation by reflecting on her journey and offering advice to her 18-year-old self. She emphasized the importance of recognizing that "everything happens for a reason" and that life experiences are opportunities to "learn and grow from." She shared her personal journey of redirecting and rediscovering her passion for law after leaving her job as an attorney. Ona also opened up about the challenges she faced in seeking therapy, particularly coming from a conservative family. She reflected on the process of finding a therapist, admitting that it felt somewhat scary due to fear of judgment and the daunting fact of opening up to a stranger. "Finding a therapist is like dating," she says, and advised that one should not give up on finding the right therapist. Through her inspiring story, Ona encouraged others to prioritize their mental health, emphasizing that it is okay to seek help and take care of oneself without feeling guilty or selfish. We thank Ona Lu for her openness and vulnerability of her journey and Maggie Poon for moderating a personal and intimate conversation.
When the morning session concluded, attendees were treated to a delightful spread of Korean food, providing an informal and relaxed opportunity for everyone to chat, mingle, and network over delicious and comforting fare.
Pema Sherpa, Founder of Pema Solutions, commenced the afternoon session with her program, "Cultivate Resilience to Thrive Amid Challenging Times." She began with a brief mindful check-in breathing exercise, allowing attendees to de-stress. Then, Pema shared a powerful story about the earthquake that struck Nepal, highlighting how its impact differed for each individual and community. After the earthquake, she embarked on a rescue mission to a rural village, where she witnessed firsthand the trauma and distress faced by the people whose homes were destroyed. She was struck by the sight of normalcy amidst the devastation, as children were actively helping their parents cope with the aftermath. Curious about their experiences, Pema asked one of the children about how she dealt with the trauma of the earthquake. The child's response was inspiring: she chose not to allow the trauma to overpower her. This particular encounter inspired Pema to reassess the power of resilience and the ability to find strength and hope even in the face of adversity. She shared that resilience serves as a protective mechanism: protects against stress, reduces loneliness, and enhances the immune system.
For more information about Pema Sherpa and Pema Solutions, please visit her website here.
Alex Su, the next speaker, is a former lawyer and the Head of Community Development at Ironclad. The fireside chat,"Overcoming Setbacks and Failures," was moderated by President Karen Kim. Alex's career, spanning from law to technology and even social media, didn't always go as planned and encountered several major setbacks along the way. He shared his story, beginning with the first setback he faced: failing the bar exam. Other setbacks followed: he went from a big law firm, to creating his own, to being let go from a small firm. He then explored opportunities in sales and eventually found his way into the tech and social media industry. Through each setback, Alex acknowledged that it was an opportunity for growth and "set[ting] the path [for him] to try something new." He emphasized that "resilience is a muscle" and that muscle develops stronger with each challenge.
Sharing his setbacks on LinkedIn proved to be a pivotal moment for Alex, as he received an outpouring of comments from peers who could relate to his experiences. This realization highlighted that many people tend to only share their successes and not their failures. When asked if he would go back in time to avoid these setbacks, considering he now gets to do what he loves, Alex responded with a resounding "Yes, 100%." He recognized that those setbacks were necessary steps in discovering his true passions and aligning them with his personality. Each setback, "like a slap," guided him along the right path. Thank you, Alex, for sharing your vulnerable story and serving as a powerful reminder that setbacks and failures are stepping stones towards finding one's purpose and fulfilling career journey.
For more information about Alex Su, please visit his newsletter here.
Concluding Wellness Day, AABANY hosted a CLE program titled, "Challenges on Being the First and Prioritizing Your Well-Being." The program included the following panelists:
Vincent Chang: first AAPI NYCLA President and former AABANY president
Hon. Sanket J. Bulsara (EDNY): first South Asian federal judge in the Second Circuit
Concepcion ("Connie") Montoya: one of the founders of the Filipino American Lawyers Association of New York, the first Filipino bar association in New York
Susan Jin Davis: Social Impact Officer for Al Roker Entertainment, formerly with Comcast Corporation, where she was the company's first Chief Sustainability Officer
and moderated by Yang Chen, first Executive Director of AABANY and former AABANY president.
The inspiring panel of firsts shared their careers and discussed various topics related to imposter syndrome, work-life balance, stress and anxiety and mental well-being. Susan Jin Davis shared that her greatest challenges of becoming the first was imposter syndrome and the lack of representation. She overcame this feeling by focusing on "the second and the third and the fourth [and] lay[ing] a pathway for the future." Similarly, Connie resonated with the same feelings, and even more so regarding her identity as a queer Filipino woman in the legal field. Vincent highlighted the significance of finding "a great support system" and his joining many different bar associations, where he found like-minded individuals who shared careers and interests similar to his own. Judge Bulsara offered valuable advice, emphasizing the importance of not comparing oneself to others and recognizing that everyone has their unique journey in life.
The shared experiences and advice from the speakers served as valuable takeaways for all attendees. AABANY thanks them all for being a powerful influence in wellness and mental health advocacy.
We hope Wellness Day provided attendees with a relaxing day of self-care and resources to help promote the well-being of themselves and their family and peers. After a full day of speakers, good food and snacks throughout the day, attendees left with a card deck on Mindfulness or Stress Relief & Selfcare, to help further prioritize wellness.
We also want to express our sincere gratitude to President Karen Kim for successfully organizing this event and for convening an important and much-needed discussion. Wellness Day would not have been possible without the generous support of our sponsors, and we extend our heartfelt thanks to them for their valuable contribution.
Wellness Day Speakers:
Anu Gupta, BE MORE with Anu
Alice Zhang, Anise Health
Dr. Nadine Chang, Gracie Square Hospital
Ona Lu
Maggie Poon, American Express
Pema Sherpa, Pema Solutions
Alexander Su, Ironclad
Karen Kim, QBE North America
Yang Chen, AABANY
Hon. Sanket J. Bulsara, U.S. District Court (E.D.N.Y.)
Susan Jin Davis, Al Roker Entertainment
Concepcion A. Montoya, Hinshaw & Culbertson
Vincent Chang, Wollmuth Maher & Deutsch
Wellness Day Sponsors:
Brooklyn Law School
Anise Health
BEMORE with Anu
Ironclad
Pema Solutions
Advocate Sponsor: KEB Hana Bank USA
Supporter: Faegre Drinker
Co-Sponsoring Bar Associations:
Asian American Judges Association of New York (AAJANY)
Asian Pacific American Lawyers Association of New Jersey (APALA-NJ)
Filipino American Lawyers Association of New York (FALA New York)
Haitian American Lawyers Association of New York (HALANY)
Jewish Lawyers Guild (JLG)
Judges & Lawyers Breast Cancer Alert (JALBCA)
LGBT Bar Association of New York (LeGaL)
Korean American Lawyers Association of Greater New York (KALAGNY)
Network of Bar Leaders (NoBL)
New York County Lawyers Association (NYCLA)
New York State Bar Association (NYSBA)
The South Asian Bar Association of New Jersey (SABA-NJ)
South Asian Bar Association of New York (SABANY)
To read the full press release, please click here.