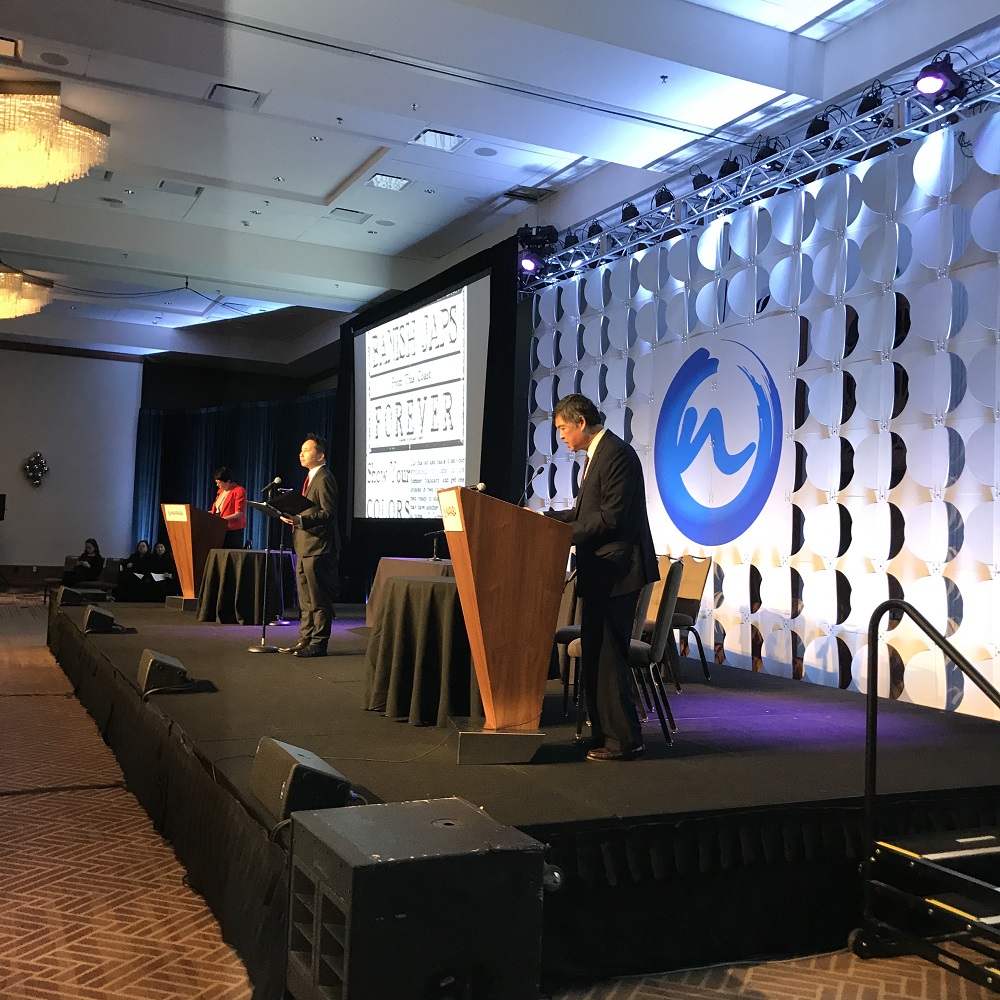 On Friday, Nov. 8, during the Plenary Lunch Session at the NAPABA Convention in Austin, Texas, AABANY's Trial Reenactment Team performed "Fred Korematsu and His Fight for Justice," reenacting Korematsu v. United States. AABANY had performed an earlier version of this reenactment at the NAPABA Convention in Washington, DC, in 2017, to mark the 75th anniversary of Executive Order 9066 which sent some 120,000 Japanese American citizens to internment camps without any due process. This year, to mark Fred Korematsu's 100th birthday, AABANY's Trial Reenactment Team performed an updated script which took into account the developments that occurred since 2017. The Korematsu case was nominally overruled in a footnote by Chief Justice Roberts in Trump v. Hawaii (2018), which upheld the Muslim Travel Ban in part. This reenactment included modifications that featured text from the majority and dissenting opinions in that case, and concluded with words from an Op-Ed written by Fred's daughter Karen, lamenting that the United States Supreme Court had replaced one bad precedent with another.

This updated Korematsu reenactment was made special by the participation of new cast members, including Dale Minami, Don Tamaki, Peggy Nagae, and Hon. Edward Chen, members of the legal team that brought the coram nobis proceeding which overturned the wrongful conviction of Fred Korematsu. Dale, Don, Peggy, and Judge Chen played themselves. Also playing herself was Judge Marilyn Hall Patel, the United States District Court Judge who presided over the case. Karen Korematsu played herself and closed the show with moving and inspiring words from her June 28, 2018 New York Times Op-Ed article.

The 2019 Korematsu reenactment played to an audience of 900 at the NAPABA Convention Friday Plenary Lunch session, and it is easily the largest single audience for any AABANY Trial Reenactment. Judge Chin moderated a panel discussion about this case and its continuing relevance immediately after the lunch session, featuring a panel that included Don Tamaki, Dale Minami, Karen Narasaki, Hon. Marilyn Hall Patel, Hon. Edward Chen and Karen Korematsu.
Thanks to everyone who took part in performing in this historic reenactment, especially those who were part of Fred Korematsu's Fight for Justice. We are grateful for the leadership of Kathy Hirata Chin and Hon. Denny Chin for leading AABANY's Trial Reenactment Team. To learn more about AABANY's Trial Reenactments, visit the reenactments website at reenactments.aabany.org.